Images from Day 5 of the US Open in New York on Friday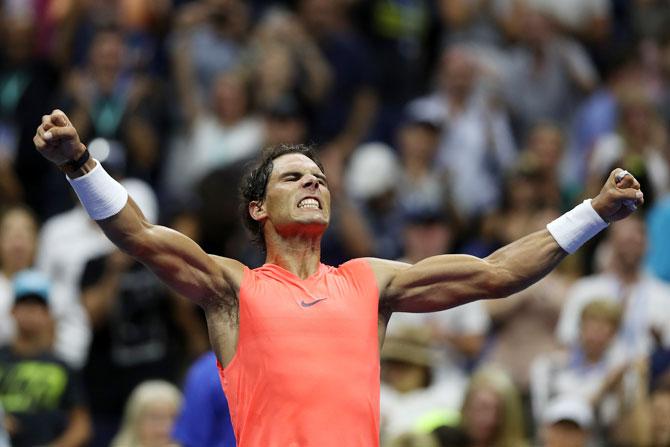 Rafael Nadal has feasted on Russian opposition in the past but Karen Khachanov nearly served up a major US Open upset on Friday, forcing the World No 1 to rally for a breathless 5-7, 7-5, 7-6(7), 7-6(3) third round win.
Not since 2011 has Nadal lost to a Russian but his string of 16 victories stretching back to 2011 looked ready to end along with his US Open title defence when big-hitting Khachanov came out with guns blazing.
The 27th seed kept up the pressure throughout a four hour, 23 minute thriller that was the Spaniard's longest ever match at Flushing Meadows.
"I am very happy to be through in a very tough situation," Nadal said in an on-court interview.
"There were some tough moments during the match, but he played aggressive. There are things to work on for the next round, but the good thing is I have a chance to improve."
After coasting through his first two matches, Nadal appeared poised for another uneventful day against a 22-year-old he had beaten four times without dropping a set.
That run came to a halt when the Russian took the opener by pounding eight aces past a misfiring Nadal, including one to clinch the set.
The Spaniard found himself in an even deeper hole when Khachanov collected the early break in the second, putting Nadal on the ropes down a set and a break 5-4.
No player in tennis, however, is more dangerous than Nadal when threatened and, with Khachanov serving for a 2-0 lead, the 17-times Grand Slam champion's famous survival instincts kicked in and he snatched a clutch break.
Rain began to fall while Nadal celebrated, forcing a delay as the Arthur Ashe stadium's retractable roof was closed and providing the defending champion with an opportunity to regroup.
When play resumed, a focussed Nadal went to work holding serve and then breaking again to get the match back on level terms.
But Khachanov was also in the mood for a fight and the third set went to a tie-break which Nadal won 9-7 with the help of three double faults.
The tie-break seemed to deflate Khachanov as Nadal moved in for the kill, grabbing the early break in the fourth to jump in front 2-1.
But the drama was not over yet and the massive crowd surrounding the stadium waiting to watch the Williams sisters' primetime showdown was forced to wait a little longer.
Khachanov, with Nadal serving for the match, dug deep to break the Spaniard yet again and force another tie-break but that was as far as the Russian revolt went with Nadal progressing to a fourth round meeting with Nikoloz Basilashvili.
Serena says wins over Venus mean more now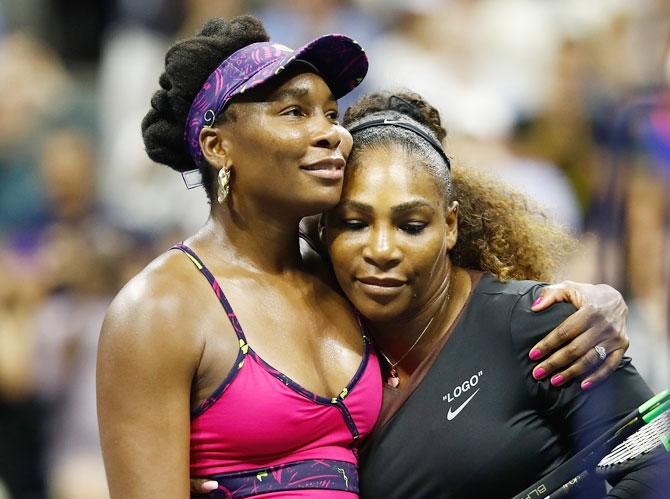 Serena Williams said her win over sister Venus at the US Open on Friday was more meaningful than those she scored when they were up-and-coming teenagers because the pair realize they only have a limited number of years left in the game.
Serena, who will be 37 next month, showed her 38-year-old sister no mercy in their third-round meeting, thrashing her 6-1 6-2 to continue her quest at Flushing Meadows to tie the record for most Grand Slam titles.
"I feel like we want it so bad now," a reflective Williams told reporters.
"I mean, we wanted it really bad when you were younger but we had a lot more years in our future," she said.
"Now, I mean, we definitely want to continue to play, but it's not like we're 18 and 19 any more. So it's a little bit different."
The sisters first met as professionals at the 1998 Australian Open when Serena was 16 and Venus 17 and have played a total of 30 times, with the younger sibling coming out on top in 18 of those matches.
Serena called her sister the best player she has ever competed against and called the win a high point as she battles back to full fitness after having her first child a year ago.
"I played much better tonight than I have since I started this journey on my way back," said Williams, who made the Wimbledon final in July.
Del Potro eases past Verdasco into US Open fourth round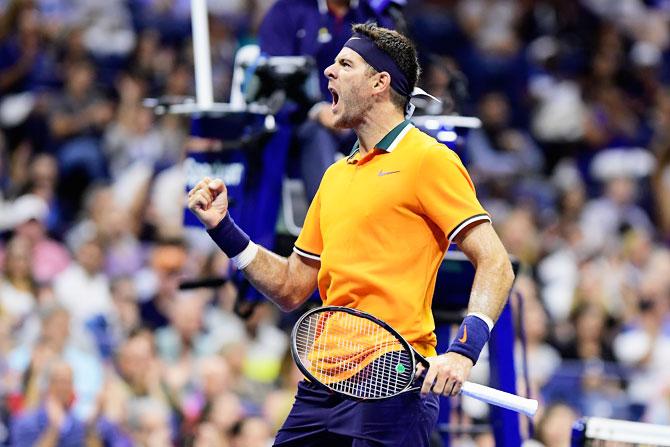 Former champion Juan Martin del Potro put on assured display to register a straight-sets victory over Spanish veteran Fernando Verdasco in their third round encounter at the US Open on Friday.
The third seeded Argentine has yet to drop a set in New York but was pushed hard by the left-hander, who has a hard-earned reputation for being one of the trickiest opponents on the tour.
Verdasco lasted two hours and 59 minutes at Arthur Ashe Stadium before he eventually succumbed 7-5, 7-6(8), 6-3 as the clock ticked past midnight at Flushing Meadows.
"It was a really nice fight for both. We played three great sets tonight and people enjoyed the fight," 2009 champion Del Potro said in a courtside interview.
"He was a good fighter tonight so I give all my best to him."
Del Potro sent down 12 aces, 41 winners and won 80 percent of his first serves to reinforce the impression that he is fully fit and well on course to go deep at this year's tournament.
Playing with freedom after a protracted struggle with a troublesome wrist that required multiple surgeries, he showed the confidence of someone at his peak, refusing to get rattled even when Verdasco started to make inroads on his serve.
Cheered on by a raucous crowd that went through their repertoire of songs and chants between points to ensure an electric atmosphere throughout, Del Potro took four of the five break point chances he carved out and won 18 points at the net.
His fourth round opponent is Croatian 20th seed Borna Coric, who beat Russia's Daniil Medvedev in straight sets earlier in the day.
There was even time for Del Potro to discuss what he had been doing in his downtime after his matches and issue an invite to one of his idols, Bruce Springsteen, to come watch him play.
"I'm very fond of 'The Boss' and I got lucky," Del Potro said.
"I went to the theater on Broadway and after the concert I met him. It was almost like winning this title for me. Maybe he will come (to watch me play)."
Anderson goes the distance to dispatch Shapovalov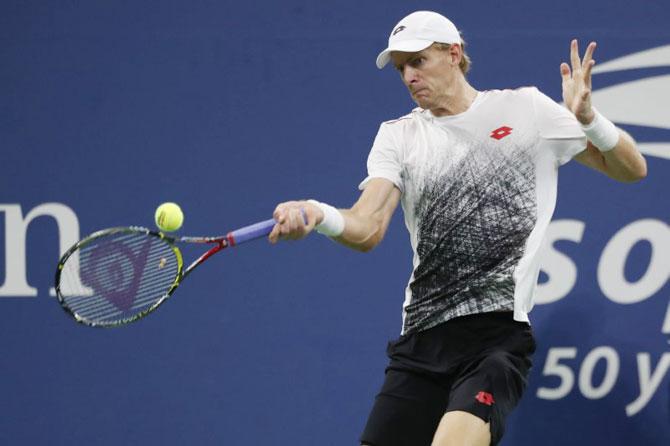 Fifth seed Kevin Anderson came through a second marathon match at this year's USOpen on Friday, defeating flamboyant Canadian Denis Shapovalov 4-6, 6-3, 6-4, 4-6, 6-4 to set up a fourth-round clash with Austria's Dominic Thiem.
Anderson, losing finalist last year at Flushing Meadows, fired 11 aces and clubbed 31 winners in his second five setter of the week after going the distance in his first-round battle with American Ryan Anderson in Monday's heat.
In cooler conditions on Friday, Anderson's serve was, as usual, his most potent weapon but it was his defence that proved the difference.
The towering South African saved seven out of nine break points he faced and forced Shapovalov into 77 errors, much to the dismay of the vocally pro-Canadian crowd.
Talented teenager Shapovalov, the 28th seed, was the sloppier of the two and topped the unforced errors count while also stumbling into eight double faults.
The roof closed on the newly built Louis Armstrong Stadium for the first time during the second set, but it did not appear to disrupt the momentum of either player.
Anderson heaped praise on his opponent, who is 13 years his junior, calling Shapovalov an "unbelievable competitor" during a post-match broadcast interview.
"That was an amazing match," the 32-year-old said.
"You're definitely going to be seeing him in the years to come."
Shapovalov was similarly deferential, telling reporters after the match that Anderson "played unbelievably big".
"I'm really happy I was able to compete out there with him," the 19-year-old said.
"It was a close match. I had a lot of chances to break back, wasn't able to do it today."
Anderson, who has reached the final at two of the last four Grand Slams, leads his fourth-round opponent Thiem 6-1 in their head-to-head but fell to the 24-year-old in May in the Madrid Masters semi-finals.
"Going to have my work cut out for me," said Anderson.
"Really going to have to focus on my game, continue doing what I'm doing."
Thiem battles back to defeat Fritz in third round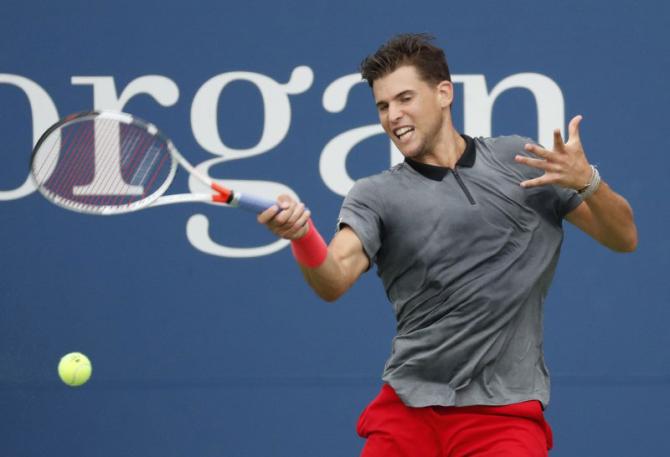 Ninth seed Dominic Thiem fought back to defeat American Taylor Fritz 3-6, 6-3, 7-6(5), 6-4 and reach the fourth round of the US Open on Friday.
The Austrian fired down 18 aces and broke Fritz five times to set up a meeting on Sunday with last year's losing finalist Kevin Anderson.
"I've always lost in the fourth round so I think it's time I get to the quarters," Thiem said in an on-court interview after making it through to the last 16 for the fourth time.
The French Open finalist had to battle his emotions as well as the 20-year-old Fritz on an overcast day at Flushing Meadows.
Trailing 2-0 in the third set, frustration boiled over for Thiem and he destroyed his racket on the hardcourt of the Grandstand.
"A lot of bad things were going through my mind as everyone could see," an embarrassed Thiem said.
"I'm very sorry for that."
Later in an eventful set Fritz, serving with a 4-2 lead, unsuccessfully dived for a volley and cut his knee on the court, sending blood trickling down his leg and leading to a medical timeout.
"I just scraped it. I do it all the time when I slide," he told reporters afterwards.
"It's fine. Just a cut."
Thiem finally took control of the match when Fritz sent a forehand long on set point in the third-set tiebreaker.
When Thiem was about to serve for the match at 5-3 up in the fourth set, rain halted proceedings for about 20 minutes.
Upon resumption, Thiem handed Fritz a lifeline as he produced three double faults to surrender his serve.
But the American's hopes of forcing a fifth set were shortlived as Thiem broke back to seal the match when Fritz sent a backhand long on match point.
"We both played bad service games, traded breaks," Fritz said of the final two games.
"That's because we played four sets basically, then just sat on nothing. It was cold. Just did nothing for like 10, 15 minutes, then had to stand up. I bet he was stiff as well.
"It's just what happens."
Thiem said he knows he has his work cut out for him when he faces big-serving South African Anderson in the fourth round.
"He's one of the hottest players on tour right now," Thiem told reporters.
"Last four slams, he made two finals. Out of the big servers he's the one with the best baseline game and with the best return.
"You are under pressure basically the whole match," he said.
Raonic stops Wawrinka's charge at Flushing Meadows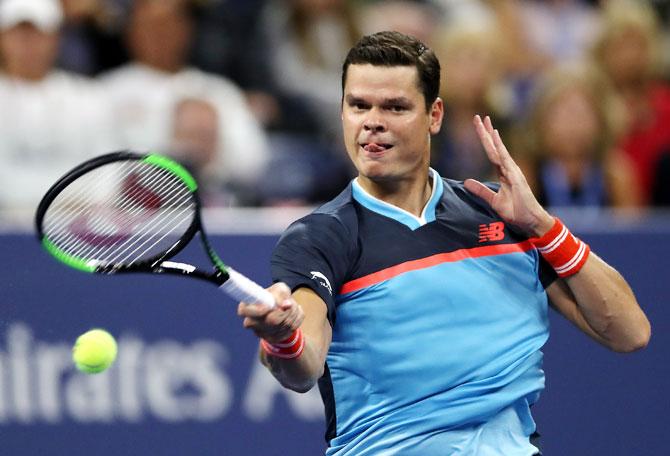 Big-serving Canadian Milos Raonic halted former champion Stan Wawrinka's charge at the U.S. Open on Friday, beating the Swiss wildcard 7-6(6), 6-4, 6-3 to book his berth in the last 16.
Wawrinka, making his first return to the site of his 2016 triumph since undergoing knee surgery, showed he was still shaking off the ring rust despite encouraging victories in the first two rounds.
The first set went down to the wire with nothing to choose between the two rivals, neither of whom were unduly troubled on serve.
Raonic lost the first three points of the tiebreak before recovering to level at 3-3 and showed great strength of character to save two set points before going on to claim the opener.
"It was tough," the Canadian said in an on-court interview.
"I was fortunate I got through that because I was falling behind in that tiebreak."
Svitolina downs Wang to reach New York fourth round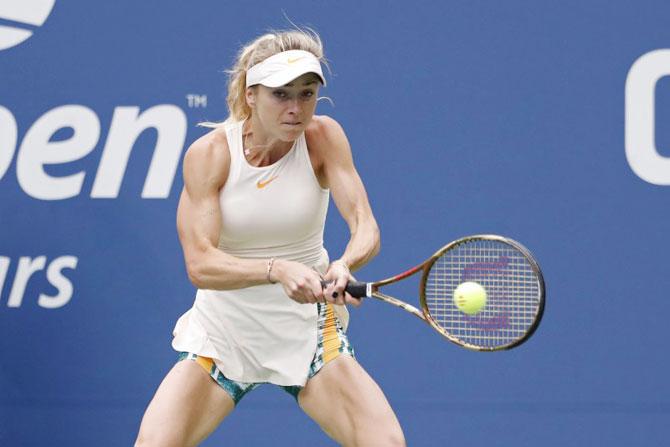 Seventh seed Elina Svitolina easily dispatched China's Wang Qiang 6-4, 6-4 to reach the fourth round of the US Open for the second year running on Friday.
The Ukrainian won 70 percent of her first serve points and converted all five of her break point opportunities to see off world number 52 Wang, who committed 27 unforced errors and three double faults on a cloudy day at Louis Armstrong Stadium.
Wang broke at the start of the second set to put pressure on the 23-year-old but the speedy Svitolina would not be denied and hit a crosscourt forehand volley on match point to advance.
"For me it was very important to take one point at a time and always put pressure because the last time I played her, I lost the second set because I was a little bit inconsistent with my game," Svitolina told reporters.
She said her game is improving each round as she becomes more battle-tested in New York, where she hopes to win her first Grand Slam title.
"From the beginning I think I was getting better and better," she said. "Each match gave me a different look on my game. I'm working really hard on day offs on my game to be ready for the matches."
Next up for Svitolina is a fourth-round clash with 19th-seeded Latvian Anastasija Sevastova on Sunday.
Stephens fends off Azarenka
Defending US Open champion Sloane Stephens kept alive her bid for back-to-back titles in New York on Friday, defeating former world number one Victoria Azarenka 6-3, 6-4 in a gritty match to set up a fourth-round showdown with Elise Mertens.
The third-seeded American was the sharper of the pair at the outset, firing nine winners and fending off Azarenka's lone break-point opportunity to take the first set in a little over half an hour.

But two-time Australian Open champion Azarenka raised her game in the second set, battling back from a 3-1 deficit to take a 4-3 lead, much to the chagrin of the partisan New York crowd.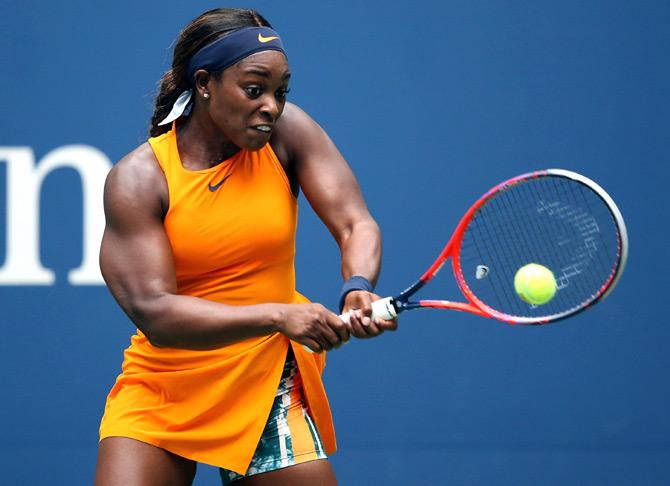 A break in the action to close the roof on Arthur Ashe court appeared to bolster Stephens, who tightened up her defence and broke the big-serving Belarusian for a fifth time with a forehand winner to ward off the comeback and go through.

"When things got tough I hung in there," Stephens, who is the highest remaining seed in the women's draw, said in an on-court interview. "You guys helped a lot," she told the crowd.

Stephens will look for redemption when she faces Mertens on Sunday after losing to the Belgian in straight sets at the Cincinnati Masters two weeks ago.