Photos from the US Open matches played on Monday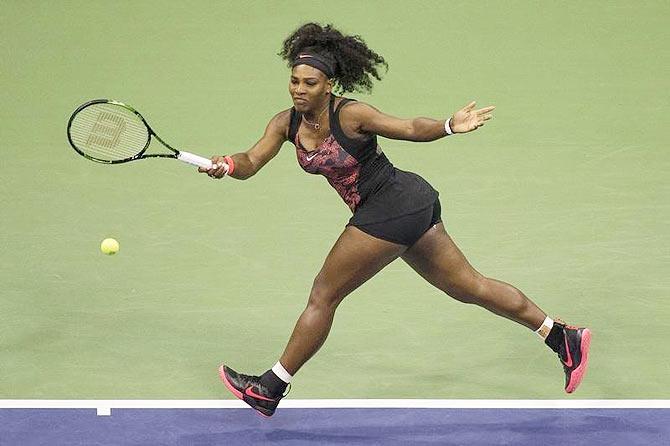 USA's Serena Williams hits a return to Russia's Vitalia Diatchenko during their first round match at the US Open tennis championships at the Flushing Meadows in New York on Monday. Photograph: Adrees Latif/Reuters
Serena Williams began her final push towards a calendar year Grand Slam in devastating fashion on Monday by pounding Vitalia Diatchenko 6-0, 2-0 before the overwhelmed Russian waved the white flag and retired.
Following a Broadway style opening ceremony complete with orchestra and choir, Williams stepped onto centre court under a spotlight to loud applause from the New York crowd just seven matches from her goal.
The six-time US Open champ exited Arthur Ashe Stadium just 30 minutes later to more applause and with her target reduced to six more wins to join the exclusive club of calendar Grand Slam winners Maureen Connolly, Margaret Court and Steffi Graf.
"It's great to be here in Arthur Ashe Stadium, to be American, just to be on this journey in my life," Williams, who already has the Wimbledon and Australian and French Open titles in the bag, said.
"It's kind of awesome that this is the last grand slam of the year, because if it were in a different country I think I would still love it but it's not the same as being an American playing in New York, playing for that ultimate goal."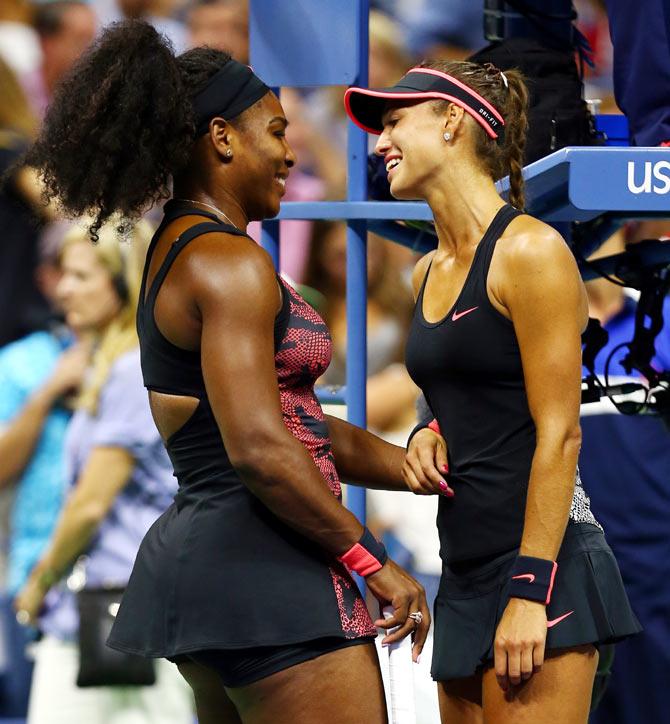 Serena Williams talks with Vitalia Diatchenko after their first round match. Photograph: Clive Brunskill/Getty Images
Standing across from the world number one for the first time, Diatchenko appeared frozen in fear as Williams won 32 points to just five by the Russian.
In just seven minutes, the 21-times grand slam singles champion and defending U.S. Open title holder was 3-0 up against her 86th ranked opponent.
A shaken Diatchenko called for the trainer to look at her left foot after going 5-0 down in the first set, and after Williams wrapped it up the Russian left the court for more treatment.
With Williams taking a 2-0 lead in the second, Diatchenko signalled she had suffered enough and after a brief chat with the chair umpire walked over to shake her opponent's hand.
"It was definitely different and bizarre but at the same time I was still focused," said Williams, who has only lost two matches this season. "I kept thinking, just stay focused; don't lose it. You never know what can happen."
The victory stretched Williams's grand slam winning streak to 29 matches. She is now unbeaten at the U.S. Open in 22 matches going back to a loss to Sam Stosur in 2011.
Djokovic in speedy first-round win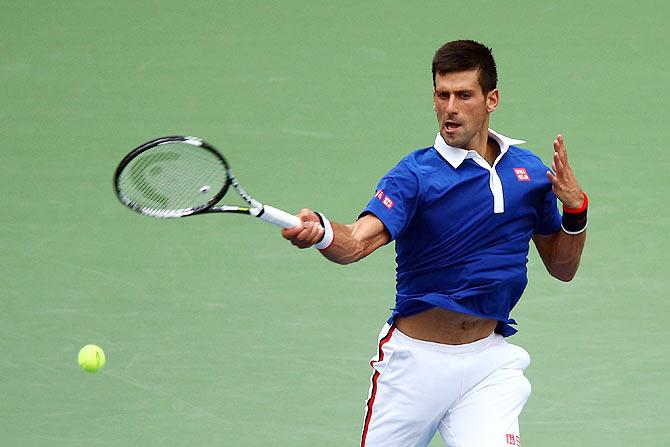 Serbia's Novak Djokovic returns a shot against Brazil's Joao Souza in their first round match on Monday. Photograph: Clive Brunskill/Getty Images
Top-seeded world number one Novak Djokovic raced into the second round of the US Open with a 6-1, 6-1, 6-1 demolition of Joao Souza of Brazil to close Monday's first day session at Arthur Ashe Stadium.
Djokovic had to wait in the wings for Venus Williams to complete a two-hour, 40-minute win at Ashe, but once the Serb hit the court he played as if he had a taxi meter running outside the National Tennis Center.
Ones were wild for Djokovic, who won each set 6-1 in a one hour 11 minute romp to victory for the reigning Australian and Wimbledon champion.
"There's something I love about number one, for sure," Djokovic told the crowd in an oncourt interview.
Djokovic, who said he is playing with newfound serenity since becoming a father last October, was pleased to have produced such an emphatic opening win.
"I lost three games the entire match against a player I never played against before," he said.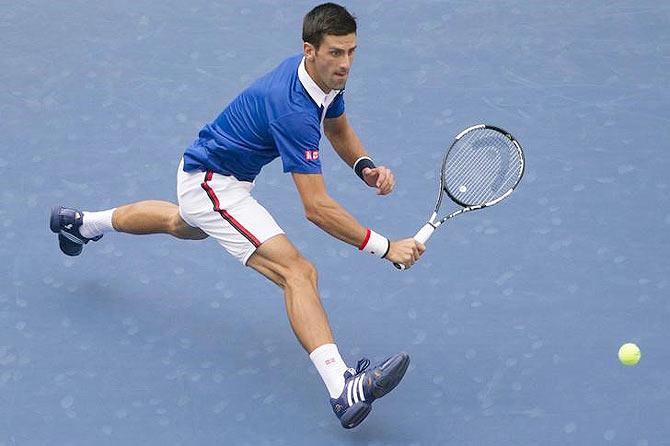 Serbia's Novak Djokovic chases down a return against Brazil's Joao Souza. Photograph: Adrees Latif/Reuters
"It can always be tricky because you're approaching the match without really knowing how he's going to react.
"I couldn't ask for a better opening of this year's U.S. Open. Hopefully I can continue in that rhythm."
Despite going 56-5 this year, Djokovic said a victory like Monday's can give the nine-times grand slam singles winner a boost.
"With a dominant win like the one today, it adds to your confidence, your self-belief," he said.
"It's also making a statement for everybody that is out there watching. We are all seeing how each other progresses.
"It's important you're out on the court with the right intensity and you're sending a good message, and I've done so."
Djokovic will next meet either Canadian Vasek Pospisil or Andreas Haider-Maurer of Austria.
Nadal flashes old form in first-round win over Coric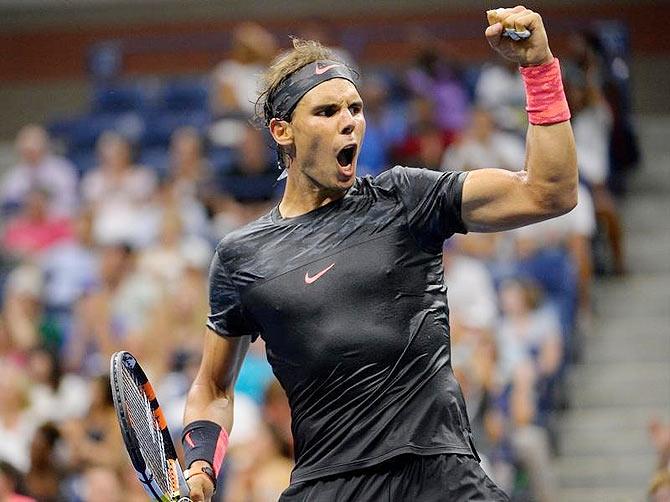 Spain's Rafael Nadal celebrates after winning a point to set up match point against Croatia's Borna Coric in their opening round match of the US Open on Monday. Photograph: Robert Deutsch-USA TODAY Sports/Reuters
Rafael Nadal showed flashes of his top form under the lights at Arthur Ashe Stadium to beat young Croat Borna Coric 6-3, 6-2, 4-6, 6-4 and close Day One at the US Open tennis championships on Monday.
The first two sets brought a vintage performance on a sultry night from Nadal, who has dropped to world number eight in what has been a lackluster 2015 campaign for the Spaniard.
Given his last chance to keep alive a 10-year streak of winning at least one grand slam title, 14-times major winner Nadal schooled the 18-year-old Coric over the first two sets.
But Coric responded with his best tennis and broke the Spaniard in the 10th game of the third set to send the match to a hard-fought fourth set.
The Spaniard finally prevailed thanks to a service break on a forehand service return winner in the seventh game.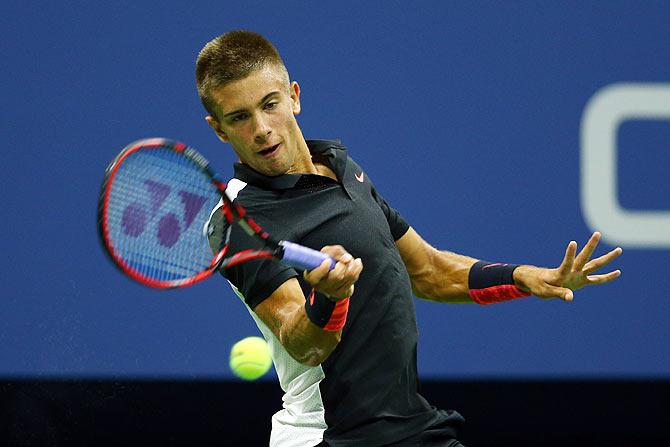 Croatia's Borna Coric returns a shot against Spain's Rafael Nadal. Photograph: Clive Brunskill/Getty Images
"It's a very happy moment for me," said Nadal, returning to Flushing Meadows for the first time since his 2013 US Open triumph after missing last year with a wrist injury.
"Last year was very hard not having chance to being back in one of my favorite tournaments," he told the crowd in an on-court ESPN interview.
Nadal avenged a 6-2, 7-6 loss to Coric last year at Basel in their only previous encounter.
The up-and-coming Coric, ranked 33, is the youngest player in the world's top-50 and showed glimpses of his enormous potential with his spirited fightback.
"The first two sets were a high level for me. I was happy with the way I played," said Nadal, who served brilliantly over the first two sets and in the fourth. "He is a great player and has an amazing future."
Nadal next meets Diego Schwartzman of Argentina, a 6-3, 6-2, 6-2 winner over Swedish qualifier Elias Ymer.
Venus needs three sets to advance at US Open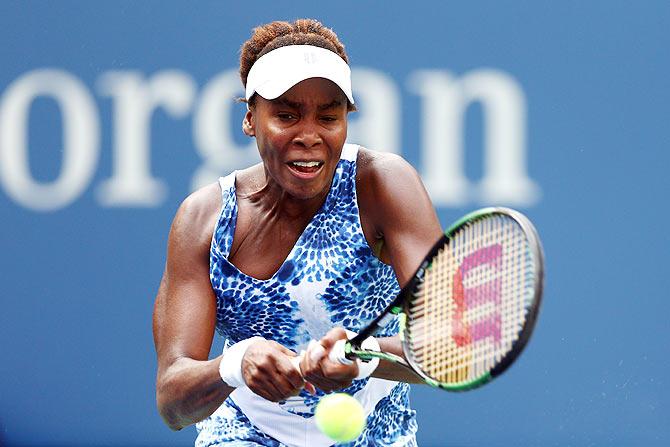 USA's Venus Williams returns a shot against Puerto Rico's Monica Puig during their first round match on Monday. Photograph: Clive Brunskill/Getty Images
Two-time winner Venus Williams was tested by unseeded Puerto Rican Monica Puig but prevailed in three sets on Monday to give the Williams family a positive start on opening day at the US Open.
Williams, seeded 23rd, battled to a 6-4 6-7(7) 6-3 victory over her gritty 21-year-old opponent in a two-hour 40-minute contest at Arthur Ashe Stadium.
The match finished hours before younger sister Serena was set to begin her quest to complete the first calendar sweep of the four grand slams in 27 years when she faces Russia's Vitalia Diatchenko in the tournament's opening match under the lights.
Venus squandered three match points in the second-set tiebreaker as 85th-ranked Puig rallied from 6-3 down to win six of the last seven points to level the match at one set apiece.
Venus, at 35 the oldest player in the women's draw, also failed to close the deal when serving for the match at 5-3 in the second set.
"I give so much credit to my opponent," said Venus, who blasted home 18 aces and powered in 48 winners, cranking her serves up to 124 miles per hour.
"It seemed like every time I got close, she came up with unbelievable shots.
"She played so well from behind which is a great attribute, so great things for her coming."
It was a gutsy performance by Puig on the US Tennis Center's main stage, especially considering the gap in their experience.
Venus carried in a 64-13 US Open record into the match, with career earnings of over $31 million, while Puig was 1-2 in her previous two appearances in the main draw at Flushing Meadows with career earnings of just over $1 million.
Defending champion Cilic advances in straight sets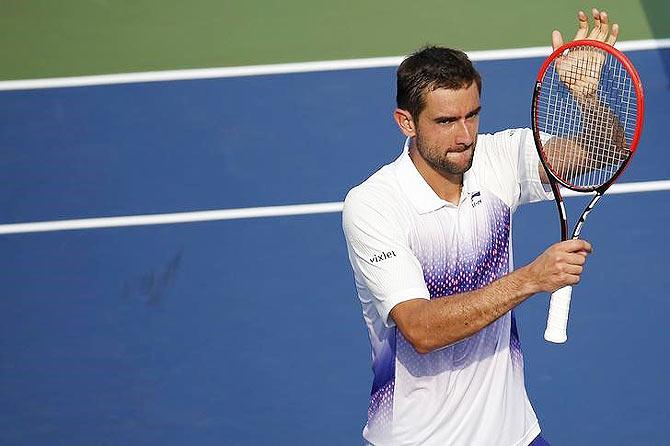 Croatia's Marin Cilic acknowledges the crowd after his first roud win against Argentina's Guido Pella on Monday. Photograph: Geoff Burke-USA TODAY Sports/Reuters
Marin Cilic made a strong start in defense of his U.S. Open title by powering past Argentine qualifier Guido Pella 6-3, 7-6(3), 7-6(3) in Monday's opening day at the US Open.
The ninth-seeded Cilic registered 13 aces and seven service winners in dismissing 94th-ranked Pella, who fought gamely and was broken only twice in the two-hour match at Louis Armstrong Stadium.
"I think Guido played really, really good today," Cilic said in an on-court interview. "He was causing me trouble with his serve. Today was a bit gusty so it was not easy to put my returns in, but I managed somehow and I was pretty happy with my serve."
The 26-year-old Croatian raised his game in the tiebreakers, to avoid the fate suffered by his 2014 finals' opponent, Japan's fourth-seeded Kei Nishikori, who fell in five sets to Benoit Paire of France.
Groth, Monfils also advance after retirements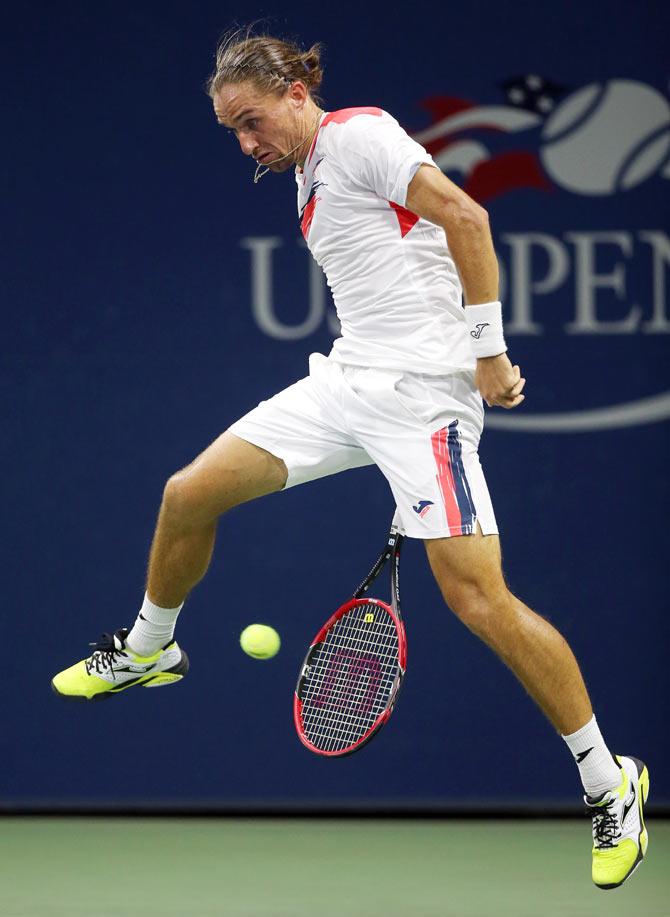 Ukraine's Alexandr Dolgopolov returns a shot against Australia's Sam Groth during their first round match on Monday. Photograph: Matthew Stockman/Getty Images
Sam Groth fought back to save Australia the blushes on day one of the US Open, to lead Alexandr Dolgolpov two sets to one -- 4-6, 6-1, 7-5 -- before the Ukraine retired injured.
The Aussie clawed his way up from a set and a service break down to go up in the match, on a day when all four other Australians in action on the opening day crashed out.
Groth set up a second-round meeting with Spanish veteran Tommy Robredo.
In another retirement on the day, Ukranian Illya Marchenko had to pull out with an injury that saw Frenchman Gael Monfils advance.
Marchenko was leading 2-6, 6-4, 5-0 before tragedy struck.