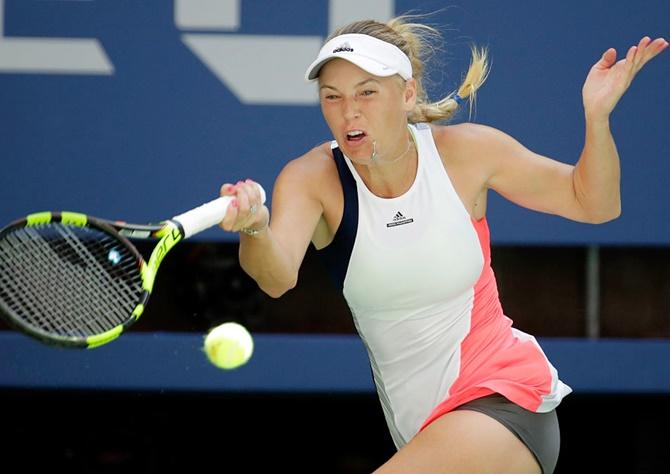 IMAGE: Caroline Wozniacki of Denmark returns a shot to Anastasija Sevastova of Lativa during her women's singles quarter-finals match on Day Nine of the 2016 US Open. Photograph: Andy Lyons/Getty Images.
Former world number one Caroline Wozniacki eased into the semi-finals of the US Open on Tuesday with a ruthless 6-0, 6-2 win over wounded Latvian Anastasija Sevastova.
Sevastova, the first Latvian to reach a grand slam quarter-final, saw her US Open hopes come to a painful end when she rolled over her ankle chasing down a ball on Wozniacki's opening serve and was unable to challenge her Danish opponent despite bravely fighting on until the end.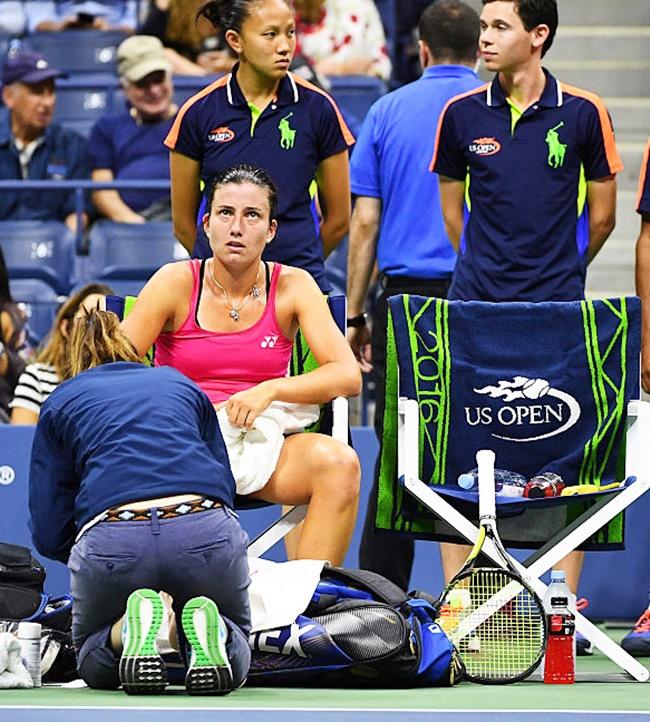 IMAGE: Anastasija Sevastova of Lativa receives treatment during a medical time out Caroline Wozniacki of Denmark. Photograph: Alex Goodlett/Getty Images.
With her opponent hobbled, Wozniacki showed no mercy and moved in for the kill, keeping Sevastova running from sideline to sideline.
"I've rolled my ankle several times so I feel real sorry for her. It happened early in the match," said Wozniacki, twice a US Open finalist.
"I just kept pushing her back and tried to make her move, it was kind of nerve-wracking because you don't know what to expect out there."
Djokovic into semis after another opponent retires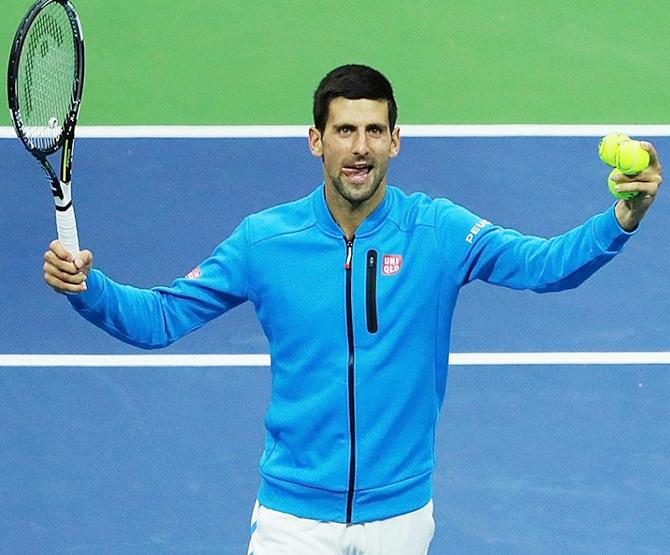 IMAGE: Novak Djokovic of Serbia celebrates defeating Jo-Wilfried Tsonga of France during their men's singles quarter-finals match on Day Nine of the 2016 US Open at the USTA Billie Jean King National Tennis Center. Photograph: Michael Reaves/Getty Images.
Novak Djokovic's strange US Open took another bizarre turn as he advanced to the semi-finals when Frenchman Jo-Wilfried Tsonga retired at the start of the third set, trailing 6-3, 6-2.
Tsonga took a medical timeout during the changeover at 5-2 of the second set and had the area below his left knee taped.
World number one Djokovic held serve to love to close out the set and the Frenchman walked off, giving the Serbian passage into the last four for a 10th consecutive time.
It has been an unusual tournament for Djokovic who has played only two full matches. He was gifted a walkover in the second round and a retirement after six games in the third before Tsonga.
"I'm in the semi-finals, so that's what matters for me the most," Djokovic told reporters after 83 minutes in Arthur Ashe Stadium.
"I know Jo for a long time, we grew up playing in the junior circuit as well. He's a fighter, he's somebody who loves the big stage. This is something I'm sure he didn't wish for."
The first five games progressed on serve to offer promise of a big-hitting battle.
But Tsonga wobbled in the sixth game, committing three double faults to lose serve, the first of three successive breaks that left the Serb with a 5-3 lead.
From that point, Djokovic dominated.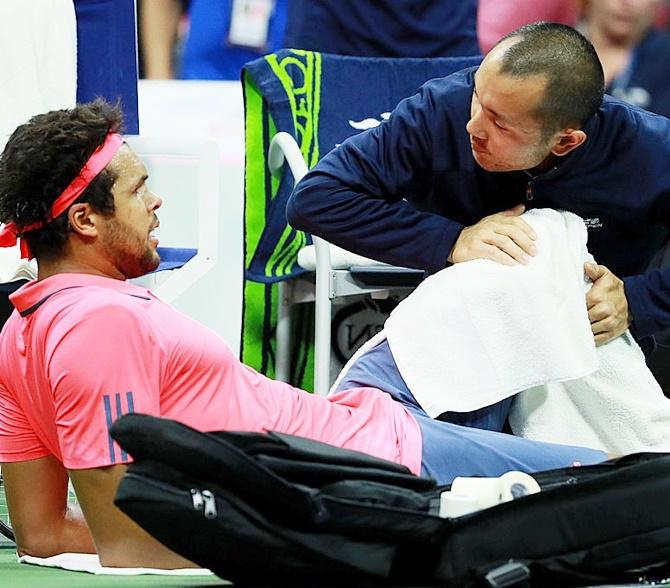 IMAGE: Jo-Wilfried Tsonga of France receives medical attention. Photograph: Michael Reaves/Getty Images.
Tsonga said when he felt pain in his knee, he knew it was over. "It's something I had already in the past," he said.
"When I have my knee, of course, it's already tough to play against one of the best tennis players.
"But when I don't have my knee, I have no chance to come back from two sets to love."
Australian and French Open champion Djokovic came to New York with question marks, having lost in the third round at Wimbledon and the first at the Rio Olympics while battling a nagging left wrist injury.
He was unfazed by his sparse time on court
"In this stage of the season, considering some physical issues I have had ... this was the scenario that I needed and I wished for," he said.
"I got a lot of days off and recovered my body. Right now I'm feeling very close to the peak.
Djokovic will play for a place in the title decider against another Frenchman in 10th seed Gael Monfils, who beat compatriot Lucas Pouille in straight sets.
Monfils has yet to beat Djokovic in 12 career meetings.
Kerber downs Vinci to enter semis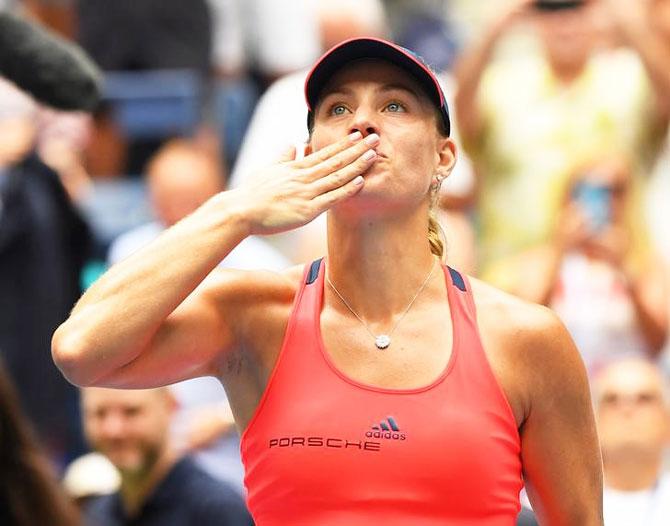 IMAGE: Germany's Angelique Kerber celebrates after beating Italy's Roberta Vinci in the US Open quarters at USTA Billie Jean King National Tennis Center at Flushing Meadows on Tuesday. Photograph: Robert Deutsch-USA TODAY Sports
Second seed Angelique Kerber was first through to the semi-finals bringing Roberta Vinci's Flushing Meadows dream run to an end with a clinical 7-5, 6-0 win.
The match had looked an intriguing one between Kerber, who is eyeing Serena Williams's world number one ranking, and the 33-year-old Italian Vinci, who discovered a fountain of youth at Flushing Meadows last year where she reached the finals.
But a foot fault on set point in the opening set appeared to trip up Vinci and sent her tumbling out of the year's final grand slam.
Three times Vinci would break Kerber in the opening set and three times she would allow the German to immediately break back, including once while serving at 5-4 for the set.
But it would be Kerber claiming the decisive break to win the set when Vinci was called for a foot fault on her second serve before sarcastically applauding the line judge as she walked off the court.