Luke Donald birdied three holes in a row from the 11th to move to the top of the leaderboard late in Thursday's weather-interrupted first round of the U.S. Open in his quest for a first major title.
The birdie streak lifted the former World No 1 from England to four under par through 13 holes when play was suspended due to darkness, one stroke better than clubhouse leader Phil Mickelson, who posted a 67 at Merion Golf Club.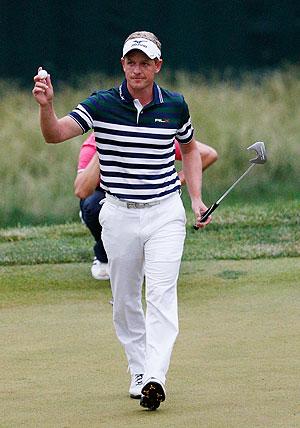 Donald acknowledged he still had to navigate the course's most difficult stretch when he returns Friday at 7:15 a.m. (1115 GMT) to complete his opening round after delays of four hours 16 minutes due to lightning and heavy rain.
"Those are kind of the holes you want to make an easy score if you can," world number six Donald said about the 11th, 12th and 13th.
"Obviously the weather conditions are making the course a lot softer, and you can attack the pins a little bit more. So it's playing as gentle as it might play so far, and obviously this afternoon not much wind.
"If you were going to make a score, today was a good day. I've obviously got five holes left and five pretty tough ones to finish, but really happy with the way I started my round."
Donald, a short-game master, said he was playing Merion precisely according to plan.
"I'm excited to get off to a great start," the 35-year-old said. "I made a great putt on one, another good birdie on three, and then just played the holes like they should be played.
"I feel like I'm in pretty good control of my game, and it's nice to get off to such a good start."
Also on three under par was Masters champion Adam Scott of Australia, who birdied the 11th hole before play was suspended on Thursday.
Donald and Scott both had more work yet to do.
"I've only played two-thirds of a round, but certainly, that's where you want to be," said Donald.
Photograph: Rob Carr/Getty Images