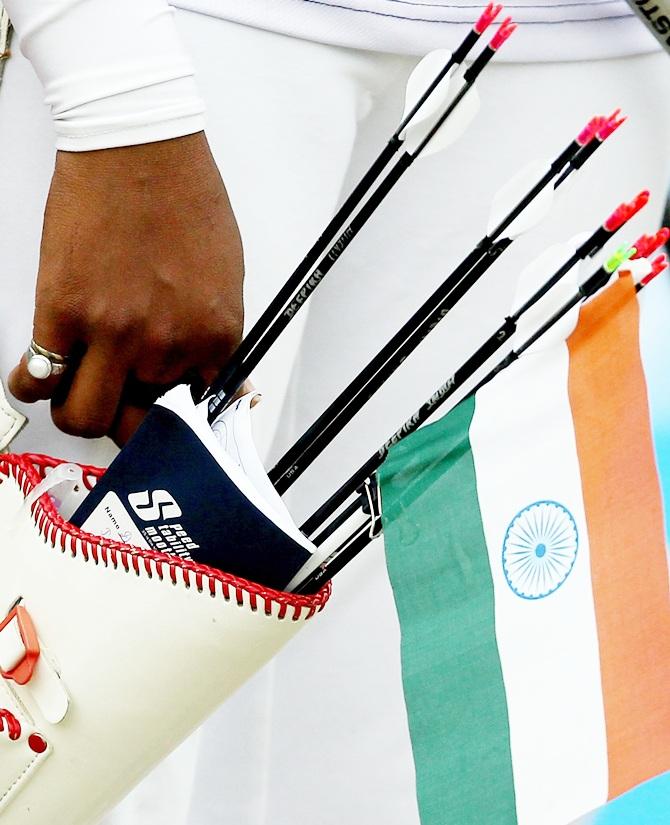 File photo of an Indian archer. Photograph: Lintao Zhang/Getty Images
Livid after 21 members of its 31-strong team were denied US visas, the Archery Association of India decided to withdraw from the World Youth Archery Championships as a mark of protest.
Besides the archers, India's well-travelled Korean coach, Chae Wom Lim, was also refused a visa by the US embassy in Delhi for the championship in Yankton, South Dakota.
"We have decided to withdraw the team from this tournament as a mark of protest. This was decided by AAI president Vijay Kumar Malhotra even though we had reapplied for visas," Archery Association of India treasurer Virender Sachdeva said.
The Indian contingent, comprising under-20 boys and girls' archers, were scheduled to leave for the United States on Friday for the June 8-14 event in Yankton, South Dakota, but the US embassy granted visas to only seven archers, two coaches and a Sports Authority of India official while rejecting 20, thereby putting serious doubts over the team's participation in the event.
Besides Lim, three Indian coaches Mim Bahadur Gurung, Chandra Shekhar Laguri, Ram Awdesh and masseuse Pinki were also denied a visa.
Archery Association of India treasurer Virender Sachdeva said the denial was on the ground that the visa officer was not satisfied with the interview of the rejected individuals and doubted that they may not return after completion of the event.
"It is really a shocking incident. Most of the archers are from lower strata and hail from states like Assam, Jharkhand, Punjab and Uttar Pradesh. Most of them are not well-versed in English and, hence, lack in communication. When the visa officer asked them what they do for living, they simply said we are archers and play archery," Sachdeva said.
"This might have raised doubts in the minds of the visa officer, resulting in refusal of visa. But I don't understand why Lim was denied because he is a known figure in world archery and has travelled worldwide," he said.
Sachdeva said what was more shocking was that the visas were denied despite having the Government of India's sanction order and invitation from the US Archery Association.
He said the AAI has approached the Ministry of External Affairs and the Sports Ministry on the issue but without success.
Sachdeva said that as per US Archery Association's advice, they have re-applied for the visas.
"We have re-applied by submitting new visa fees but we are not sure whether the issue will be solved by tomorrow. If not the three months of practice which these young archers have undergone staying away from their home will be of no use," the AAI official said.