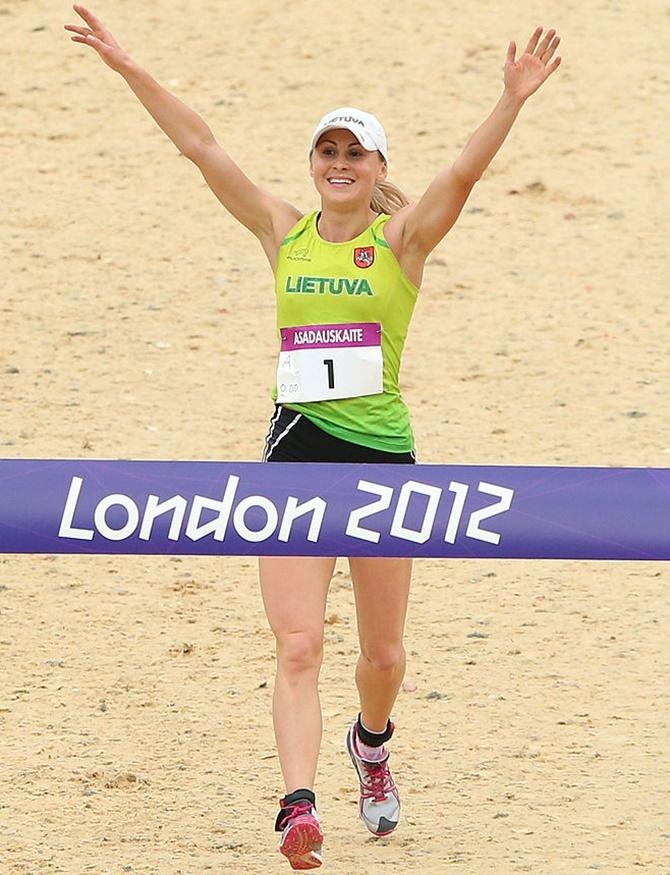 IMAGE: Laura Asadauskaite of Lithuania crosses the line in first place during the women's modern pentathlon of the London 2012 Olympic Games. Photograph: Alex Livesey/Getty Images.
Lithuania's Laura Asadauskaite will be favourite to defend her Olympic title when modern pentathlon enjoys a rare share of the global sporting spotlight on the final weekend of the Rio Games.
As reigning champions go, Asadauskaite's profile is hardly stratospheric but that should be no surprise such is the lack of billing the multi-event sport receives away from Olympic years.
But few athletes in Rio next month will have worked harder, or shown a greater variety of abilities, for their gold medals than the winners of the women's and men's pentathlon titles.
Modern pentathlon, part of the Olympic Games programme since 1912 but forced to fight for its continued inclusion in recent years, comprises fencing, a 200m freestyle swim, show jumping, pistol shooting and a 3.2km cross-country run.
The 72 athletes (36 men and 36 women) need to deploy a vast range of skills to succeed in a sport inspired by the Ancient Olympics and based on the training of cavalry soldiers.
Baron de Coubertin, father of the modern Olympic movement, adapted it into its modern form, describing it as "a test of a man's moral qualities as much as his physical resources and skills, producing thereby the ideal, complete athlete".
The women's event was added to the programme in Sydney.
In a move to make the sport more exciting the shooting and running, on day two, now take place simultaneously with competitors having to hit five targets with their pistol before an 800m run -- a sequence they repeat four times.
Points for the fencing, swimming and horse riding are combined to determine a starting order for the second day of action, meaning the first across the line will win gold.
Asadauskaite, a mother of one who once had ambitions to be an Olympic swimmer, set a new Olympic record in London, and recently won the European title in Bulgaria, beating Rio rivals Elodie Clouvel of France and Germany's world number one Lena Schoeneborn.
She will also face competition from world champion Sarolta Kovacs from Hungary, Britain's Samantha Murray, second in London, and Brazil's Yane Marques, who completed the 2012 podium.
Czech David Svoboda will also be hoping to defend his title having recovered from the stress fracture to his leg and back problems that meant he missed two seasons since London.
He gained his qualification spot a year ago and has been looking forward to Rio ever since.
"This is my fourth or fifth time in Rio and I really like Latin America and Brazil especially, it feels close to my soul," he said.
"The venues are perfect. I have competed here before and it has improved a lot. My goal is to be in the top-10 again and the dream is to win a medal."
France's Valentin Belaud, the world champion, Egyptian brothers Omar and Amro El Geziry and South Korea's Jung Jin-hwa are also among the favourites.