After helping four Indian athletes win medals at the London Olympics in 2012, Olympic Gold Quest has now embarked on another mission.

While their primary target is supporting as many top Indian athletes as possible with world class training and medical facilities to double the medal count in two years' time, at the Rio Olympics, they will also help lesser-known athletes towards improving their showing in other major events, like the Asian and Commonwealth Games.

OGQ has launched a crowd funding campaign to assist training and preparation of their potential medal winning athletes -- Irfan KT (Race Walking), Vikas Gowda (Discus Throw), Ayonika Paul and Pooja Ghatkar (both Rifle Shooting).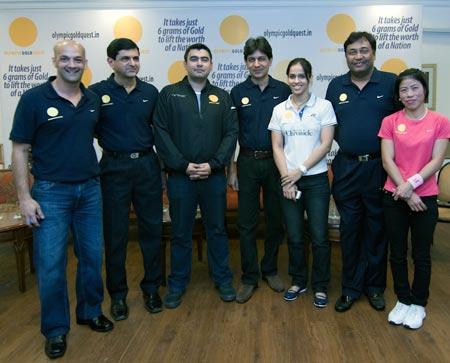 They successfully used the campaign for luger Shiva Keshavan on crowd funding platform Ketto last year to buy him a new sled in preparation for the 2014 Sochi Winter Olympics. They collected more than Rs. 10 lakh during the two-month campaign last November-December.

A not-for-profit organization, OGQ, founded by sports legends Geet Sethi and Prakash Padukone, is committed to bridging the gap between the best athletes in India and the world, thus helping Indians win coveted gold medals at Olympic Games. They currently support 50 athletes across seven individual Olympic sports.

As many as 35 athletes are being supported in preparation for Rio 2016, and 15 junior athletes in the age group of 11-19 years for the 2020 and 2024 Olympics.

Vijay Kumar, Saina Nehwal, Gagan Narang and MC Mary Kom, who are supported by OGQ, were among the six Indians medallists at the London Games.

KT Irfan is the latest addition to the OGQ support list. Known as the 'Malappuram Express' in his hometown, Kerala, Irfan broke the national record for speed-walking without even realising it.

From being unable to afford shoes, this 23-year-old armyman has come a long way in making his family and country proud.

A soldier in the Madras Regiment, he currently trains at the SAI Complex in Patiala. He set an Indian record in the 20km walk, with a timing of 1:20:21 seconds at the London Olympics while finishing a creditable 10th.

Mumbai's Ayonika, 22, made significant strides in the 10m Air Rifle event in a short span of two years. She immediately attracted attention on the international stage when she won the gold medal at the International Junior Shooting Competition in Munich in 2008. She then went on to win multiple medals in the Junior National Shooting Championships and Senior National Championships in the face of some stiff domestic competition.

Pooja, born in Pune, is an up-and-coming shooter in the 10m Air Rifle event. She made a comeback to the Indian team by winning the National Championships in Delhi in December 2012. She began 2011 on a great note when she won a silver medal at the 54th National Shooting Championships in New Delhi. She was also runner-up in the 'Champions of Champions' event where she beat a strong field comprising of some of India's top shooters from both men and women categories.

Originally from Mysore, Vikas Gowda grew up in Maryland, United States, where his father, Shiv Gowda, coached the Indian Olympic Track and Field team in 1988 at the Seoul Olympics. He created history at the 2012 London Olympics by becoming the first Indian athlete to enter the final of a throwing event, and finished eighth.

He also finished a creditable seventh at the World Championships in Russia (2013) and Daegu (2011).

He also won a bronze medal at the New York Grand Prix 2012, becoming the first Indian ever to win a medal in the prestigious Diamond League.

- Click to contribute to the OGQ crowd funding campaign
Image (Left to right): Viren Rasquinha, Prakash Padukone, Gagan Narang, Geet Sethi, Saina Nehwal, Niraj Bajaj and MC Mary Kom.
Photograph courtesy: Olympic Gold Quest