'I felt I had things pretty much under control, that I could change the direction the ball went in.'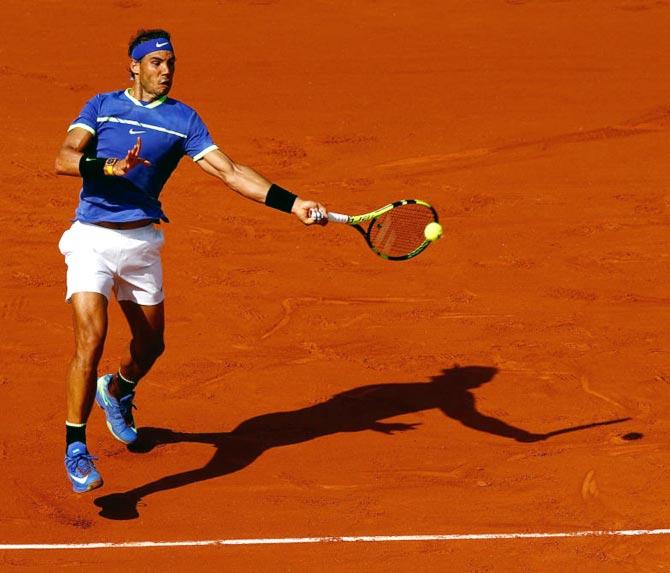 IMAGE: Rafael Nadal in action during his second round match. Photograph: Adam Pretty/Getty Images
To Rafael Nadal's extraordinary list of achievements in Paris, the nine-times French Open champion might well add 'Master of Understatement'.

"I think I played a good match," the Spaniard offered, almost as a question, when asked about his form in thrashing Robin Haase 6-1, 6-4, 6-3.

There would be few in the Roland Garros crowds on Wednesday who would disagree with that analysis - least of all Dutchman Haase, who appeared shell-shocked at the end.

"I think I did a lot of things well this afternoon," Nadal added, with almost comedic understatement.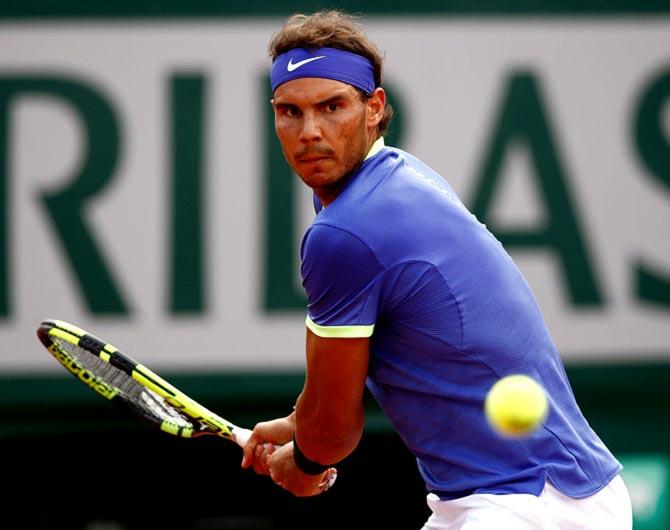 IMAGE: Rafael Nadal in action during his second round match. Photograph: Adam Pretty/Getty Images
Nadal was irresistible. Pummelling the ball with such force that it appeared distorted into an oval shape at times, he was able to toy with his opponent until ready to finish him off.

The hour spent drilling forehand after forehand on the main showcourt in the morning before fans were admitted had been time well spent.

"I felt I had things pretty much under control, that I could change the direction the ball went in," the fourth seed said.

"I didn't really think about it too hard, because when you think about it too hard, you can't act anymore.

"So I tried not to think about it too much, and it went well."

Certainly Nadal seemed to be enjoying himself in warm Parisian sunshine, the conditions suiting his game and giving his groundstrokes a little extra zip.

"It's true that if sun there, between 18 and 25 degrees, normally is good for me, because the ball flies and we have good bounces on my forehand, especially," the 30-year-old said.
IMAGE: Rafael Nadal in action during his second round match. Photograph: Adam Pretty/Getty Images
Nadal, who next plays Georgian Nikoloz Basilashvili, deflected any talk about his uncle, Toni, stepping down as his coach.

Nadal's old friend and former Roland Garros winner Carlos Moya, and former tennis pro Francisco Roig, will take on the full-time duties of coaching the player, while Toni takes a back seat.

"Toni is the most important person in my tennis career without a doubt. So a lot of things that I achieved are because he was there since I was three-years-old, helping," Nadal said.

"I'm here to play a tennis tournament. An important event for me. I cannot be thinking if Toni is leaving or not leaving.

"Toni take his position. He's free to do what is good for him. I am happy that he will be involved in the (Rafael Nadal tennis) academy more than ever, that's good for kids, and that's all good for the academy.

"He's free to do whatever he wants. So is something that I don't think about, no? He's my uncle, I say hundred of times, but he's my uncle more than my coach. He's always free to come wherever he wants."