India eves prevailed 3-2 over China in a closely contested match at the 4th Women's Under-18 Asia Cup in Bangkok on Saturday.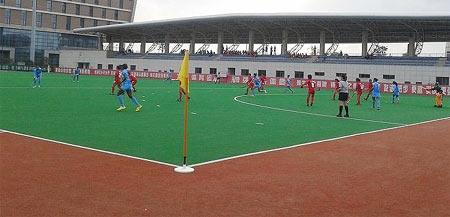 India were off to a quick start as their first goal came in the 7th minute with Lalremsiami netting the ball.
She doubled the team's lead with another strike just five minutes before the end of the first half.
But China came out stronger in the second half and Gu Yangyan converted a penalty corner in the 40th minute to bridge the deficit.
Although India held the control and the possession throughout the period, they were unable to create clear opportunities, and in the 51st minute, Yangyan once again netted the ball for China to score the equaliser via a penalty stroke.
However, India didn't let their heads drop and to rallied to find the winner through Sangita Kumari, who converted a penalty corner to seal the issue.
Speaking after the game, coach Baljeet Singh said, "It was a big game for us, and I am proud that despite losing an advantage in the second half we rallied and got the victory. It showed the strength of the players, mentally and physically."
Image used for representational purposes
Photograph: Hockey India/Facebook