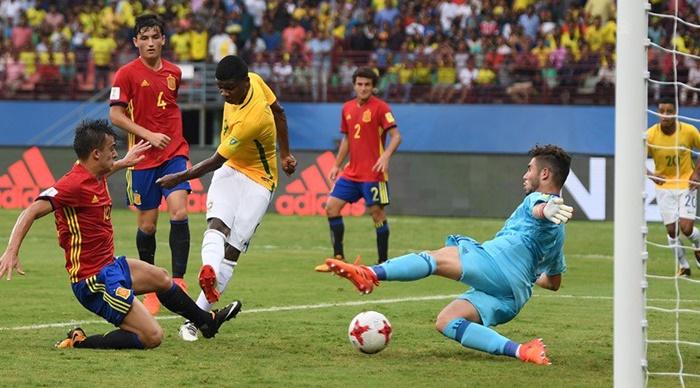 IMAGE: Brazil's Lincoln scores against Spain. Photograph: FIFA/Twitter
Having pocketed their opening marquee match against Spain, hot favourites Brazil would seek to seal an early knock-out berth when they meet unfancied North Korea in their second FIFA U-17 World Cup group game in Kochi on Tuesday.
Brazil made a strong statement with a 2-1 victory over Spain in their opening Group D clash on October 7, and they would now look to build on the winning momentum.
Brazil, who arrived more than 10 days before their first match, successfully withstood the humid conditions in Kochi better than their Spanish counterparts.
- Complete Coverage of the FIFA Under-17 World Cup
Despite conceding an early goal, Brazil were able to rally against a quality Spain side.
There is no doubt Brazil will start as clear favourites against North Korea whose morale must be down after losing to debutants Niger by a solitary goal in their opening match.
The football team from the reclusive country was the second best for most part of the match and it rarely threatened the opposition goal.
North Korea, who are never known to play an attacking brand of football, will most likely adopt a defensive game plan tomorrow also. It remains to be seen how they stop Brazil, known for their attacking flare, from scoring goals.
The Brazil attacking trio of Lincoln, Paulinho and Brenner were difficult to stop by the technically sound Spain defenders and it will be interesting to see how the North Koreans match up to them.
The two sides have played twice earlier in the FIFA U-17 World Cup and on both occasions, and Brazil have emerged victorious. In the 2005 edition in Peru, Brazil had beaten
North Korea 3-1 in extra time in the quarterfinals after ending the regulation time 1-1.
Two years later in South Korea, Brazil had thrashed the North Koreans 6-1 in a group match.
The Teams (From):
Brazil: Gabriel Brazao, Wesley, Vitao. Lucas Halter, Victor Bobsin, Weverson, Paulinho, Marcos Antonio, Lincoln, Alan, Lucao, Matheus Stockl, Rodrigo Guth, Luan Candido, Victor Yan, Rodrigo Nestor, Vitinho, Yuri Alberto, Brenner, Yuri Sena.
North Korea: Sin Tae Song, Ri Hyok Sin, Kim Kyong Sok, Kye Tam, Sin Kwang Sok, Han Kyong Hun, Kim Hwi Hwang, Kim Ju Song, Kim Chung Jin, Kim Pom Hyok, Kung Jin Song, Ri Kang Guk, Ri Hyon Il, Han Jin Bom, Cha Kwang, Ri Il Ju, Yun Min, Jong Ryong Hun, Kwon Nam Hyok, Paek Kwang Min, Kim Chol Jin.