'Our defence system starts with our first four and that's why we have a solid defence. People look to Brazil and always try to find players who score or dribble but we have many other qualities. With our goalkeeper and defenders, we have a solid defence'
'It's pretty exciting for us and we are looking to do something great here'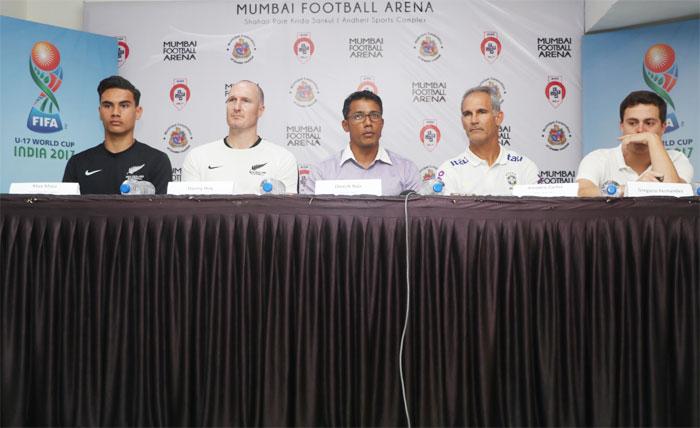 IMAGE: New Zealand Under-17 captain Max Mata (left to right), New Zealand coach Danny Hay, former India footballer Dinesh Nair, Brazil's Under-17 coach Carlos Amedeu and communications officer of the Brazilian squad at the pre-practice match press conference in Mumbai on Wednesday. Photograph: Hitesh Harisinghani/Rediff.com
The coach of football powerhouse and three-time winners Brazil's Under-17 team, Carlos Amedeu expects next month's FIFA U-17 World Cup to be an open contest.
"I look at this World Cup as a World Cup of equality. All the teams of Europe are very strong, including Spain and England. The South American teams are strong along with Mexico and the United States. African teams have always done well in age group tournaments. That's why I say this will probably be a World Cup of equality as there are many teams with chances to win it," said Amedeu here today.
Brazil, who are to tune up with a practice game on Thursday at the Mumbai Football Arena in suburban Andheri against New Zealand, are in Group D with Niger, Spain and DPR Korea. "Talking about our group it's a very strong group with South American Champions (his own country), European champions Spain, the national team of Niger which is very strong in age group and DPR Korea about which it is not easy to get information," said Amadeu who had earlier coached the country's Unde-15 team.
"I also cannot forget to notice New Zealand. They are also a strong team and in the last Under-17 World Cup they had beaten Paraguay, a strong team. We faced them and it was a difficult game and we won on penalties. That's why it's a World Cup of equality," he emphasised.
For Thursday's practice game Brazil will miss their star player Vinicius Jr, who has already been plucked to play professional football by Spanish club giants, Real Madrid, and was the top scorer with 7 goals in the South American qualifiers.
"Vinicius is our main player. Since the Under-15 level he has caught the attention all over the world. He has had a transfer. He was asked to come to this competition and he wants to come and is proud to represent the country.
"He will be here after his final national competition (for his club Flamingo). He will come on Saturday. He has been playing together with these guys since the Under-15 days and there won't be a problem for him integrating," the Brazilian coach said.
Amedeu said while the entire country would be delighted to clinch the trophy after 13 years, the other primary aim was to get the players into the country's professional teams.
"In Brazil, every one is looking forward for titles. As we are working with young players our aim is to get them to our professional teams. If we can do that by winning competitions, winning trophies -- of course -- it will always be a positive for us," he said.
Amadeu also warned the other teams that while everyone expected the Samba lot to dazzle up front with their ball skills, they were very good in defence too.
"Our defence system starts with our first four and that's why we have a solid defence. People look to Brazil and always try to find players who score or dribble but we have many other qualities. With our goalkeeper and defenders, we have a solid defence," he emphasised. He also said the four South American outfits which will be seen in the tournament were all quality teams.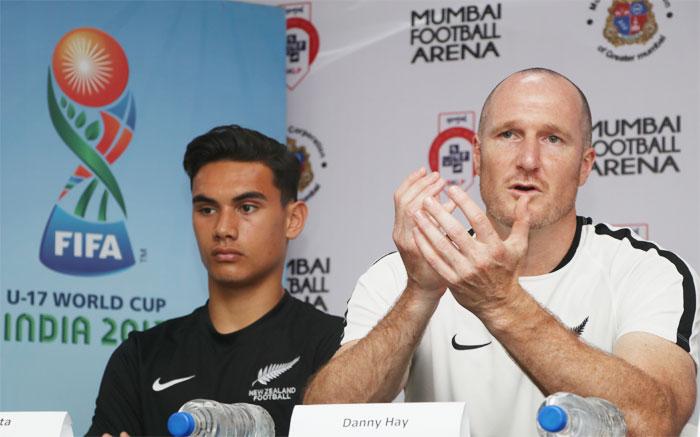 IMAGE: Former Leeds United footballer and coach of the New Zealand Under-17 team Danny Hay and captain Max Mata at the pre-practice match press conference in Mumbai on Wednesday. Photograph: Hitrsh Harisinghani/Rediff.com
"We had the South American qualification which was difficult for us. Paraguay is a strong team. They are working together since a long time. They don't have individual skills as their main subject but as a team they are very strong. We did not beat them but earned two draws while Colombia (in Pool A with host India, USA and Ghana) is technically very good and is well trained. They are strong in free kicks.
"Chile (in Group F with England, Mexico and Iraq) too is strong at home and it remains to be seen how well they perform away here in India which is very different," he added.
New Zealand expect a stiff challenge in their FIFA U17 World Cup campaign at the D Y Patil Stadium in Navi Mumbai, said coach Danny Hay ahead of the Kiwis' practice game against Brazil on Thursday.
New Zealand are in Group B with Paraguay, who did not lose to Brazil in the zonal qualifiers, African champions Mali and Turkey - one of five qualifiers from Europe. The preliminary group games will be held at the D Y Patil Stadium.
"For us the scenario is very similar (to Brazil's). This is why you come to the World Cup, to test yourself against the best players and sides. I am really excited and can't wait to play against Brazil," said Hay, in Mumbai on Thursday.
"There's a strong sense of mutual respect between us. We know the name Brazil is synonymous with football. They are one big team in world football, if not the biggest. It's going to be a good yardstick to test ourselves," he remarked.
He recalled how New Zealand lost to Brazil in the pre-quarters at the last Under-17 World Cup.
"That (two years ago) was the first time I was involved in a FIFA World Cup as coach. We played the round of 16 match against my Brazilian friends here and it was a massive learning experience. We don't get exposed to high levels of football as geographically we are a bit isolated," said Hay.
"It was important that we qualified and tested ourselves. We don't expect anything different now. The level is going to be super high and we expect to be really challenged.
"We have Mali in our group. They are the African champions and statistics say in U-17 and U-20 World Cups, the African teams are very strong. We are under no illusions. Paraguay is a strong side and any side that qualifies out of Europe -- like Turkey -- is very difficult to face and this is going to be a difficult challenge," he emphasised.
Team skipper, midfielder Max Mata, echoed his coach's views.
"We are very excited to play against Brazil and the level of football we will be facing," said Mata, adding that the team is getting adjusted to the Indian weather conditions.
"Conditions are completely different, but we came here early to acclimatise with some game days and practice matches. We are getting used to the conditions," he said.
"It's pretty exciting for us and we are looking to do something great here," he added.
New Zealand are to kick off their campaign against Turkey on October 6.
India U-17 team undergoes training session ahead of WC
The Indian football team had its first training session on Wednesday after arriving in New Delhi for the upcoming FIFA U-17 World Cup, under the watchful eyes of head coach Luis Norton de Matos.
The boys, who arrived in New Delhi on Tuesday from Goa, went through the paces at the Conscient Football grounds at neighbouring Gurgaon, as they started their preparations for the opening match against United States of America on October 6.
De Matos emphasized on tactical training along with focus on set pieces among other technical matters.
"The level of enthusiasm in the camp is very high. We are prepared and the team has grown exponentially in the last couple of months. We plan to show the world that we are on the same page as the rest of the teams in the FIFA U-17 World Cup 2017 India," said de Matos.
"The Indian team is raring to go and make history," he added.
India have been drawn in Group A with USA, Colombia and Ghana. Colombia, the first team to arrive in India, were also undergoing a practice session at the same training ground.
India play USA on October 6, before locking horns with Colombia and Ghana on October 9 and 12 respectively at the Jawaharlal Nehru Stadium in the Capital.
"A unique moment is upon us. It is an amazing moment in Indian football's history and everyone associated with it should be proud of it," said de Matos.
"The FIFA U-17 World Cup is a very big moment for every player as they will all become heroes. They will become the first Indian players to be part of a FIFA World Cup. These players will inspire generations to come."