'I think the comparison with 1936 is certainly right and frankly, I think it is an emetic (repulsive) prospect to think of Putin glorying in this sporting event'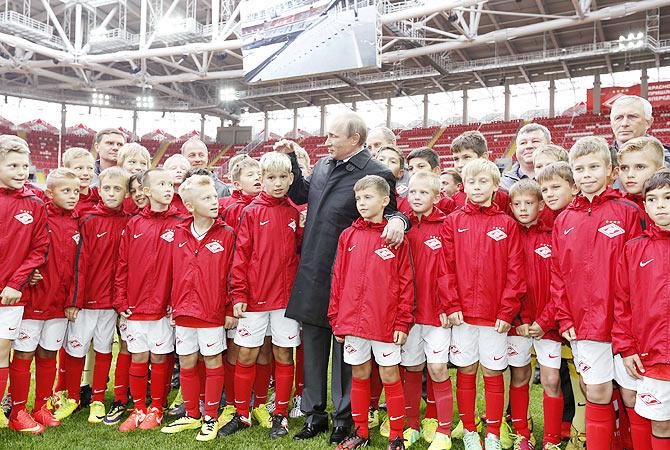 IMAGE: Russian President Vladimir Putin talks to young soccer players during unveiling of Spartak's stadium Otkrytie Arena in Moscow in August 2014. The stadium will host matches at the 2018 FIFA World Cup (Image used for representational purposes). Photograph: Sergei Karpukhin/Reuters
The UK government on Wednesday drew comparisons between Russia hosting the 2018 FIFA World Cup and Adolf Hitler using the 1936 Olympics to glorify his Nazi ideology in Germany.
Foreign secretary Boris Johnson was giving evidence to the House of Commons Foreign Affairs Committee on the escalating diplomatic row with Moscow over the poisoning of a former Russian spy with a deadly nerve agent.
"Putin is going to use it [World Cup] the way Hitler used the 1936 Olympics. The idea of Putin using this as a PR exercise to gloss over the brutal, corrupt regime for which he's responsible, fills me with horror," Labour MP Ian Austin said during the committee hearing.
"I think the comparison with 1936 is certainly right and frankly, I think it is an emetic (repulsive) prospect to think of Putin glorying in this sporting event" Johnson replied.
However, when Austin suggested the UK should consider boycotting the tournament, scheduled for June-July, over safety concerns for British fans, the minister disagreed.
It would be wrong to ban the England team and fans from attending the tournament but there could be risks for those going to Russia this summer, Johnson said.
"This is of crucial importance to us and we do indeed need to have an urgent conversation with the Russians about how they propose to fulfill their obligations under their FIFA contract to look after all fans arriving and we certainly shall be having that conversation," he added.
The foreign minister revealed that the British official responsible for looking after fans at the World Cup had been expelled in the Kremlin's purge of UK diplomats, in response to British Prime Minister Theresa May's expulsion of Russian diplomats, characterised as spies, after the attack on Sergei Skripal and his daughter Yulia in Salisbury on March 4.
Johnson reiterated the UK government's stance that the trail of evidence on the poisoning of the Skripals led "inexorably" to the Kremlin and suggested that the recent election in Russia may have been the motivation for the attack.
Meanwhile, British ambassador to Russia Laurie Bristow snubbed a meeting called by the Kremlin in Moscow today to discuss the attack.
The Russian foreign ministry had invited all ambassadors in the country to attend the meeting, but reports suggested a number of Western diplomats refused to attend.
The meeting came as the 23 diplomats expelled from the UK arrived back in Moscow. A similar number of British diplomats have until Saturday to leave Moscow.
The Skripals remain in critical condition in hospital, with Scotland Yard indicating the investigation into their attempted murder could run into months.