The UEFA Champions League semi-finals will be German vs Spanish contests after Bundesliga champions Borussia Dortmund were drawn to play at home against Real Madrid and 2012 finalists Bayern Munich were pitted against Barcelona.
The first leg is on April 23/24 and the second on April 30/May 1.
- PHOTOS: Chelsea, Benfica make Europa League semis
The draw, made at the UEFA headquarters in Switzerland, opened up the possibilities of an all German final or a Real-Barca clash at Wembley.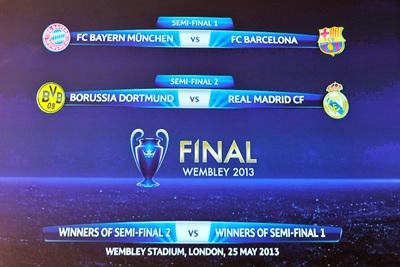 Before the Champions League semi-final pariings were drawn, the second-tier competition draw was conducted for the Europa League semi-finals.
Chelsea will play Basel and Turkish Fehnerbace will face off against Portugal's Benfica.
The first leg of Europa League semi-finals will be played on April 25, and the return games on May 2.
Bayern are the in-form team, having already won the Bundesliga with six matches to spare and they demolished Serie A champions Juventus 4-0 on aggregate in the quarter-finals.
"It's a tie between two great teams," said former Barcelona goalkeeper Andoni Zubizaretta, who is now the club's sporting director.
"I know what is coming our way now but I find the contrast (between the teams) very appealing," said Bayern chief executive Karl-Heinz Rummenigge.
"Now our team has to show they can be on par with Barcelona. It is a chance to show that Bayern has improved since 2009 (when they last met) and we can test ourselves against the best team. There are no clear favourites in any of the games."
Dortmund had the upper hand in their group stage meetings with Real Madrid, drawing 2-2 at the Bernabeu and winning 1-0 at home.
"We have already played them twice this season and we were unable to beat them," said former Real Madrid Emilio Butrageno, now a club director.
"But we hope this time it will be different and we can get through to the final."
Image: The UEFA Champions League semi-final and final draws results are displayed at the UEFA headquarters in Nyon, Switzerland.
Photograph: Harold Cunningham/Getty Images