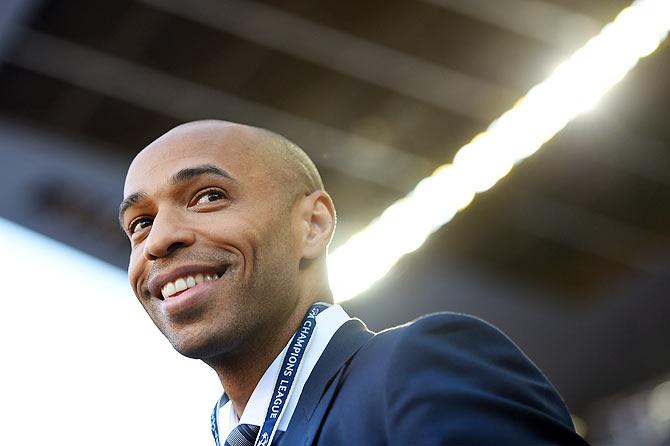 Former Arsenal and Barcelona player and TV commentator Thierry Henry looks on prior to kickoff of the UEFA Champions League first leg semi-final between FC Barcelona and FC Bayern Muenchen at Camp Nou in Barcelona on Wednesday. Photograph: Shaun Botterill/Getty Images
With a match as big as the Champions League semi-final, it was only expected that some famous names would be in the stands supporting their favourite clubs.
Seen in the stands were former Arsenal and Barcelona striker Thierry Henry and Germany's World Cup-winning coach Joachim Loew.
- Champions League: 77 -- Messi and the magic number
- Champions League: Bayern kept possession but lost the plot
And the duo was not disappointed, for as expected the match was worth every penny spent on the ticket.
Lionel Messi's exquisite Champions League double for Barcelona against Bayern Munich was a case of history repeating itself with an added magnificent assist for Neymar to seal an emphatic 3-0 semi-final, first leg win.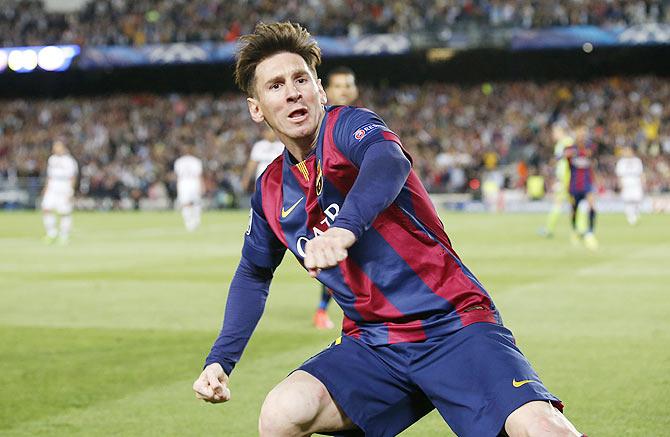 Barcelona's Lionel Messi celebrates scoring their first goal. Gustau Nacarino/Reuters
The 27-year-old recaptured the record for Champions League goals from Real's Cristiano Ronaldo and now has 77, including a competition-best 10 in the latest edition.
"It was over in a second, it just happened like that," Messi, with typical self-effacement, told reporters when asked about his second strike.
- Champions League PHOTOS: Messi nets double as Barca romp past Bayern
"I imagined that Boateng would expect me to switch to my stronger (left) foot so I cut back the other way," he added.
With the European heavyweights locked at 0-0 in Wednesday's absorbing clash at the Nou Camp, the Argentina forward picked up a 77th-minute pass and lashed a shot into the corner past Bayern goalkeeper Manuel Neuer to put Barca 1-0 up.
Three minutes later, Messi left Bayern's Germany defender Jerome Boateng on the seat of his pants and beat Neuer with a delicate chip that sent his adoring fans packed into the giant arena into delirium.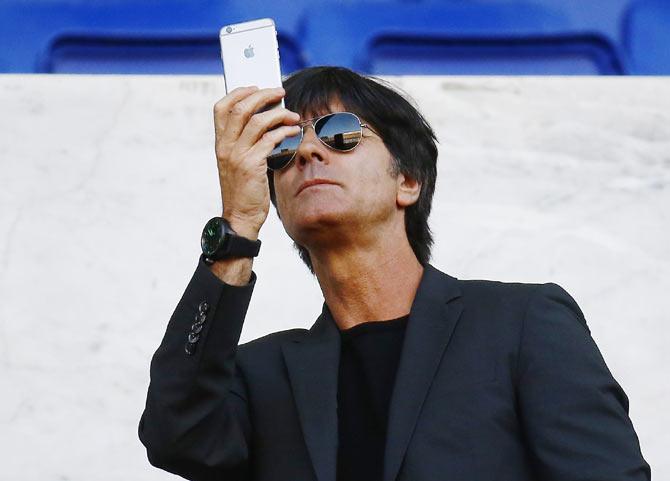 Germany coach Joachim Low in the stands before the match. Photograph: Kai Pfaffenbach/Reuters
The parallels with Barca's last-four, first leg win at Real Madrid in 2011, when Messi netted two late goals including a breathtaking second, were obvious but this time around there was more to come from the South American genius.
Messi's second goal, in particular, drew effusive praise from all sides, with headlines in Thursday's sports papers dubbing him everything from a god to an extra-terrestrial.
With Messi on this kind of form, it is hard to imagine Bayern mounting a comeback in Tuesday's second leg in Munich and Barca are looking good to repeat 2009's treble of Champions League and Spanish league and Cup titles won under former coach and current Bayern boss Pep Guardiola.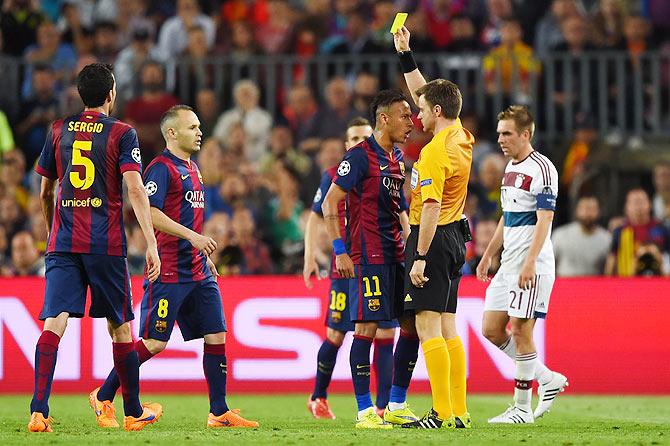 Neymar of Barcelona squares up to referee Nicola Rizzoli as he is shown the yellow card. Photograph: Shaun Botterill/Getty Images
Guardiola, who was making his first competitive return to the Nou Camp since taking over at the German champions, had predicted that his former protege Messi would be unstoppable and so it proved.
The match had already ticked into stoppage time when Messi sent a pass into space for Neymar and the Brazil forward raced away to make it 3-0 and virtually assure Barca of a place in June's final in Berlin.
"Germany is a very tough place to play," Messi said.
"We got a very good result but we still have to go there and we can't take anything for granted."