In a move to revive football in India, the All India Football Federation has invited investors from the United Arab Emirates to bid for two available club slots in India's top-flight domestic football league.
According to Gulf News, vacancies have emerged after ONGC (Oil and Natural Gas Corporation) and Air India were barred from next season's campaign after failing to fulfill the Asian Football Confederation (AFC) licensing criteria on the grounds of their infrastructure and commercial viability.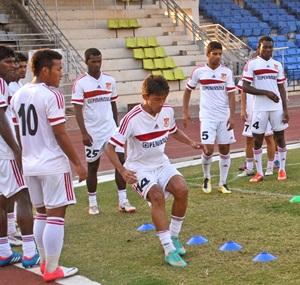 The report further said that the vacant positions in the 14-team league will now be offered to the highest bidder at a cost expected to start at around 36.8 million dollars, adding that the AIFF will still add two new teams to expand the league to 16 clubs if the two barred clubs are relegated when the current season ends next month.
According to AIFF secretary Kushal Das, the move has been made as an attempt to attract corporate with an interest in football so that they can revive the game in India and provide the sport with a much-needed shake-up, adding that the required investment will total around 25-30 million dollars.
Stating that the investors will get an opportunity to actually see a return on their investments in time, Das said the potential returns could be substantial in both business and emotional terms, and added that AIFF is putting together their own national team programme with the aim of becoming a World Cup-playing nation within ten years.
Dubai-based conglomerate Dodsal Group, chaired by business magnate Rajen Kilachand, is considered one of the local favourites to enter the bidding war, while representatives of Venky's Group, which owns English second-tier side Blackburn Rovers, are understood to have been present at last month's meeting in Delhi, the report added.
ANI