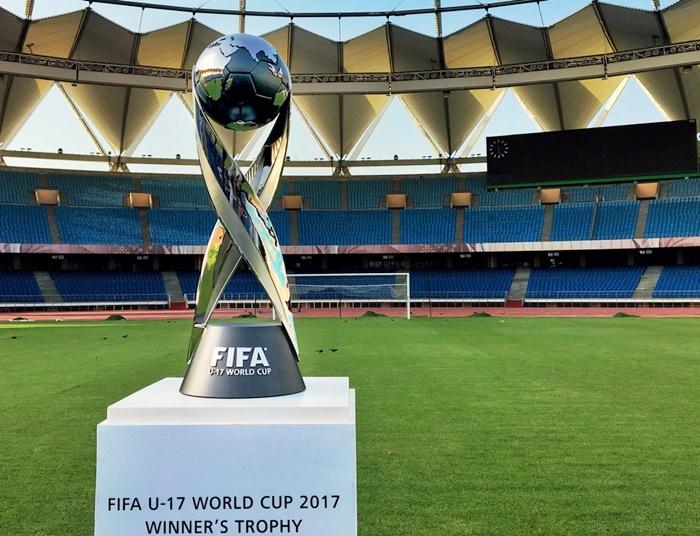 IMAGE: FIFA Under-17 World Cup Trophy. Photograph: Twitter
Argentine legend Diego Maradona will kick off a football conclave on October 3 in the presence of a galaxy of current and former Indian stars like Bhaichung Bhutia, Sunil Chhetri and I M Vijayan.
The first season of 'Goal 2017' will bring the country's top current and former footballers and celebrities together.
The day will start with a session with Vijay Goel, former Union sports minister.
It will be followed by a session by former India cricket captain and Atletico de Kolkata co-owner Sourav Ganguly who will speak about "A career that could have been", giving insights on his love for football.
India head coach Stephen Constantine, ATK chief coach and star Manchester United forward Teddy Sheringham, Jamshedpur FC head coach Steve Coppell, former ATK coach Antonio Habas, Vijayan, Jo Paul Ancheri and Subhas Bhowmick will also attend the day-long session, a release stated.
Indian Super League team owners Ranbir Kapoor, Abhishek Bachchan and John Abraham will also speak in a session titled, 'Is it a love for football or an attempt to keep themselves visible'.
The football conclave by the 'India Today Group' will end with a session on way forward on India football by Nita Ambani, chairperson ISL.
In his second visit to the football-crazy city, Maradona will also lock horns against Ganguly in a Match for Unity -- Deigo vs Dada on October 5 at the Aditya School of Sports Arena at Kadambagachi at Barasat.
The arena will have provision for multiple sports disciplines, including indoor games and was launched on Monday.
Want to play teams which test us, says Kiwi skipper Mata
New Zealand U-17 football team skipper Max Mata today said his side wants to play opponents which would test their skills in the FIFA tournament.
"For us, getting an opportunity to play against Brazil and England, leading into the World Cup here (at Mumbai Football Arena) is going to be an awesome experience.
"It will let us tweak the areas that we spot in the games. The harsh reality for us is that this is the (level of) opposition we will play when it counts. We want to play teams who are really going to test us, this is perfect. It will show the character of each individual and as a team," Mata said.
The New Zealand U-17 side will play against Brazil in a practise game on September 28 scheduled at 5 pm. The Kiwi team then plays England on October 1 at the same venue.
New Zealand, after landing in India, visited the D Y Patil stadium in neighbouring Navi Mumbai.
The skipper said his side will like to continue scoring goals in the U-17 World Cup, which begins on October 6.
"Goal-scoring side of our team is a positive for us. We are planning to continue that, but don't expect the same outcome in the World Cup. When we do get our chances, we will finish (convert) them," he said.
Saying the players fully trust their coach Danny Hay, the skipper said that the team has the best coaching staff.
"Danny Hay, ex All-Whites (New Zealand) captain, is head coach. Two former captains, Chris Zorocick and Jason Batty are assistant coach and goalkeeping coach. The preparations getting into the World Cup qualifier is getting better and better. We are picking up little things each time, so that we can get even better. We can trust him (Danny) 100 per cent and that is exactly what we have done," he singed off.
New Zealand, figuring in the U-17 tournament finals for the eighth time, have been grouped in Pool B with Mali, Paraguay and Turkey.
The Kiwis are set to play on the first day of the tournament itself at the D Y Patil Stadium against Turkey, who had made the grade in 2005 and 2009.