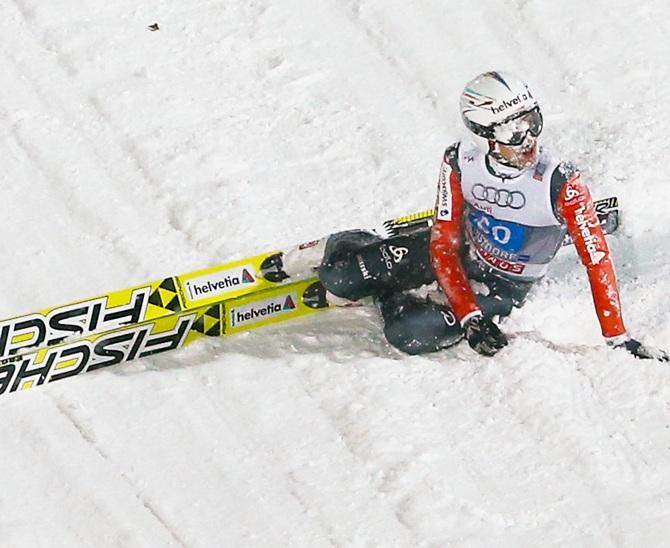 (Picture for representational purpose only) Simon Ammann of Switzerland during the FIS Ski Jumping World Cup. Photograph: Stanko Gruden/Agence Zoom/Getty Images
Two young ski racers training with the US development-level ski team were killed in an avalanche in the Austrian Alps on Monday, the US Ski and Snowboard Association (USSA) said on its website.
Ronnie Berlack, 20, and Bryce Astle, 19, were caught by the avalanche while free-skiing in Soelden, in the Tyrol region, USSA said in a statement. Four other team members skiing with them survived.
Berlack, from Franconia, New Hampshire, had been on the US development team since 2013 and Astle, from Sandy, Utah, had been invited to train with it this season.
"Ronnie and Bryce were both outstanding ski racers who were passionate about their sport – both on the race course and skiing the mountain," US Ski and Snowboard Association President Tiger Shaw said in a statement.
"Both of them loved what they did and conveyed that to those around them."
Berlack was named to the development team following two top-20s at the 2013 US Alpine Championships and a spring tryout camp. Astle had posted strong early season results, including two top-10 NorAm Cup races last month in Canada.
The Austrian broadcaster ORF said neither man was wearing avalanche emergency gear.
The danger level on the mountain at the time was rated at three on a scale of five, meaning there was a 'considerable' risk of avalanche, according to the Austrian news agency APA.