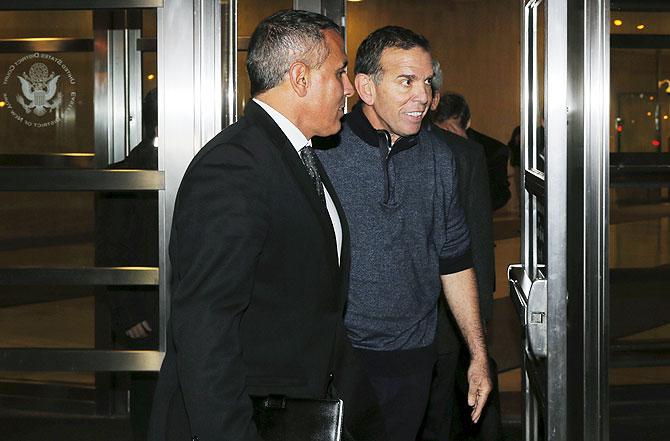 IMAGE: Paraguayan and former president of the South American Football Confederation CONMEBOL Juan Angel Napout (2nd from left), departs the US Federal Court after pleading not guilty in the Brooklyn borough of New York on Tuesday. Photograph: Lucas Jackson/Reuters
Two football bosses including a former president of Honduras pleaded not guilty on Tuesday to US charges they took bribes in exchange for media and marketing contracts in a scandal that has rocked the business of global football.
Rafael Callejas, who was president of Honduras from 1990 to 1994 and later became president of its football federation, flashed a thumbs-up to someone in the audience as he left a hearing in federal court in Brooklyn, New York.
Juan Angel Napout, a Paraguayan and former president of the South American confederation CONMEBOL, pleaded not guilty at a separate hearing.
The two came to the United States voluntarily after their indictment on bribery charges was unsealed on December 3. They are among 41 people and entities charged in a US corruption sweep that has sent football world governing body FIFA into an unprecedented crisis.
The 72-year-old Callejas, who has served on a FIFA committee, did not immediately seek release on bail. He has said he bore no responsibility for the accusations and was ready to defend himself.
Callejas is charged with taking bribes from Media World, an affiliate of Spain's Imagina Group, so that the company could obtain media and marketing rights for qualifier matches ahead of the 2014, 2018 and 2022 World Cup tournaments.
Imagina has said it would cooperate fully with US authorities. It suspended the chief executive of Media World and another employee.
A magistrate judge approved a $20 million bond package that cleared the way for Napout's release to home detention with 24-hour security and video surveillance. Napout, 57, quit CONMEBOL last week and was suspended from his position as a FIFA vice president.
Napout is charged with soliciting bribe payments from two sports marketing firms to secure his support for awarding commercial rights to football tournaments including the popular Copa Libertadores.
In parallel investigations, Swiss and US authorities are foccusing on whether business contracts and the World Cup hosting rights for 2018 in Russia and 2022 in Qatar were won with the help of bribery.
The schemes described in the December 3 indictment involved over $200 million in bribes and kickbacks sought for marketing and broadcast rights to tournaments and matches.
Of the 41 defendants, 14 have pleaded guilty. At least four others including Callejas and Napout are in the United States. The rest are in various stages of extradition proceedings.
FIFA's Blatter proclaims innocence, says, 'I am suspended but not isolated'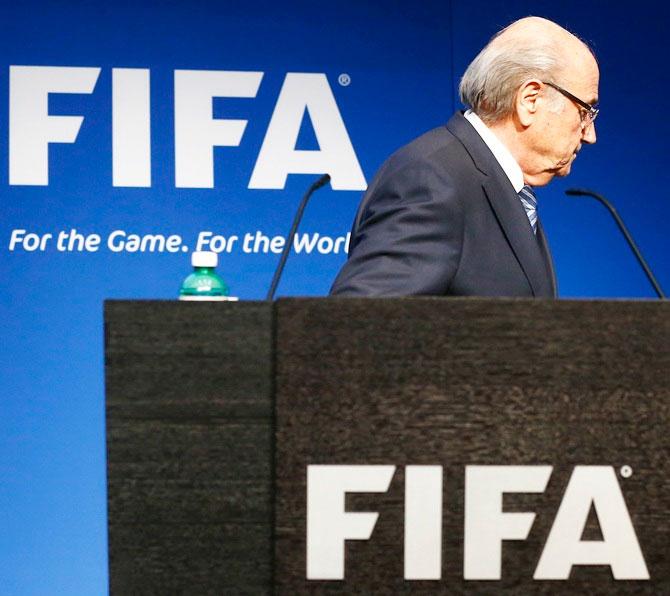 IMAGE: Sepp Blatter leaves during a news conference. Photograph: Ruben Sprich/Reuters
Suspended FIFA President Sepp Blatter again proclaimed his innocence in a corruption scandal gripping the world soccer body as he prepares to testify this week before the group's ethics panel.
"I will fight on for my rights and at the end of this week present my view before the adjudicatory chamber with great conviction and a firm belief in justice," he said in a letter to FIFA members released to the media.
"I am suspended but not isolated and not at all mute."
FIFA ethics investigators in November called for sanctions against Blatter and European (UEFA) soccer chief Michel Platini, both of whom were suspended from their posts for 90 days on October 8 pending a full investigation.
Blatter reiterated that a 2 million Swiss franc ($2.02 million) payment from FIFA to Platini in 2011 -- when Blatter was running for re-election -- was legitimate and resulted from a verbal contract for work Platini had done for the organisation years before.
He said the way the ethics committee's investigative arm had pursued the case was "tendentious and dangerous. This trial reminds me of the Inquisition," he wrote.
Blatter is due to testify on Thursday and Platini on Friday. FIFA's ethics panel is set to rule on their cases next week, and could impose much longer bans than the provisional suspensions if it finds the men guilty of violations.
US prosecutors have charged 41 people and entities in an inquiry into soccer corruption. Soccer bosses from throughout the Americas are among the defendants in a case that prosecutors say involves $200 million in bribes and kickbacks tied to the marketing of major tournaments and matches.
Blatter is also the subject of a criminal investigation in his native Switzerland over the Platini payment.
The avalanche of corruption allegations prompted Blatter to say in June he would resign, only days after being re-elected to a fifth term. Blatter has not been charged with a crime.
Blatter's comments came in the traditional end-of-year letter to FIFA members he has sent for 17 years, but this time on his own stationery.