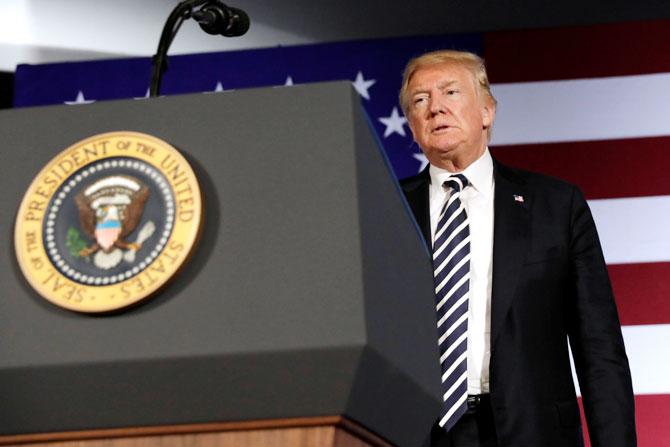 US President Donald Trump on Wednesday criticised Nike Inc for its new advertising campaign featuring Colin Kaepernick, the NFL quarterback who sparked controversy by kneeling in protest during the national anthem.
Trump, without offering evidence, said in a post on Twitter that the sportswear company was "getting absolutely killed with anger and boycotts."
He also continued to blast National Football League players for their protests over racial and social injustice.
Representatives for Nike could not be immediately reached for comment on Trump's tweet. Shares of the company were up less than one percent in midmorning trade on Wednesday; the stock had dropped nearly 4 percent at one point on Tuesday.
The footwear and apparel maker's campaign this week further stoked a national debate over social justice that Kaepernick and other NFL players sparked with their protests aimed at addressing police brutality against minorities, racial injustice, and reforming the criminal justice system.
Trump has embraced the issue as a political cause, frequently criticising players for taking a knee at games and questioning their patriotism. Critics have defended their protests as a fundamental American right to free speech.
On Tuesday, he criticised Nike's decision but also appeared to defend the right for such movements.
Marketing experts predicted that the brand recognition sparked by the ads would be successful in the long run, despite current calls for boycotts on social media.
NFL players and the league are continuing to negotiate over the issue of protests.
On Wednesday, Nike unveiled its first "Just Do It" ad narrated by Colin Kaepernick, a spot scheduled to air during the NFL season opener on Thursday night as well as during the US Open tennis tournament and other major sporting events.
According to AFP, the two-minute spot released Wednesday highlights superstar athletes LeBron James, Serena Williams and others, and touches on the controversy of NFL players protesting racial inequality, police brutality and other issues by demonstrating during the national anthem.
Kaepernick hasn't spoken to the media publicly since opting out of his contract with San Francisco and becoming a free agent in 2017. He scored a legal victory last week in his grievance against the NFL and its 32 teams when an arbitrator allowed his case to continue to trial.
The quarterback claims NFL team owners conspired to keep him out of the league because of his protests. His case hinges on whether owners worked together rather than decided individually to not sign Kaepernick.
A similar grievance is still pending by former San Francisco teammate Eric Reid, a Pro Bowl safety who joined in the protests.
Kaepernick already had a deal with Nike that was set to expire, but it was renegotiated into a multiyear agreement to make him one of the faces of Nike's 30th anniversary "Just Do It" campaign, according to a person familiar with the situation who spoke on condition of anonymity because details of the detail had not been revealed publicly.
The campaign includes video ads and billboards, like one displayed atop a Nike store in downtown San Francisco on Wednesday.