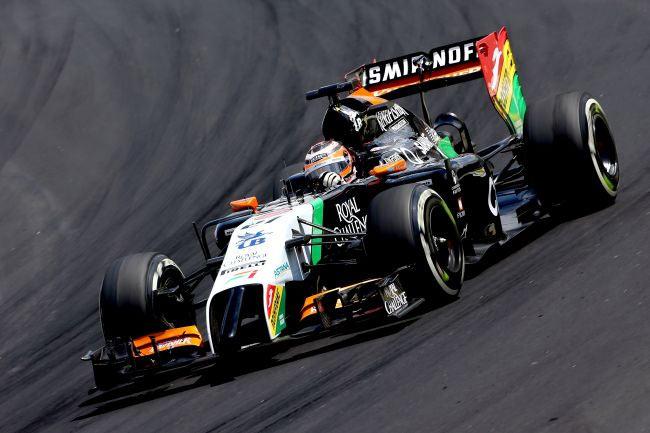 Nico Hulkenberg of Germany and Force India drives during qualifying session . Photograph: Matthew Stockman/Getty Images
Force India's 2015 Formula One car will not make its track debut until the third and final pre-season test in Barcelona some two weeks before the first race in Australia, the team said on Friday.
"The plan is to introduce it at the final test," said a spokesman.
The season starts in Melbourne on March 15, with the final test ending on March 1.
Force India will take part in next week's second test in Barcelona with their 2014 car, which is on its way to the circuit.
The team, with Mexican Sergio Perez and Germany's Nico Hulkenberg as drivers, skipped the opening test of the year in Jerez, southern Spain, amid speculation about their finances although they rejected that.
Force India's two major co-owners are Indian drinks tycoon Vijay Mallya and jailed Sahara Group chairman Subrata Roy.
Both have hit trouble in India, with a consortium of largely state-run Indian banks seeking repayment of more than $1 billion of loans from Mallya's failed Kingfisher Airlines, which has not flown since 2012.
Roy has been held in a New Delhi jail since last March, and needs to post bail of $1.6 billion to get out, following a court order for Sahara Group to refund billions of dollars invested in outlawed bonds.
Sources familiar with the Securities and Exchange Board of India, the market regulator, have said government officials could seize and sell Sahara assets, including hotels and properties, to raise cash.