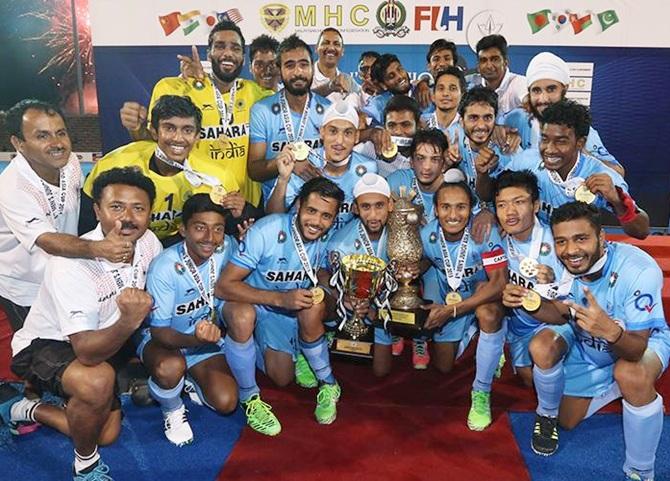 IMAGE: The Indian team celebrates after winning the eighth junior men's Asia Cup hockey tournament, in Kuantan, Malaysia, on Sunday. Photograph: Hockey India
Winning the eighth Junior Men's Asia Cup hockey tournament is just the beginning for the Indian colts; they need to frequently face "sterner tests" to become world beaters, feels coach Harendra Singh.
Boosted by a hat-trick from Harmanpreet Singh, India spanked arch-rivals Pakistan 6-2 to win the Asia Cup in Kuantan, Malaysia, on Sunday.
"It is just a beginning for this team. We are improving match by match and with this win I am sure that the road map we have developed for the junior team is in the right direction," Harendra said over phone from Kuantan.
He, however, cautioned that one should not read too much into the victory.
"We must not focus only on tournaments. We need to play against top teams regularly and face sterner tests. I would like to have more bilateral matches against teams like Germany, Belgium, England and the Netherlands next year so that we can judge ourselves better.
"These players need to go through those hard tests," Harendra, who took charge of the junior team 18 months back, said.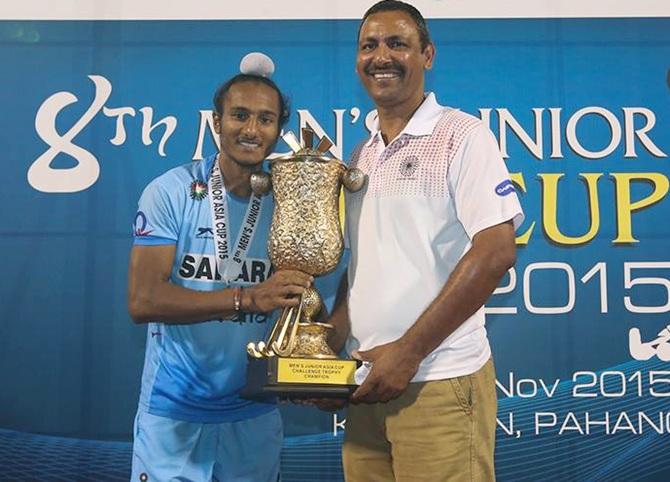 IMAGE: India skipper Harjeet Singh and coach Harendra Singh with the junior Asia Cup hockey trophy. Photograph: Hockey India
Asked about the importance of winning the Asia Cup, he said it will be beneficial at the time of grouping of teams for next year's Junior World Cup.
"The Indian junior team will play the tournament as sub-continental champions, which will certainly enhance the morale of players. It will also benefit us during the grouping of teams and we might get one or two relatively easier opponents."
The junior Hockey World Cup will be held in New Delhi from December 1–11, 2016.
Harendra also refused to single out any player for the triumph, saying in hockey every victory is a result of team effort.
"I don't like individualistic approach and will never allow that in my team. Hockey is a team game and every win is a result of team effort and Asia Cup is no exception," he declared.
Asked what was his strategy for the final against Pakistan, he said the team played its natural game and did not take any pressure.
"I did not talk about the Pakistan team in the dressing room. I only told my boys to stick to the basics and play it like any other match. I told them to play their natural game, without taking any pressure. Of course, I told them about their weaknesses, but set realistic goals as well."