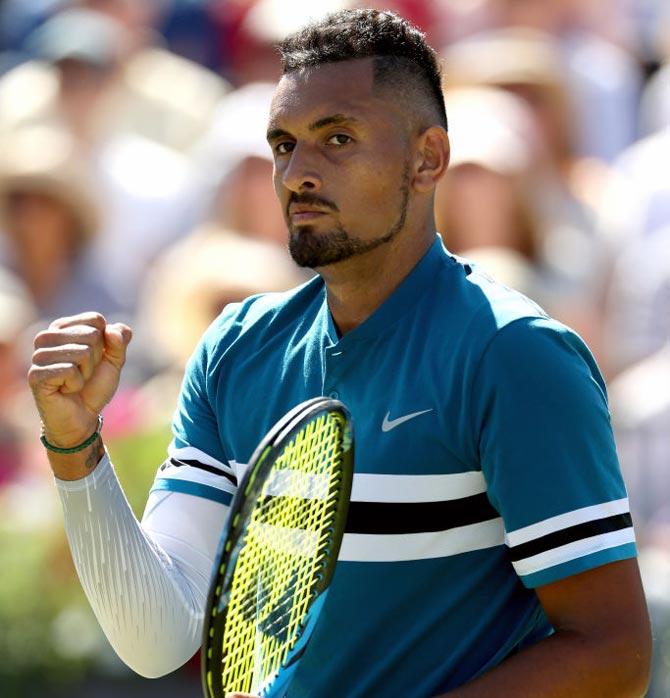 With his often nonchalant approach and penchant for trick shots, Nick Kyrgios often gives the impression that grafting away throughout a two-week grand slam is not really his cup of tea.

While his talent has never been disputed since he stunned Rafael Nadal with an audacious fourth-round display at Wimbledon in 2014, his volatile temperament has too often been his undoing, regularly landing him in hot water.
The past two weeks, however, have seen his tennis making the headlines. He almost beat eight-times Wimbledon champion Roger Federer at the Stuttgart grasscourt tournament and a week later he served almost 100 aces en route to the Queen's Club semis.

The 23-year-old Australian, who will be seeded 15th at Wimbledon, says he is in his best shape ever, and he is being talked about as serious challenger for this year's title.

"He is a huge danger," former world number one Mats Wilander told Reuters. "I think the chances of an emotional let-down with Nick are now far less. He's a lot less likely to not show up."

Former Wimbledon champion John McEnroe says Kyrgios is the most talented player of the last 10 years.

"Certainly he's one of the most dangerous guys. He'd be one of the six-to-eight guys (who can win the title)," McEnroe, who will be commentating for broadcaster ESPN, said this week.

Kyrgios's unpredictable genius had fans on the edge of their seats at Queen's Club this month.

One second he was firing down unreadable aces; the next he was flicking away effortless backhand winners.

Then, in one memorable point against Kyle Edmund, he played a between-the-legs lob for a clean winner, having sprinted for a drop shot -- leaving his British opponent gobsmacked.

The stakes might be higher at Wimbledon but do not expect Kyrgios to reign in the trick shots.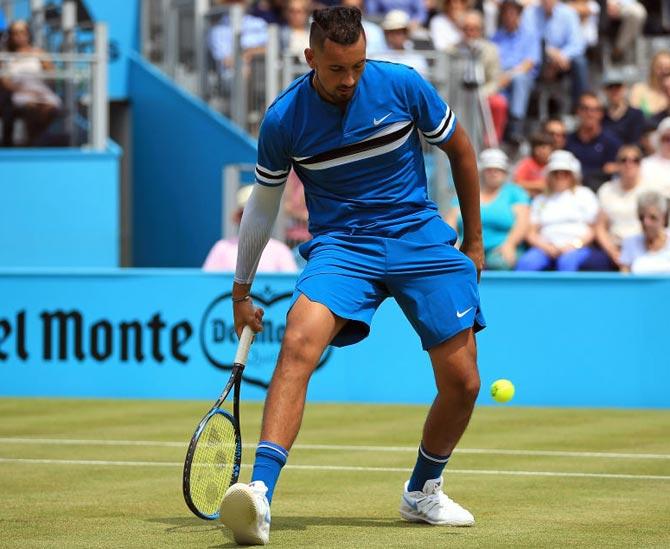 Wilander believes they are an important part of Kyrgios's arsenal, even if to some it looks as though he is playing with a "couldn't care less" attitude.

"There is no difference between him hitting a 'tweener' and a guy hitting loads of drop shots," Wilander said.

"It's risky but he's really good at it. Some players will freak out (and) wonder, is he trying or not? But it's just the way he plays. Federer used to hit tweeners early in his career on big points and you wondered what he was doing.

"It doesn't mean Nick is not trying. It's a way for him to enjoy himself and probably relaxes him, makes him play better.

"McEnroe used to throw tantrums, Nastase did crazy things. This is Nick's way. He can win, definitely win, Wimbledon. I love his style and he's unbelievably good for the sport."

Twice-Wimbledon champion Andy Murray, who lost to Kyrgios for the first time at Queen's Club as the British player made his comeback from a year out with injury, is also a big fan.

"If he's able to focus for three, four hours at a time, do it over the space of two weeks, there's no reason why he can't compete," Murray told reporters on Saturday.

"If you're getting that many free points with your serve. You don't actually have to win that many points and play that many long rallies and stuff.

"There's no reason why he couldn't have a really good run here. But the mental side of the game is huge and extremely important. He needs to prove that."