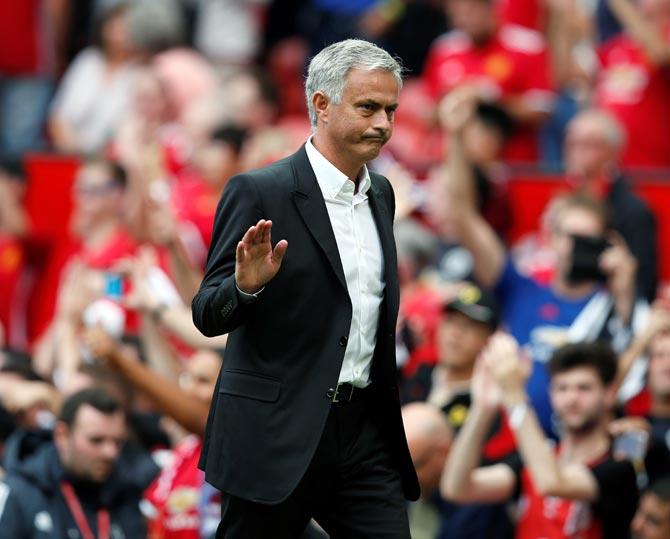 IMAGE: Manchester United manager Jose Mourinho. Photograph: Andrew Yates/Reuters
Manchester United are satisfied with their transfer business and under no pressure to sign a fourth player in the current window, manager Jose Mourinho said.

Last week, Mourinho said United were looking to sign a winger after signing three of his four transfer targets - defender Victor Lindelof, midfielder Nemanja Matic and striker Romelu Lukaku - but has since said he is content with the squad.
"Unless something happens that puts us in the market again. Obviously, my plans were four but I also told (club Executive Vice Chairman) Ed Woodward, 'No pressure from me, do what you think is best for the club'," Mourinho told reporters on Friday.

"I am happy with the squad we have. I'm ready to go without a fourth signing. My club did phenomenally well. I had four targets, we got three before first match. My club did great work. Also nobody is in doubt (about their future)."

Mourinho believes United must raise their game, like they did under former manager Alex Ferguson in previous years, to challenge for the Premier League title this season.

"When I won two consecutive titles with Chelsea, the United manager (Ferguson) said we brought the bar to a certain level," Mourinho said. "And that they had to improve a lot to try to win the trophy back.

"I think this happens every season. Somebody wins and the others are not happy. They don't accept it with their hands in their pockets and the others improve to try to be better."

The Portuguese boss said injured defenders Luke Shaw and Ashley Young were close to returning and would play for the club's under-23 team on Monday.

United, who opened their league season with a 4-0 win over West Ham United last Sunday, face Swansea City this weekend.

Valencia sign defender Gabriel from Arsenal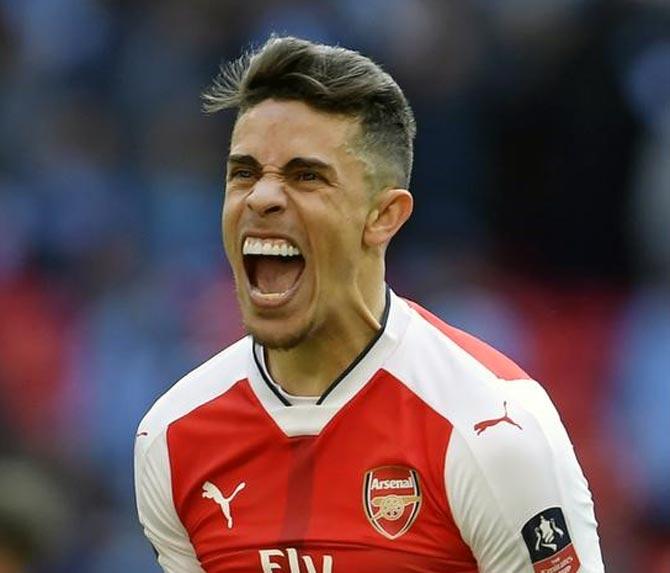 IMAGE: Gabriel Paulista. Photograph: Toby Melville/Reuters
Spanish club Valencia have completed the signing of defender Gabriel Paulista from Premier League side Arsenal on a five-year contract, both clubs said on Friday.

The 26-year-old centre back joined Arsenal from Spain's Villareal in 2015 and has made 64 appearances for the London side, winning two FA Cup titles and one Community Shield.

"We would like to thank Gabriel for his contribution to the club and to wish him well for his return to La Liga with Valencia," Arsenal said on their website. (www.arsenal.com)

The Brazilian moves back to Spain for an undisclosed fee and will remain at the La Liga club until 2022, with a termination clause worth 80 million euros ($93.98 million).

Tottenham targeting four new signings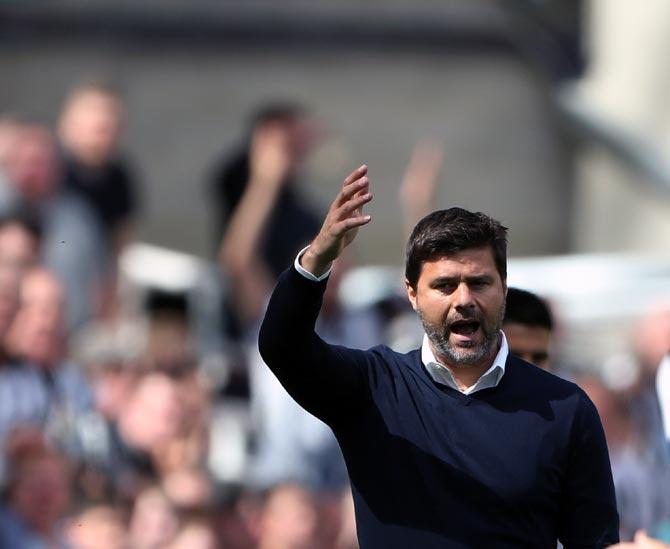 IMAGE: Tottenham Hotspur manager Mauricio Pochettino gestures. Photograph: Scott Heppell/Reuters
Tottenham Hotspur are targeting four new signings in the transfer window but need time to recruit the right players to help the club progress, manager Mauricio Pochettino said ahead of Sunday's match against champions Chelsea.

Spurs, who were second in the Premier League last season, are the only English top-flight club yet to sign a player and have sold right back Kyle Walker to rivals Manchester City.

But they are close to completing their first signing, having announced on Friday that they have agreed a fee for Ajax Amsterdam's 21-year-old Colombia defender Davinson Sanchez, and Pochettino remains hopeful of signing more players.

"I want four new players if it's possible but it's not easy, you need time," the Argentine told reporters on Friday.

"We expect to sign some players before the end of the transfer window... and try to improve our squad and bring new faces and energy in the team because it will be a long season.

"The most important thing is to try to be right in the players we sign and that the players can help us and be important for the present and the future of the club."

Tottenham have been linked with Everton's unsettled England international Ross Barkley and Celta Vigo's Papa Chiekh Diop.

Spurs will play their home games at Wembley this season while their new stadium at their White Hart Lane site in north London is under construction and due for completion next year.

However, their record at the venue last season was underwhelming, as they lost two and drew one of their four European fixtures at the national stadium.

Spurs also lost to Chelsea in the FA Cup semi-final at Wembley in April and Pochettino said his team would have no excuse for poor performances at the stadium this campaign.

"One of our challenges is to make Wembley our home. We need to show we are ready," he said. "Wembley is not a problem. We are the problem if we are not able to win like last season. We were poor when we played there last season."

Pochettino believes that playing against the league champions on Sunday will make his team more determined.

"Chelsea have a very good squad. They have signed good players. It will be a really tough game, a big challenge... it's always very exciting to play in a derby," he said.

"It's a massive motivation for us and our fans to play against the Premier League champions."

Juventus sign France midfielder Matuidi from PSG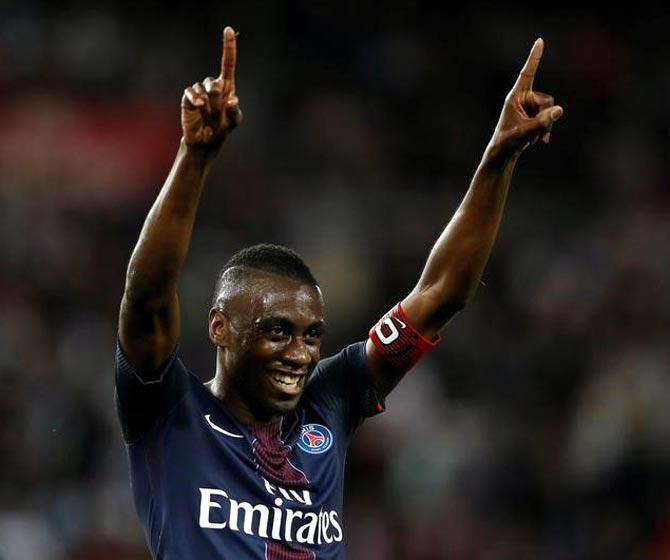 IMAGE: Blaise Matuidi reacts after scoring a goal. Photograph: Gonzalo Fuentes/Reuters
Juventus have signed France midfielder Blaise Matuidi from Paris St Germain on a three-year deal, the Italian champions announced on Friday.

The 30-year-old arrived in Turin earlier this week for a two-day medical and was confirmed as a Juventus player on the Serie A club's website (www.juventus.com).

Matuidi, who has 58 caps, has joined Massimiliano Allegri's Juve side for 20 million euros ($23.48 million), which may rise by up to 10.5 million based on appearances.

The midfielder played 295 times for PSG, scoring 33 goals, after joining from Ligue 1 rivals Saint-Etienne in 2011.

"I'm delighted. I feel really proud to be able to wear this shirt. I'm honoured to wear the Juventus colours," Matuidi said on the club's official Twitter page (@juventusfcen).

"I can't wait to meet my new team mates, get onto the field and start the season with my new team."