Slack management allowed a "culturally toxic" environment to develop in Australia's swimming team at the London Olympics with abuse of alcohol and prescription drugs as well as flouting of curfews and bullying going unchecked, a review said on Tuesday.
Australia's worst Olympic swimming performance for 20 years came amid reports of schoolboy pranks, inflated egos, a lack of team unity and unrealistic expectations, prompting the review into team culture by business consultants Bluestone.
"Standards, discipline and accountabilities for the swim team at the London Olympics were too loose," it said.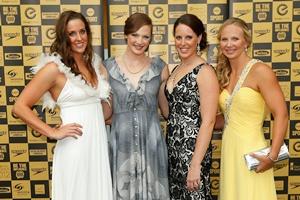 "Situations were left to bleed with not enough follow through for fear of disrupting preparation for competition.
"Although few situations relating to London reported through this review were truly grave in nature, they compounded in significance as no one reigned in control.
"There were enough culturally toxic incidents across enough team members that breeched agreements (such as getting drunk, misuse of prescription drugs, breeching curfews, deceit, bullying) to warrant a strong, collective leadership response that included coaches, staff and the swimmers.
"No such collective action was taken."
Australia's swimmers are usually expected to lead the country's charge for medals in the first week of the Games but they failed to win an individual title and ended up with just one relay gold, six silver and three bronze medals.
An Independent Swimming Review commissioned by the Australian Sports Commission also reported on Tuesday, making recommendations on leadership, governance and administration, culture and declining achievement on the world stage.
Swimming Australia chief Barclay Nettlefold welcomed both reports and acknowledged there was much to be done to restore the credibility of the sport with the nation.
"Before we look at winning gold medals, we want to win back the admiration of the nation, and we want to engage with our swimming community like never before at every level," he said in a news release.
"Work has already started on the majority of the recommendations in these reports, including the introduction of a high performance director and an ethical framework."
The Bluestone report said there was no headline cultural issue that caused the underperformance, nor did the problems suddenly emerge in London.
"The findings of this review were that cultural factors did play a significant role in the 'unpleasant' experience that many Australian swimmers, coaches and staff had at the London Olympics in 2012 and the culture did not appear to assist or support high-level performance for most people," it said.
"It seems that the most significant issue in swimming was the quietly growing lack of focus on people across the board," the report continued.
"Participants reported that in the zealous and streamlined attempts to obtain gold medals, the delicate management of motivation, communication and collaboration were lost."
Once the expected medal haul failed to materialise over the first few days of the meet team morale plummeted, the report said.
"Swimmers described these Games as the 'Lonely Olympics' and the 'Individual Olympics'," it added. "There was not much connection between groups of athletes, or between athletes, staff and coaches other than what was engineered reactively."
The report makes a raft of recommendations on areas such as standards and accountability, how to build better lines of communication both inside the team and with the media, as well as on building community in the team.
It also recommended head coach Leigh Nugent be sent on an "an intensive coach-the-coach leadership program" for three to six months.
"There is a dire need to develop and enable leadership throughout swimming, and to orient people to consider leadership as personal, not just functional," it said.
Photograph: Quinn Rooney/Getty Images