Top seed Caroline Wozniacki held off a spirited fightback by Frenchwoman Marion Bartoli to win her 14th WTA title with a 6-1, 2-6, 6-3 victory in the Indian Wells final on Sunday.
The Danish world number one recovered from the surprise loss of the second set to end a marathon baseline slugfest in two hours eight minutes at the Indian Wells Tennis Garden.
Wozniacki, beaten by Serb Jelena Jankovic in last year's final here, broke the 15th-seeded Frenchwoman three times in the final set, sealing victory when her opponent sent a backhand long.
The jubilant Dane threw both arms skywards to celebrate her second title of the year, having also triumphed at last month's Dubai championships.
"It means a lot," Wozniacki told reporters after earning $700,000 for her triumphant march to the Indian Wells crown. "It's a big tournament, and I'm very, very happy.
"It's pretty much a two-week event, and you have days in between like in the grand slams. Once again, I showed that I can play great tennis, and I've beaten some really good players this week."
Bartoli, who had booked her place in the final by crushing Belgian Yanina Wickmayer 6-1, 6-3 in the last four, choked back tears as she applauded the triumphant Dane.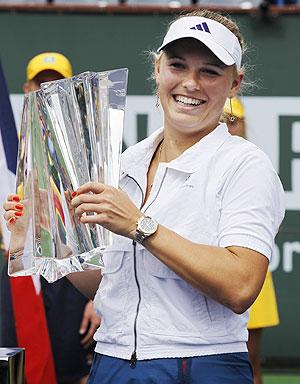 "Sorry I am a bit in tears but it is more tears of tiredness," said the 26-year-old, who will become world number 10 when the rankings are issued on Monday.
"Caroline, you make me cry today. I would like to congratulate you. You can be proud of yourself. I know your big goal is to get a grand slam and I am sure you will get it very soon."
UNORTHODOX SERVE
Bartoli, who starts her unorthodox serve with a motion resembling an archer drawing back the bow, was delighted with her own performance over the last two sets.
"It was one of the best matches I ever played from the second set on towards the end," said the Frenchwoman, who had been bidding to become the third-oldest women's champion at Indian Wells.
"We had some really nice shots from both of us. I really enjoyed playing it, even though I came up a bit short at the end. I pretty much gave everything on the court."
The final began on a surprisingly cool, overcast morning at the California desert venue and Wozniacki, despite failing to hold serve in the third game of the match, broke her opponent three times to storm through the first set in 27 minutes.
The Dane continually moved the Frenchwoman from side to side with punishing ground strokes in lengthy rallies and seemed to be heading for a straight sets demolition.
Bartoli then raised her performance several notches in the second set, breaking Wozniacki in the second and seventh games, after the Dane pushed a backhand wide, to level the match.
The ebb and flow spilled into the final set as Wozniacki regained control with her baseline dominance.
She broke Bartoli's serve in the first game and again in the fifth, when the Frenchwoman double-faulted, to take a commanding 4-1 lead before she was herself broken in the sixth.
However the Dane regained her poise to break Bartoli's serve for a final time in the ninth game, sealing victory on her second match point after her opponent struck a double-handed backhand long.
"I played very, very well, I thought, in the whole match, but in the first set I felt like I had the most control," Wozniacki said after beating Bartoli for a fifth time in seven meetings. "I had her running; I had her moving.
"Second set, she just went for her shots. She started to hit even harder. I didn't feel I played badly. I thought I played pretty good, but she was very steady, keeping the pressure.
"In the third set, I just kept my head cool," added the Dane, who is renowned for her tenacity and elegant groundstrokes. "We had a lot of long rallies, but I came up with the wins."