Pakistan hockey players want to be a part of million dollar prize money World Series Hockey (League) in India although the IHF has left the decision on Indian government.
Top Indian players along with nearly 60 foreign internationals will feature in the IPL style League. As many as 24 Pakistani players had participated in Premier Hockey League during 2005 to 2008.
Veteran striker Rehan Butt has said that he is open to playing in the hockey league in India.
"Definitely, we would like to play that League. Our experience in PHL was terrific and I enjoy playing in India more then anywhere else," Butt who is playing in the Malaysian League.
Zeeshan Ashraf who led Pakistan to their gold medal winning campaign at the Asian Games also spoke in the same vein.
"We have been waiting for this since PHL. It is up to India now whether they invite us or not but we want to be a part of this league for sure," said Ashraf, who represented Chennai Veerans and Chandigarh Dynamos in the earlier editions of PHL.
"In my opinion sport should not be mixed with politics. There should be more and more bilateral Cricket and Hockey ties across the border," he said.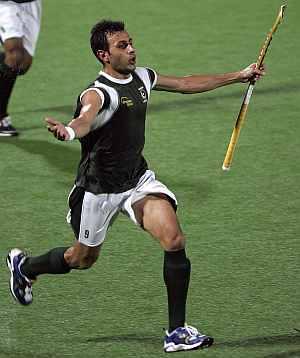 When asked about the Pakistani player's participation in this League, newly elected chief of IHF RK Shetty has said that the ball is now in government's court.
"We want to invite them as Pakistani players and crowd pullers. But the government will take final decision in this regard. We will request them to allow Pakistani players," he said.
"I don't think there will be any problem in hockey. Pakistan as a team had participated in World Cup and Delhi Commonwealth Games here," he further stated.
Cricket and hockey matches between the two neighbours have often had a tinge of political flavour attached to it.
Biletaral cricket ties have been stalled after the 26/11 terror attack in Mumbai and the Indian cricket board also acted on the central government's advisory about not inviting Pakistan cricketers for the cash-rich Indian Premier League.
Butt however felt that Hockey is a different game and there should be no problem.
"Indians want to see Pakistani players and its vice-versa in Pakistan. If we do not play with each other, who will come to watch hockey matches," Shetty said.
Meanwhile Pakistan Hockey Federation (PHF) is also planning a hockey league next year and wants Indian players to be a part of it.
"We don't know about the World series but we are going to have our own league next year in Lahore or Dubai. We have invited India also but did not get any reply from them as of now. As far as Pakistani players participation in Indian League is concerned, let them invite us first," Asif Bajwa, PHF secretary said.