Badminton World No 1 Lee Chong Wei hinted that retirement was on the horizon after the emotional Malaysian sealed his 10th national championship in Kuala Lumpur on Sunday.
Lee, 31, was in tears after his 21-19, 21-9 victory over Indonesian Tommy Sugiarto, saying this would be his last Malaysian Open.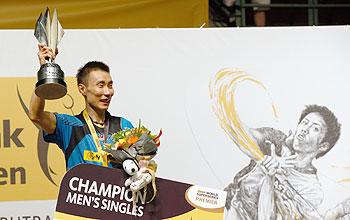 "I have never experienced this kind of pressure before. The first game was tough and Tommy really pushed me hard," Lee told reporters in Malaysia.
"The pressure started to build up from the start of this week. I was tense because I wanted to win my 10th and last Malaysian Open badly.
"After the win, I could not help but feel emotional. All the burden is off my shoulders now... I feel lighter."
Lee won his second Olympic silver medal at the London Games in 2012 after another titanic battle with old advisory Lin Dan of China but said he was unsure about competing again at the grandest stage.
The Penang-born Lee said he would attempt to win a third consecutive Commonwealth Games gold medal in Glasgow in July and a first world championship in August before deciding on his future after the Asian Games in South Korea in September.
"I don't know whether I can last until the 2016 Olympic Games in Rio. I just cannot imagine how I would fare in three years' time," the right-hander said.
"For now, I just don't know whether I can go on after the Asian Games. There is also personal problems and pressure.
"I have been playing for many years and I feel the need to spend more time with my family. This whole week my wife and mother were asking why I was so tensed up.
"I want to spend more time with my baby boy."
Image: Lee Chong Wei of Malaysia celebrates with the Champions Trophy after he defeated Tommy Sugiarto of Indonesia in the final of the Malaysia Badminton Open in Kuala Lumpur, on Sunday
Photograph: Stanley Chou/Getty Images