Tony Stewart was crowned NASCAR's champion on a tiebreak on Sunday after his magnificent drive won the Ford 400 at the Homestead-Miami Speedway in a showdown with rival Carl Edwards.
Stewart's victory, for his co-owned Stewart-Haas Racing team, meant he and Edwards finished level on points for the season but he lifted the Sprint Cup thanks to winning more races (5-0) in the season-ending Chase playoffs.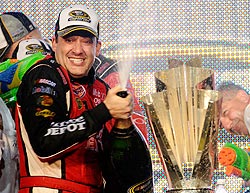 It was the first time NASCAR's championship was decided on a tiebreak since the introduction of the points system in 1975 and with the top two drivers going head-to-head knowing only a victory would bring them glory, it was the perfect finale for America's most popular motor racing competition.
There was no need for complex calculations, no uninvolved drivers affecting the outcome. The season ended with the best two drivers chasing each other around the 1.5 mile oval in South Florida.
"If this doesn't go down as one of the greatest championship races in history I don't know what will," said Stewart, as he celebrated with his team trackside.