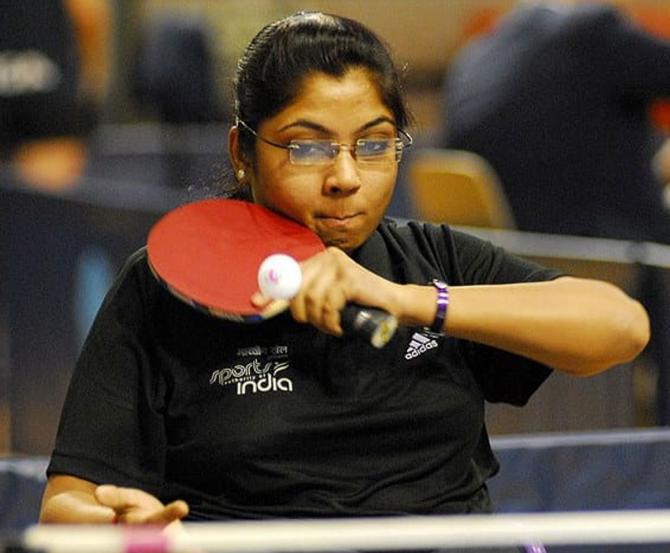 Bhavinaben Patel scripted history on Friday, becoming the first Indian table tennis player to secure a medal in the Paralympics after entering the semi-finals with a stunning straight-game win over world No. 5 Borislava Peric Rankovic of Serbia in the women's singles Class 4 event, in Tokyo.
The 34-year-old paddler won her quarter-final 11-5, 11-6, 11-7 in 18 minutes.
She will take on Zhang Miao of China in Saturday's semi-finals, assured of at least a bronze.
There is no bronze-medal play-off in the Tokyo Paralympics table tennis, and both losing semi-finalists are guaranteed a bronze medal.
"It is sure that we can see a medal from her. Tomorrow morning's match (semi-final) is a huge decider what colour of the medal she will win," Paralympic Committee of India president Deepa Malik said in a video on her Twitter handle.
In 2017, the International Paralympic Committee (IPC) Governing Board had approved the International Table Tennis Federation's request to remove the third-place play-off in all medal events and award bronze to both the losing semi-finalists.
Earlier in the day, she had beaten Joyce de Oliveira of Brazil 12-10, 13-11, 11-6 in the Round of 16 to become the first Indian table tennis player to reach the quarter-finals in the Paralympics.
Athletes in Class 4 category have fair sitting balance and fully functional arms and hands. Their impairment may be due to a lower spinal-cord lesion or cerebral palsy.
"I could win my quarter-final match due to the support of the people of India. Please keep supporting me so that I can win my semi-final match," Patel said after her match.
She had entered the knock-our round after winning one match and losing the other group game.
Compatriot Sonalben Manubhai Patel lost both her group matches on Thursday and bowed out of the competition.
Archery: Jyoti finishes 15th in compound open ranking round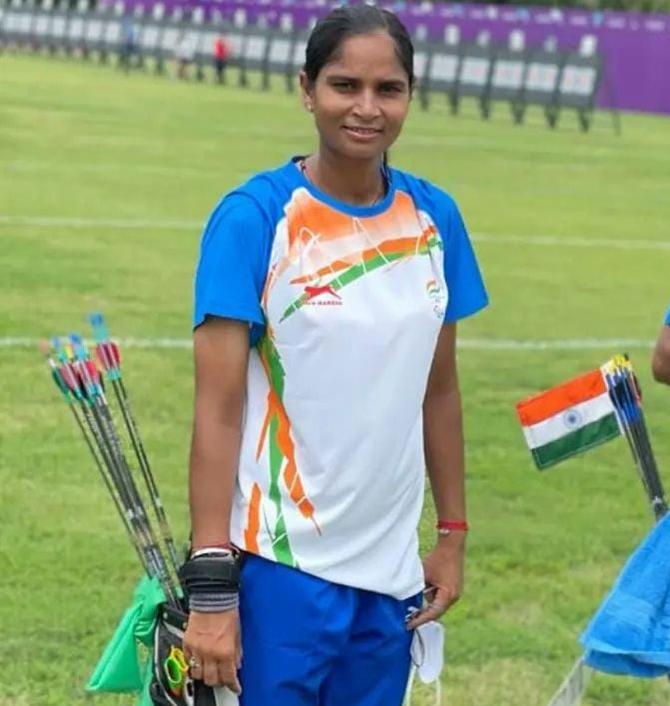 India's para archer Jyoti Balyan finished the women's individual compound open ranking round at 15th position with 671 points at the Tokyo Paralympics on Friday.

In the first round, after 18 arrows Jyoti Balyan was ranked 11th out of 24 with 168 points before the next six shots saw Jyoti dropping to 13th position with 278 points. Halfway through the stage, the Indian archer remained firm at 13th position with 333 points having shot 36 arrows.

Jyoti had got off to a consistent start to the qualification round as she shot three sets of 56, followed by a couple of 55s. After 30 of the 72 arrows in qualification, Jyoti was placed 13th.

In the second round, Jyoti dropped a few positions to 16th with a score of 444 points following 12 more shots.

The Indian archer headed into the final 12 throws at 16th place with a total of 556 points. Before the last six shots, Jyoti remained at the 16th position with 613 points.

In the last six shots, Jyoti managed to get 58 more points to finish at the 15th position.
Powerlifter Sakina finishes 5th in 50kg final

India's Sakina Khatun finished fifth in the women's 50kg powerlifting final at the Tokyo Paralympics.

Sakina, who had won a bronze medal in the Commonwealth Games, successfully lifted 90kg in her first attempt but failed to improve upon the effort in her next few attempts as she missed out on a medal.

Chinese powerlifter Hu Dandan won the gold as she lifted 120kg while Egypt's Rehab Ahmed clinched silver and Olivia Broome of Great Britain claimed the bronze.

Sakina got off to a decent start as she lifted 90kg in her first attempt and was placed sixth after the first round, with Egypt's Ahmed on top spot with a lift of 117kg.

Sakina failed to lift 93kg in her second attempt and went again with the same weight but this time she lifted to move up to the fifth spot.