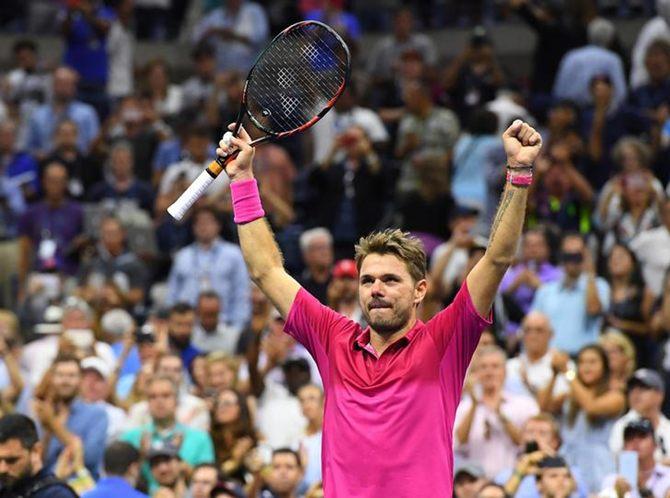 IMAGE: Switzerland's Stanislas Wawrinka celebrates after defeating Serbia's Novak Djokovic in the men's singles final at the US Open on Sunday. Photograph: Robert Deutsch-USA TODAY Sports/Reuters.
Stanislas Wawrinka was too good for World No 1 Novak Djokovic as the Swiss claimed his first US Open title.
Wawrinka fights back to beat Djokovic in US Open final
Always regarded as one of the dark horse, Wawrinka has a quote from literary giant Samuel Beckett inked on his left forearm which reads: "Ever tried. Ever failed. No matter. Try again. Fail again. Fail Better."
"I did that (tattoo) because it's a little bit like how I see my life, and especially my tennis life," Wawrinka had said back in 2014.
"If you see, I've been playing 10 years, it's a lot already but I only have five titles, so that means there's only been five weeks where I've finished like a winner.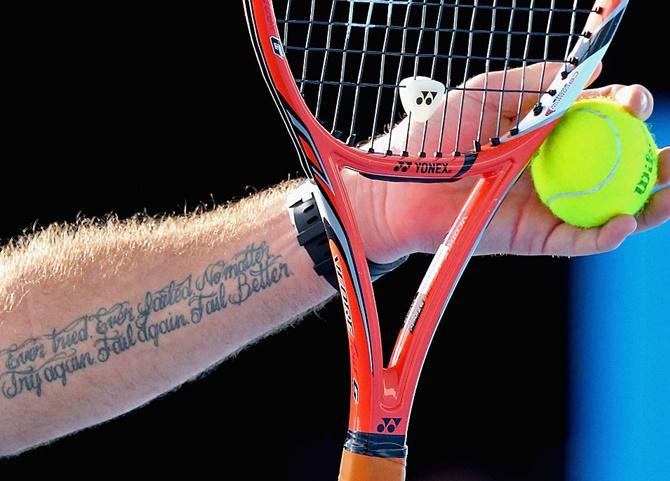 IMAGE: A detail of the tattoo on the arm of Stanislas Wawrinka of Switzerland. Photograph: Scott Barbour/Getty Images.
"Every week we're losing except the top four, the top three. So that means we have to take positives from that. We need to still try things, we need to still improve.
"I always try to find the positives in losing a match but it's not always easy."
As the 2014 Australian Open champion and 2015 French Open champion, Wawrinka arrived here ranked No 3 but at 31 years he became the oldest Grand Slam singles champion.
Is it time to alter the tattoo?