But membership in Big Four is not of huge interest for Wawrinka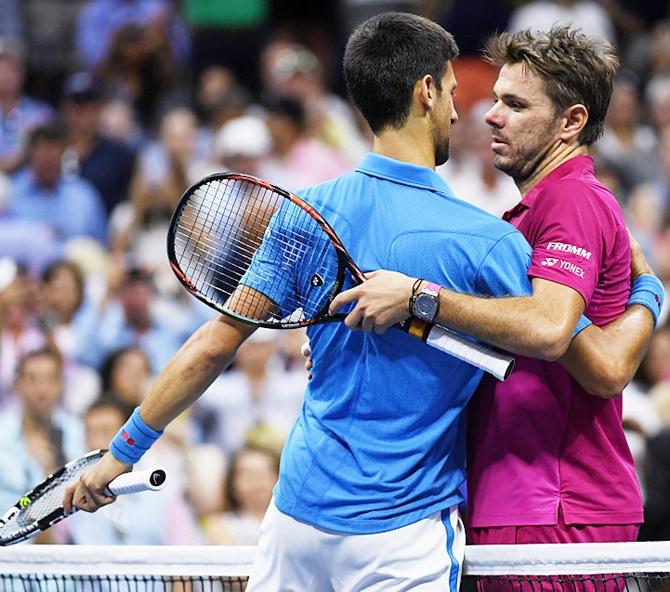 IMAGE: Stanislas Wawrinka, right, of Switzerland embraces Novak Djokovic of Serbia after defeating him. Photograph: Mike Hewitt/Getty Images.
Following Stanislas Wawrinka's win at the US Open on Sunday, it may finally be time to officially expand the 'Big Four' in men's tennis to the 'Big Five'.
Since 2005, when Rafael Nadal won his first French Open crown, the Spaniard, Novak Djokovic, Roger Federer and Andy Murray have formed their own elite club, sweeping all but five of the Grand Slam titles.
The 2009 US Open winner Juan Martin del Potro and 2014 champion Marin Cilic both interrupted the Big Four's dominance but only Wawrinka has repeatedly defied them.
With his 6-7(1), 6-4, 7-5, 6-3 victory over Djokovic on Sunday, Wawrinka captured his third major title, matching the haul of long-standing Big Four member Murray.
The Swiss is only a Wimbledon title shy of a career Slam.
Certainly Wawrinka gets Djokovic's vote for inclusion, having taken two of his three titles at the Serb's expense.
"He deserves to be in the mix, no doubt about it," said Djokovic, who lost to the Swiss in the 2015 Roland Garros final.
"Stan won three Grand Slams now and three different ones; (an) Olympic medal.
"(He has) been around for so many years, and he plays best in the big matches."
Wawrinka, who won his first major at the 2014 Australian Open, may be the ultimate big-game player in men's tennis.
When he gets to championship match, the Swiss is money in the bank, winning his last 11 finals.
While coming out top at a grand slam is never easy, each of Wawrinka's three titles have come against the world number one on the day.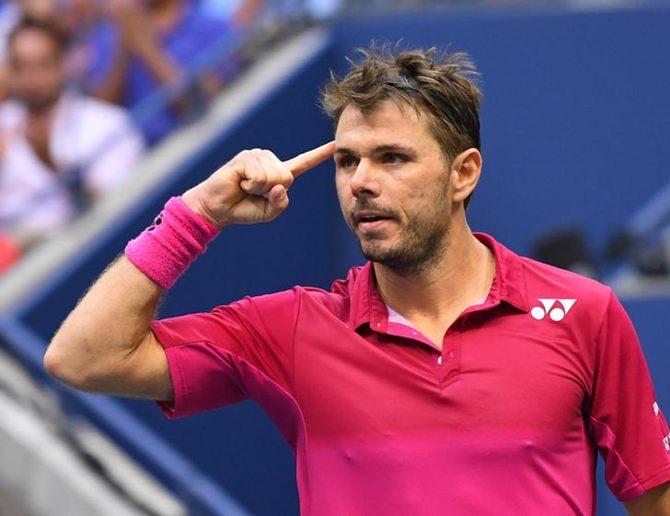 IMAGE: Stanislas Wawrinka celebrates after winning the third set in the men's singles final against Novak Djokovic at the US Open on Sunday. Photograph: Robert Deutsch-USA TODAY Sports/Reuters.
Despite his latest victory and a growing resume, Wawrinka insisted he was not in the same class as the Big Four and would not expect to join the club any time soon.
"The Big Four, I'm really far from them," offered a humble Wawrinka. "Just look at the tournaments they won, how many years they have been there.
"If you look, yes, I have three Grand Slams. How many Masters 1000 has Murray? They have been there (for) 10 years.
"That's why I'm not there. I don't want to be there."
Part of Wawrinka's modesty comes from a career in the shadow of elegant compatriot Federer.
While Federer's style is polished and graceful, Wawrinka's is bullish and workman-like by comparison, and his results as much a product of perseverance as skill.
Against Djokovic, he faced an opponent who had benefited from one of the easiest passages ever to a grand slam final, with two of the Serb's matches ending in early retirements and another in a walkover.
The eight hours and 58 minutes that Djokovic spent on court before the final was barely half of the 17 hours, 54 minutes logged by his 31-year-old opponent.
But it was the world number one worn down by marathon man Wawrinka.
"He just steps in. He loves to play in the big matches," praised Djokovic. "He comes up with his best game.
"He's a very complete player."