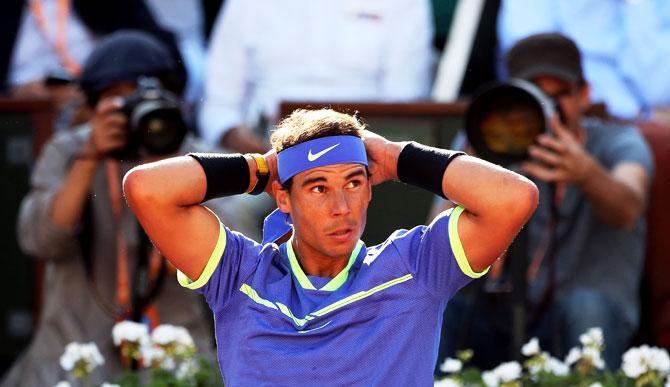 IMAGE: Rafael Nadal has dropped only 29 games en route the 10th French Open final. Photograph: Pascal Rossignol/Reuters
Rafael Nadal was not fooling anyone when, after thrashing elegant Austrian Dominic Thiem in the French Open semi-finals on Friday, he said nine French Open titles was enough.
The record books might not interest the 31-year-old Mallorcan, but he will have to be dragged away screaming and kicking before giving up the chance to move into double figures and land La Decima against Stan Wawrinka on Sunday.
Nadal, often written off as a spent force since winning the last of his 14 grand slam titles here three years ago, is secretly salivating at the prospect of ruling Roland Garros again after watching Wawrinka and then Novak Djokovic usurp him.
Victory on Sunday would see Nadal become the first player to win the same grand slam 10 times in the modern era.
After dropping only 29 games en route to a 10th final, only a brave man would bet against him.
"I think I don't need to make more history, no? It's enough. Nine are more than good," Nadal, whose resurgence this year began when he reached the Australian Open final against Roger Federer, losing an epic, told reporters.
"Nine or 10, it's only 10 percent more! It's true 10 is a beautiful number, but actually my favourite is nine. But for sure if it becomes 10, it will be my favourite.
"In general, to be in the final again here is probably the most important event in my career."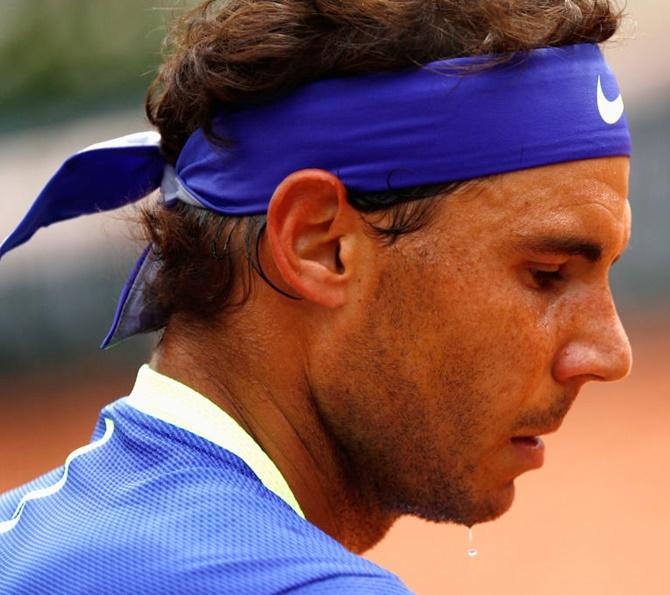 IMAGE: Rafael Nadal will be playing his 22nd Grand Slam final on Sunday. Photograph: Adam Pretty/Getty Images
Nadal's 6-3, 6-4, 6-0 defeat of Thiem means he will be playing his 22nd grand slam final on Sunday, putting himself second on the all-time list behind Federer who is out on his own with 28.
Yet he describes himself as "not very special" -- another statement that was never going to wash, coming from the greatest claycourt tennis player of all time.
"Nine is probably difficult," he said.
"It is obvious that you need to combine a lot of things, and a lot of things have to come together to have that record. You need to be lucky, you need to play well, you need to be healthy for two weeks."
"I am not the right one to say, but to play 10 finals here is something difficult."
Sunday's final will be Nadal's first grand slam clash with Wawrinka since the Swiss beat him to win his first major at the 2014 Australian Open -- a match in which Nadal struggled with physical problems.
Asked if it was a chance to right a wrong, Nadal said: "Revenge is not part of my vocab. The best player will win again. He's in the final. It's the toughest opponent possible."