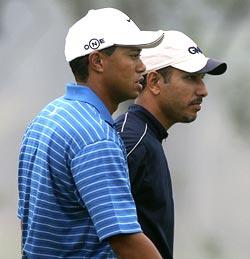 The storm in Tiger Woods' personal life will blow over and the iconic American will return as a "winner", according to India's top golfer Jeev Milkha Singh.
Woods, 33, is struggling to save his marriage after confessing to "infidelity" in his marriage to his Swedish wife Elin Nordegren as allegations of multiple extra-marital affairs rocked his life and career. 
Jeev believes focus is Woods' biggest strength and the American would be an equal force when he returns to the fairways.
"His focus is so good. He's going to comeback as winner. He's so good on the field. No comments on his personal life. But I feel he will be back in three months," said Jeev.
And once Woods return, golf would be on the upswing again, reckoned the Indian ace.
"The TV rating may have dropped [since Woods' took a break] but he has changed the game worldwide. Once he will be back, everything will fall in place," said Jeev after he was named the brand ambassador of the leading American Sports Goods company Callaway, who launched their Indian subsidiary by the name of Callaway Golf India.
On his personal form and the year ahead, the Chandigarh pro said he is hoping to be in top 30-40 by the year-end.
"I am excited. I am hoping to play at least 36 tournament this year. The focus will be on the US tour and I am also committed to play on European tour, so have to play at least 35-36 weeks," he said.
"I got injured three months back and that set me back. I want to stay fit. If I don't get injured, I think I will be in top 30-40 in the world," Jeev said.
Jeev flew to New Delhi from Bangkok where Asia lost the Royal Trophy to Europe.
Although Jeev, who paired up with Gaganjeet Bhullar, is little disappointed but he took heart from the good fight against the top European golfers.
"We are disappointed. But it could not have a better finish, we lost just by half-a-point and it lasted till the last hole. We put up excellent fight," he said.
Patting Bhullar, he said, "Gaganjeet has lot of potential. He is just 24 and going to mature and will do well in future," he said.
Jeev is also delighted with the inclusion of golf in the 2016 Olympics in Brazil and hopes to do well.
"If Tom Watson can play at the age of 65, why can't I last till 55? I think, I can push myself and my game would be much better by then," he said on being asked if he hopes to participate as Rio Games are still six years away.
Jeev beat higher-ranked Robert Karlsson in the matchplay in the last round of the Royal Trophy but won't term it as his best matchplay win.
"No, I would not say that was the best matchplay win. I had had better matchplay wins. But it was exciting and fantastic," he said.
"It was a really good start then I slowed down and he also took advantage of that. He pushed me to the limits," Jeev said.
Looking back at the last decade, Jeev said he grew as a player because he never compromised on discipline and advised the young crop of golfers to follow the same.
"I have matured as a player and as a golfer overall. I have worked on my swing and I have understood my swing. Recognising the error is important and I have done that. Being disciplined, following routine and keeping head down...being humble is important to get success.
"Shiv Kapur, Gaganjit Bhullar, Himmat Rai, C Muniyappa and SSP Chowrasia, they all are hungry and ready to learn. I never had the opportunities they have now. I did not have the club-fitting system but they have this and can know and monitor what suits their play.
"My advice to them is believe in yourself, stay patient and don't compromise on hard work. And also work on mental side. Play more and more tournament and against top players," he said.
© Copyright 2021 PTI. All rights reserved. Republication or redistribution of PTI content, including by framing or similar means, is expressly prohibited without the prior written consent.