The International Hockey Federation said that it was taken by "surprise" by the scare the game had to go through regarding its Olympic status, with its president Leandro Negre saying that the threat to omit the sport from the Games is a wake-up call for the body.
Hockey just about managed to avoid the axe after the International Olympic Committee (IOC) mulled removing the game from the Olympic programme in 2020, before eventually deciding against it.
Wrestling, instead, was one of the eight sports, which were dropped from the core group of Olympic sports in the 2020 Games in IOC' executive council meeting in Lausanne earlier this month.
"The news that hockey was in the danger zone was a big surprise for us because nobody was expecting such a move," Negre told reporters on the sidelines of the Hero Hockey World League.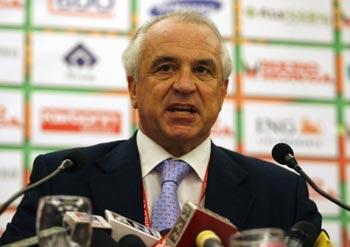 "But it is a wake-up call for us. The official report has not been finalised yet. It will be finalised in May and from this report we will know our strengths and weaknesses. But hockey continues to remain very strong," he added.
"We are still looking for more information. But the threat is good for us because we don't like to be in a position where we were caught sleeping."
Asked about the development of the game in smaller nations, Negre said the world body was working hard to make hockey popular world wide and the ongoing Hockey World League is a step in that direction.
Negre was particularly pleased with the performance of Bangladesh in the ongoing HWL Round 2 here, where they stunned higher-ranked China last night.
"The FIH is not only taking care of top level but also the ground level. The HWL is a step towards that. The HWL has opened up doors for the development of the game in smaller nations," he said.
"Bangladesh is an example of that. I will like to see Bangladesh in the Champions Trophy in a couple of year's time," Negre added.
The FIH president also said that it will request the hockey federations of both India and Pakistan to hold one of the matches of their proposed bilateral series in Dhaka.
"I will talk to both Hockey India and Pakistan Hockey Federation and see whether they can hold at least one match in Dhaka, which will be a big boost for the development of the game in Bangaldesh," Negre said.