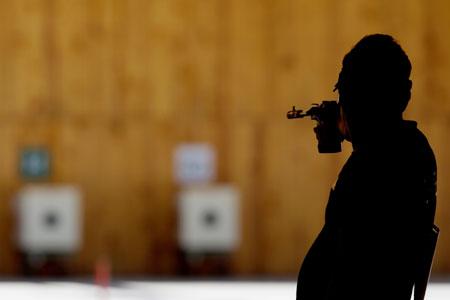 The upcoming Asian Games will be Abhishek Verma's first brush with international shooting, but the thought and the task that awaits him do not unnerve this lawyer-cum-marksman.
Optimistically preparing to shoot at the Games, air pistol exponent Verma, 29, is a late bloomer.
Daunting as it may sound for many but the strapping man from Rohtak told PTI: "I am very excited and confident of my prospects in Indonesia."
"I have been preparing for the Games for a while and having done the hard work, I can say I am pretty optimistic even though it is my first outing," he said.
The shooting events will be held in Palembang.
Son of a sitting judge, Verma secured a bachelors in law from the Kurukshetra University in Haryana.
Having climbed to the top of the charts with a fine performance in the 18th Kumar Surendra Singh championship and the fifth national selection trials, Verma could end up spearheading the Indian men's air pistol team in the World Championship too.
At the Asiad, Verma, who picked up the sport only three years ago, will also shoot alongside teen sensation Manu Bhaker in the mixed air pistol event.
"I picked up shooting as a hobby about three years ago when my father was posted in Hisar. I used to go to a gym there and got to know that there was a shooting range nearby. That's where I first picked up a gun."
That interest led to Verma representing his university in the All India University Games and a fifth-place finish there made him participate in the Shooting Nationals for the first time in 2015, where he shot a below average 553.
It was only last year, after being called up for trials that he decided to seriously pursue the sport.
He won silver in the Kerala Shooting Nationals in the civilian section and registered a 12th place finish in the open event.
That made him go up from around 75-80th position in the beginning of the year to 12th at the end of it.
Next stop was the National Shooting trials. He won gold in Trial 2 and after Trials 1 and 2 he had moved up to fifth in India and by the end of Trials 3 and 4 he was up to fourth place.
This provided him an opportunity to travel to Munich for the ISSF World Cup to shoot in the MQS section. Verma shot 585, the best Indian performance in 10m air pistol in the German city.
Munich was a major confidence-booster for Verma and he came back to shoot another 585 in the Trial 5 qualifications, going on to beat the likes of Jitu Rai, Amanpreet Singh, Saurabh Chaudhary and Anmol Jain in the finals to win gold.
Extra two points awarded for winning meant he became the number one air pistol shooter in India.
(Image used for representational purposes)
Photograph: Matthew Stockman/Getty Images