Not everyone completes the Badwater Marathon, Breeze Sharma did so, the fastest Indian ever.
Rediff.com's Laxmi Negi spoke to the Indian Navyman to find out how he did it.
Not every man survives a snake bite. Breeze did, in 2014!
Not every man survives an Everest avalanche. Breeze did, in 2015!
Not every man completes Badwater (the world's toughest footrace). Breeze did that too, as the fastest Indian, in 2016!
In achieving that last feat, Breeze Sharma became only the second Indian to complete the Badwater Ultramarathon.
He clocked 40 hours, 47 minutes and eclipsed Arun Bharadwaj's effort of 41 hours, 07 minutes, in 2011.
What is Badwater?
Badwater135 is known as the toughest footrace on earth.
The runner needs to cover 135 miles (217 km) non-stop from Death Valley to Mt Whitney, California.
The course covers three mountain ranges.
For most people, running a marathon (26.2 miles) is gruelling, but for Breeze, it's like a walk in the park.
Having started running in 2012, the Mumbai-based adventure seeker graduated to the full marathon in 2012. He completed his first full marathon -- the Vasai Marathon in North-West Mumbai -- the same year in a little more than five hours, but was not satisfied with the effort.
Though the long haired, tattooed 40 year old stepped up the pace and succeed in bringing down the time to less than four hours (respectable time for an amateur runner), he felt something was missing.
He got his mojo in 2013, when he discovered the joy of running ultra marathons. The first distance he attempted was 80km, in Shimla. He found himself on the podium in his first attempt. "There was no looking back," he says. "The ultra running bug has bitten me."
In a free-wheeling chat with Rediff.com's Laxmi Negi, Breeze soaks in the high of successfully completing the Badwater marathon and dispels myths related to Ultramarathon running.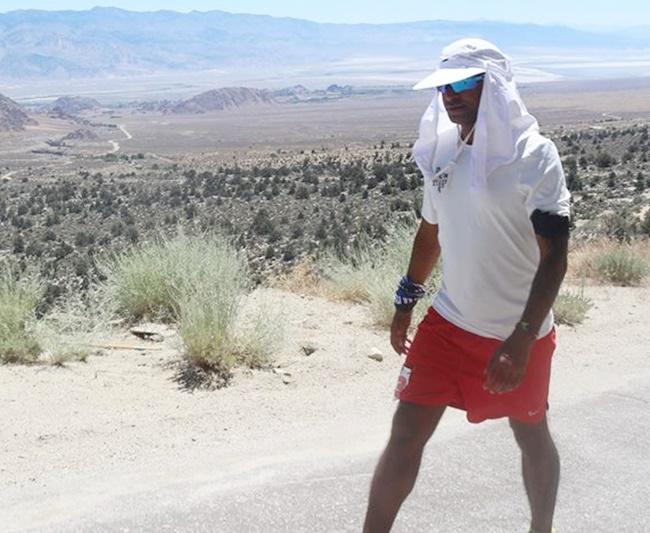 IMAGE: Breeze Sharma during the Badwater Ultramarathon.
Why did you think of running the most demanding race on earth?
There is only one company in India that organises Ultramarathons. I had participated in all their races from 2013, but later there were few differences.
So I googled to find the toughest race and came across the Badwater Ultra.
I had made up my mind to run this gruelling race and show the entire world that I am capable to doing the most extreme things.
I always like to stay away from the ordinary and make my own unique identity.
How did you train for the race?
It took me four months and more than 4,000 km mileage. Every month I ran more than 1,000 km, excluding my strength training.
In March I covered 900 kms. In April's heat I increased the mileage to 1,203 kms. May was a little unnerving for me. The US consulate refused to approve my visa owning to my Nnaval background.
I wasn't sure of running the race. I lost out five to six days in paperwork. Finally, the visa was granted and I managed to clock close to 800 kms.
In June, I ran for more than 1,000 kms.
A major part of my uphill running was done in the small hillock near my residential area. I ran in the Sahyadri mountain ranges -- Pune, Ahmednagar, Nasik and Bhimashankar.
I wanted to travel to Jaisalmer to get accustomed to the desert, but my work commitments didn't allow me to travel out of Maharashtra.
I have trained in intense Mumbai heat and humidity. I used to start my runs in the middle of the day to 9 in the night.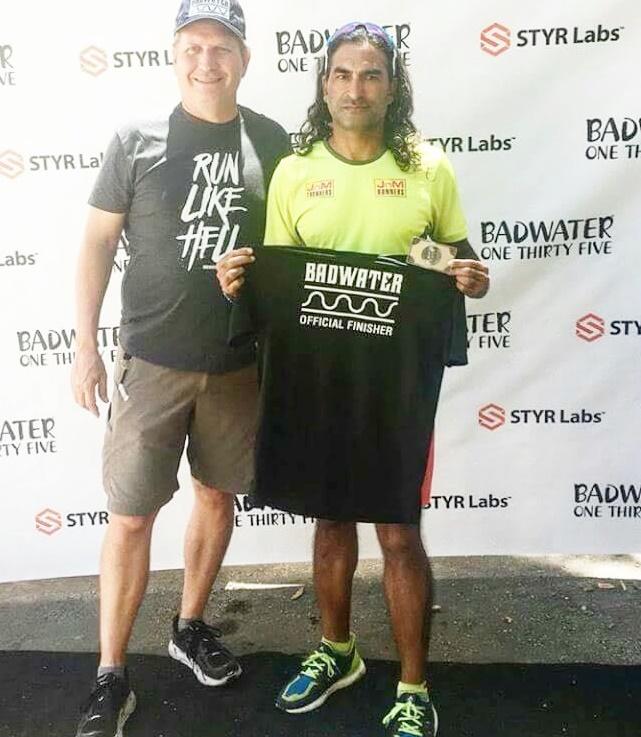 What was your fuel during the runs?
Even during my training runs, I don't drink water until 30 kms. Also, I didn't use GU gels or any kind of energy drinks.
For the first time during Badwater I used two sachets of GU gels and two cans of Red Bull other than water.
For the entire race I just ate two oranges, half kg cherries, one Indian meal. I also carried chana daal and moong daal.
But after 100 km I realised that I should have used the energy drink during my runs. I wasn't able to accelerate much. I was missing the extra touch during my run.
I have learnt my lesson and plan to incorporate energy drinks in my runs henceforth.
How Brijmohan Sharma became Breeze
He has been associated with the Indian Navy's Adventure Cell for several years. Almost 20 years ago, when he used to conduct Himalayan camps for children in the naval society, they started calling him Breeze.
The participants of the camp changed every year, but the name stayed.
How did you manage your support crew? Did you pay them?
I had four crew members. Though I didn't pay them any cash, I took care of all their travel, staying and food.
I feel when you run a race like Badwater, 40 per cent depends on your ability and 60 per cent of the race depends on the crew.
I really appreciate the help and motivation that my crew member Vijaya Nadar provided me with.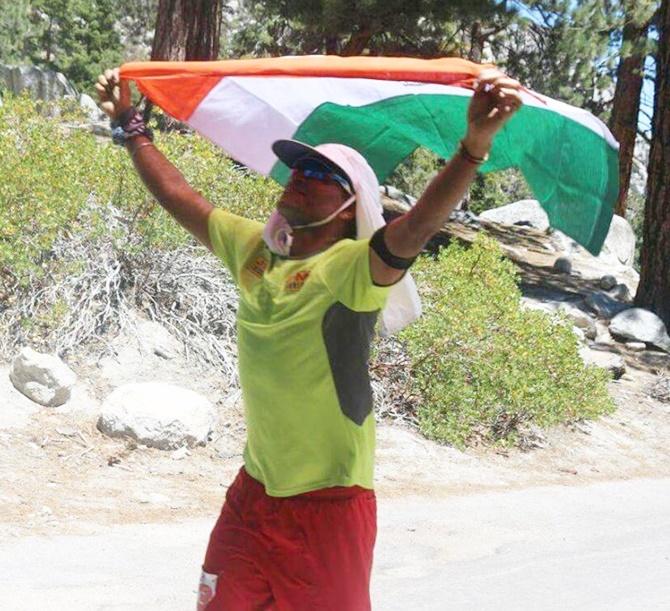 At one point of your race it looked you would finish in 35 hours. What went wrong?
That was the plan. I had a target of 32 to 35 hours before I started, but the terrain gets to you.
I started well and covered 100 kms in 15 hours. I was still on target until 100 miles, which I took 29 hours to complete.
But then the journey became too long and excruciating for me.
The terrain was difficult and the high temperature played a big factor. Even in the night the temperature used to be 40 Celsius and the day temperatures used to be 50 Celsius. Also, towards the end I was feeling bit sleepy.
Also from 122 to 133 miles the incline was very steep and I was running during the day time. I was crossing the last and third mountain range.
Overall, lack of planning did me in.
Will you again run this race?
Of course, I will. I want to see the terrain again. It is very beautiful.
How far is it true that Ultra marathon running is all about being mentally strong?
Of course, it is!
Personally, I have never planned anything. When I am going to take a hydration break or when I'm going to change my socks, nothing is planned.
But once I start running, there is no stopping.
I am basically a mountaineer and the mountains inspire me.
I have the time of my life when I am running in the mountains. I feel more closer to nature and it helps me to connect to the Almighty.
Like in Badwater, nature inspired me a lot. I had fun running in that terrain. There are no words to express how I feel when I look at those summits while I am running past them.
We talk about God theoretically, but when I am running, the feeling is so soothing and serene that I feel that I am talking to nature.
During Badwater, we started in the night and the full moon and starry sky did bring out the best in me.
The horizon, the sky hugging the land, was motivating. I was tired, but the desert and mountain ranges played a huge part in inspiring me.
Have you ever cried while running or after completing your race?
(Laughs) I have never cried. I have always believed in my abilities.
Even in my training runs I have always achieved my target. Whatever I have dared to do, I have been successful.
During my Badwater run I kept thinking that I am coming closer to my target.
Running Ultras is like an addiction. How far do you think you will go?
See, people start running with small distances, like 10 km or 21 km, but I started running directly with the full marathon.
Then, within a year I ran my first Ultra of 80 km. I still felt I had much more stamina to go on.
So in November 2013 I ran 100 km in the Nilgiris. The terrain was tough, with elevations. I thought I could do much better than that and, therefore, ran the Himalayan Crossing. I covered 335 km in four days.
It was then I realised that I am built to run Ultra marathons. It is from there that my ultra marathon running gained momentum.
I participated in the Rann of Kutch (marathon). The temperatures were similar to Badwater -- 45 Celsius.
Since I am from Rajasthan, I am used to the heat. That race inspired me to toy with the idea of reducing my time. Luckily, I realised soon that Ultra marathon is not about timing. Timing is immaterial to Ultras.
Has anyone told you that you are not built for Ultra running?
I stand 5 feet 9 inches tall. I have had strange experiences wherein people comment on my appearance and go to the extent of saying that I don't look like an Ultra runner.
Before going for Badwater, a lot of acquaintances asked if I would be able to run 217 km. Maybe, because I am not lean, but muscular. I didn't fit into their notion of an Ultra runner.
For short distances, it matters how you are built, but physique doesn't matter in Ultra running. Ultra is lethal, it doesn't need speed.
It's a game of mind and endurance.
Physical features don't contribute here. It is not a beauty contest where looks are important.
Did you remove your toe nails before running Badwater?
I think it is a myth (removing toe nails). I don't think it is required. Also, it depends on your shoes, their quality and size.
Due to constant friction the sole gets expanded. The shoe should be able to accommodate your feet.
It also depends on the terrain of the race. If it is downhill, a runner might face maximum hurdles as the chance of friction is more while coming down from the hill.
Also, a runner needs to take precaution. An Ultra runner clocks more mileage and, therefore, the shoes suffer more wear and tear.
I am a salaried person, I cannot afford to invest 15K every month on shoes and keep using the same shoes. Therefore, there are times that I suffer from blisters.
During Badwater I suffered from only two blisters that I got after 122 km.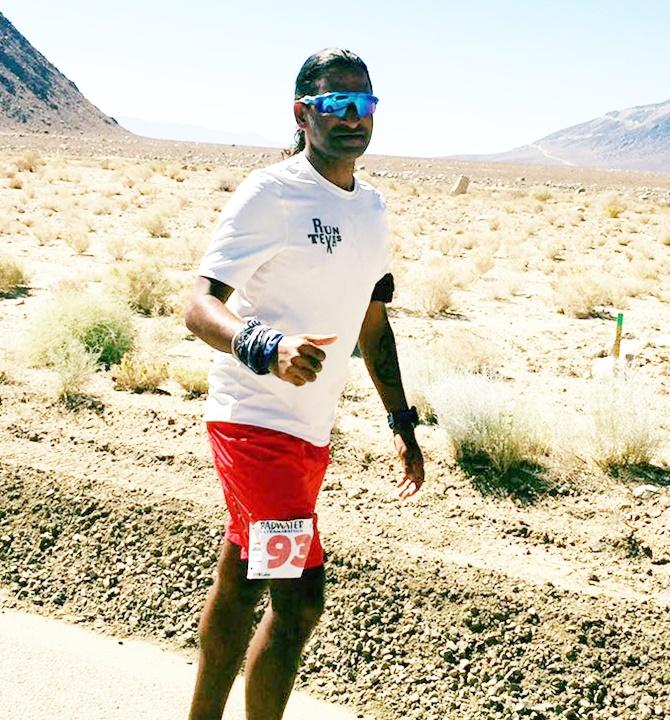 When you start a race do you firmly believe you will complete it?
So far it has not happened that I haven't completed a race.
Any target that I have picked, even during training, I have completed that. I am always 1,000 per cent sure that I will always finish a race.
But during Badwater I was a bit sceptical. The altitude and all the videos that I had seen played a role.
Also, I was looking for some guidance which was hard to come my way. I tried asking a few coaches, and also runners who had successfully completed Badwater, but they were reluctant to share their training methods.
I had to rely on my gut to attempt this toughest race on earth.
When I reached California, I thought I had over-trained. In four months I had clocked more than 4,000 km.
I realised that much distance wasn't required. I had very little reserve energy in my body and I should have taken some rest.
You had too many narrow escapes with death, what makes to go on?
In 2014, during an expedition to Deo Tibba, I was bitten by a Russel's Viper. Fortunately, the bite was on my finger. I was brought unconscious to Kullu, where the anti-venom was injected. I survived and was discharged eight hours after regaining consciousness.
In 2015, I didn't know that the avalanche would happen to me. I am a seasoned mountaineer and was undertaking to scale Everest and Lhotse in a single attempt.
I thought I would do it. But the avalanche happened and I narrowly survived again. But when I came back I was buried in debt.
I owed friends and family almost Rs 25 lakh (Rs 2.5 million). The Indian Navy gave me 7 lakh (Rs 700,000) and I managed the rest by selling my bikes.
Now, with Badwater I am again in almost Rs 8 lakh (Rs 800,000) debt. This time I took loans from banks and friends.
Ultra marathon running is a costly business, but it is my satisfaction.
Right now I am in celebration mode. I just completed the toughest marathon on earth and I am basking in that glory.
Maybe, when I start getting calls to repay those loans that I took, I will start thinking about how to repay them.
There will be a solution and I will plan again to get out of this tricky situation too.
What would you like to tell other Indians who want to run Badwater?
I feel that my achievement is gettable. If any Ultra runner is sincere in training, Badwater is not beyond reach.
It is tough, no doubt about that, but they can do it.
Though I didn't get the kind of guidance that I was looking for, I will always be there for the runners who want to run this Ultra marathon.
Breeze Sharma's Running CV
October 2012
Vasai-Virar full marathon
5 hours 38 minutes
January 2013
Standard Chartered Mumbai Marathon (SCMM) full marathon in
4 hours, 31 minutes
.
October 2013
First ultra-marathon, the
80 km
-Bhatti Lakes Ultra, in
11 hours, 22 minutes
. He ended third in that race
December 2013
100 km
ultra in the Nilgiris, in
15 hours, 29 minutes
June 2014
80 km
Shimla Ultra in
10 hours, 46 minutes
July 7-11 2014
Multi-day race covering
335 km
, Himalayan Crossing.
August 2014
12 hours
-stadium run in Bengaluru
92.8 km
to place fifth.
September 2014
Khardung La Challenge,
75 kms
in Ladakh
November 2014
24 hour
-segment of the Bangalore Ultra,
162 km
, secured third
December 2014
Rann of Kutch in Gujarat,
161 km
(100miles) in
34 hours, 56 minutes
placed second.
January 2015
Four days after SCMM, Breeze ran a
24 hours
-treadmill challenge, covering
196.64 km
, earning him a place in the Limca Book of Records.
February 2015
He repeated the ultra in the Rann of Kutch, running
100 miles
in
28 hours, 55 minutes
. Breeze won this race.
December 2015
100 miler in Pune called the Western Ghats Ultra finishing the race in
27 hours, 20 minutes
.