Three-time Roland Garros champion Mats Wilander reflects on Day Five of the French Open for Reuters.
The Swedish former world number one is in the French capital soaking up all the action as a presenter for broadcaster Eurosport's daily flagship show 'Game, Set and Mats'.
Here the seven-time Grand Slam champion discusses the most poignant performances and memorable moments of Thursday's action.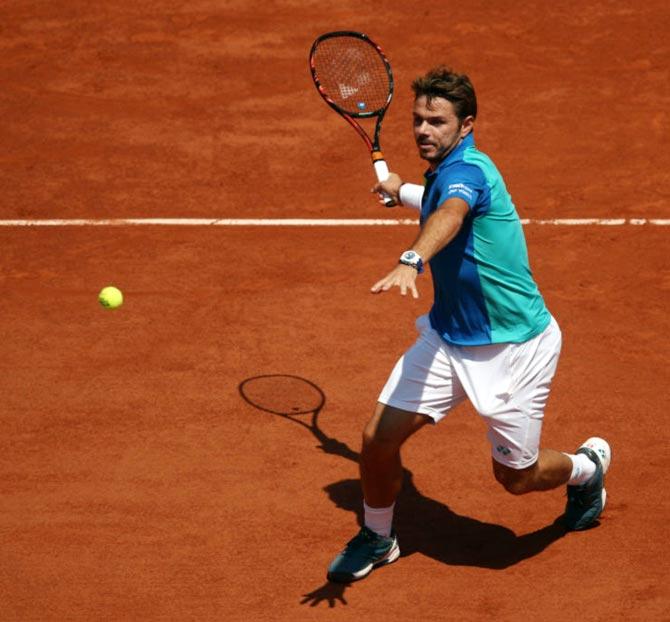 IMAGE: Stanislas Wawrinka hits a forehand. Photograph: Julian Finney/Getty Images
Highlight of the Day:
"It was really interesting to see Andy Murray today - I mean, what we saw was a guy who just figured things out.
"He came out looking tired and flat, emotionally. He wasn't hitting his backhand well at all, then as soon as the second set started he made adjustments.
"He started playing deeper, and that freed him up to hit through his backhand.
"You cannot play too close, you have to keep adjusting. Then he played great for two sets.
"He should have lost the fourth set, but that's what happens with the top guys at the French Open. You only have to be a little bit better than your opponent on clay, and you can win three, four, five games in a row and pull away.
"You can't do this on other surfaces. It is what we've been doing for 40 years on clay. The thing is, you can always break your opponent's serve on this surface, you just need to be that little bit better on clay and you can really reel off games."
Performance of the Day:
"Stanislas Warwinka had a tough, close game. You know, Stan likes rhythm, and he was not getting that.
"But when Stanislas is beating Dolgopolov in three sets, I mean come on he doesn't get worse as a tournament progresses he gets better.
"Always in the early rounds there are a few threats, because he's not always there emotionally. But when he gets up, these other guys... they do not want to play Stan."