Australian Mark Webber begged to differ with compatriot and Formula One great Jack Brabham on Thursday over his chances of ever winning the title if he failed to secure it this weekend.
Triple world champion Brabham said last month that he feared the Red Bull driver had blown his big chance and would not get another as good because of his age and the rise of hungry youngsters like team mate Sebastian Vettel.
Webber, 34 and with one year left on his contract, is eight points behind Ferrari's overall leader Fernando Alonso heading into a four-way title battle in Sunday's final round of the season.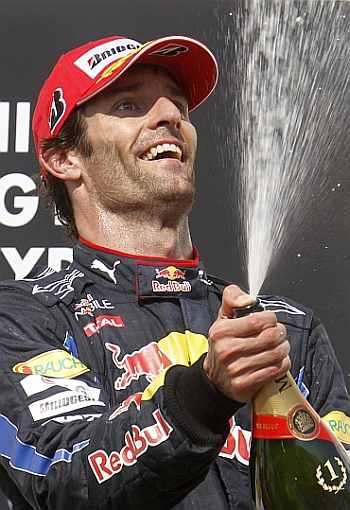 The Australian has a good chance of success but he moved to soften the possible blow of failure by telling reporters it was not his last chance.
"I'm going to be here again next year," he said, appearing with his three rivals at a news conference.
"Of course the longer you drive, obviously, the odds are going in one direction. I'm not going to be around forever, I clearly understand that. These guys have more opportunities, of course.
"Hopefully I want to do it on Sunday, of course," continued the winner of four races this year.
"If it doesn't happen, I'll obviously have another crack next year. It doesn't change too much of my mentality, mate. I know that I've been very fortunate even to have a chance to get to this point."
Webber would be the first Australian champion since Alan Jones 30 years ago should he succeed on Sunday.
"I think you are going to be disappointed if it doesn't happen, initially," he said when asked how he would feel if the title went to someone else.
"There have still been a lot of positives this year. I don't think my odds were too good at the start of the year to be fighting for the championship. My odds are much shorter now, so I still have a good chance.
"I will deal with what happens on Sunday night after that."