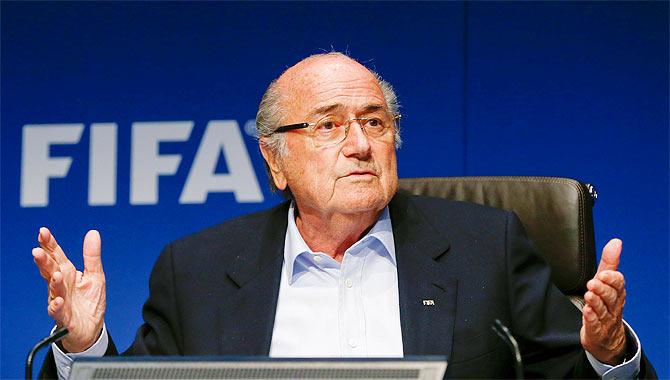 FIFA chief Sepp Blatter. Photograph: Arnd Wiegmann/Reuters
Outgoing FIFA president Sepp Blatter believes his critics will realise they have been wrong and will recognise his achievements once he has left soccer's world governing body.
In an interview with the BBC, the 79-year-old Swiss defended his record at the head of scandal-plagued FIFA and said he was respected in many parts of the world.
Blatter noted he was often subjected to hostile treatment on social media but said: "Go to the world, go to Asia, go to Africa... go to China, ask them what they think about FIFA and Blatter, that's different.
"At least (I am) respected because I have done a lot. Not only me but FIFA has done a lot and I have served this FIFA. I am sure this will be recognised, that the big job that has been done by FIFA and by myself... (over) 40 years.
"I am sure people are realising that the job I have done in FIFA is a good job, it's the right job for the development of football, the right job for education of youth," he added.
"If there are people who don't like the organisation or don't like me, they will realise they have been wrong... they will realise that."
Blatter was re-elected for a fifth term on May 29 but four days later announced he would lay down his mandate as FIFA was engulfed in the worst crisis in its 111-year history.
FIFA was thrown into turmoil when 14 sports marketing executives and soccer officials, including several from FIFA, were indicted in the United States in late May on bribery, money laundering and wire fraud charges involving more than $150 million in payments.
Seven of those accused were arrested by Swiss police in a dawn raid on a luxury Zurich hotel two days before the FIFA Congress where Blatter was re-elected.
Blatter's replacement is due to be elected at an extraordinary Congress on Feb. 26.
Blatter, often looking uncomfortable during the 20-minute interview at FIFA headquarters, reiterated that it was individuals rather than FIFA who were under investigation.
"The institution is not corrupt... there is no corruption in football, there is corruption with individuals," he said.
He also repeated his criticism of the method for choosing the FIFA executive committee, whose members are elected by the continental confederations rather than the FIFA Congress.
"I have to take people, they are not my people," he said. "I cannot be morally responsible for other people."
Paraguayan defendant in FIFA case should not be extradited to US-lawyer
A Paraguayan judge should dismiss a US extradition request for Nicolás Leoz, the former head of South America's CONMEBOL football confederation, because a treaty between the two countries is fraught with legal holes, Leoz's attorney said on Monday.
Leoz, 86, is among nine football officials and five marketing executives hit with US charges including conspiracy to commit racketeering and conspiracy to commit wire fraud in the biggest corruption scandal ever to hit world football. Leoz has been under house arrest since June 1.
Paraguay has an extradition treaty with the United States, but the legal argument put forward by Leoz's lawyer in court on Monday highlights how the long arm of U.S. law may struggle to reach all defendants swiftly.
"The defence is saying that you cannot extradite somebody if the law did not lay out the rules of the game," Ricardo Preda, the attorney representing Leoz, told reporters outside the court.
"The treaty does not establish clear procedures to follow. There is a legislative void."
Leoz was not present at Monday's hearing.
Judge Humberto Otazu said he would take up to three days to rule on the defence's submission. The judge's decision can also be appealed.
In fact, legal experts in Paraguay have said securing Leoz's extradition could entail a lengthy process, citing potential appeals that could go as high as the country's Supreme Court.
The extradition treaty between Paraguay and the United States, a 29-page document signed on Nov. 9, 1998, calls for each country to extradite defendants who have been charged with acts that constitute a crime in both nations and carry a minimum penalty of one year in prison.
"We will analyse this because there are complex questions that have been put before the court which will require a reasonable time for a decision," the judge told the court.
Leoz was president of CONMEBOL for 27 years until 2013 when he stepped down citing ill health. The judge has previously said he can leave his residence, located in a wealthy neighbourhood of the capital Asuncion, for dental care and physiotherapy treatment.