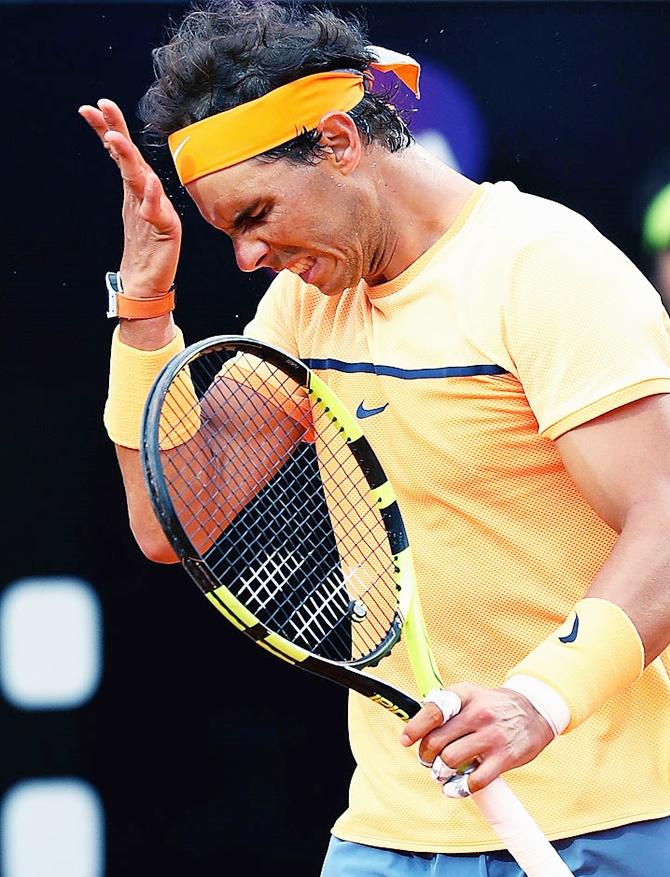 IMAGE: Rafael Nadal, nine times the French Open champion reacts. Photograph: Matthew Lewis/Getty Images.
Rafael Nadal knows only too well what it's like to miss out on playing at the Olympics, hence he does not understand why so many of his fellow tennis professionals are turning their backs on the Rio Games in August.
When injury forced the 2008 Beijing gold medallist to withdraw from the 2012 London Games, he described it as 'one of the saddest moments of my career'.
As a result he finds it baffling that players such as American John Isner, Australian Bernard Tomic, rising Austrian Dominic Thiem, and fellow Spaniard Feliciano Lopez have chosen to be absent.
"The experience of competing in an Olympic Games is completely different than any other event. The Olympics is the most important event in the world of sport," the nine-time French Open champion said on Thursday.
"If you don't want to be in the most important event in the world of sport, then is difficult to understand what's the motivation for the rest of the things."
Isner blamed his decision on a crammed tennis calendar, with the US Open taking place shortly after the Rio Games and the Davis Cup quarter-finals just after Wimbledon.
But the lack of ranking points at this year's Olympics was also a major factor for the American.
World No 1 Novak Djokovic had some sympathy for players such as Isner and thought ranking points should have been awarded in Rio like they had been in London -- where up to 750 points were on offer.
But points or no points, Nadal thought those who choose to skip the Games will end up regretting their decisions.
"Everybody's free to do whatever but I know how tough it was for me when I had to miss the 2012 Olympics in London," added Nadal, the only active men's player who has won every major singles title tennis has to offer.
"I cannot understand people who don't want to go to Olympics. It's something that is not every year. It's an event that you can compete only once, twice, or maybe three times in your career, if you are lucky.
"So you don't want to miss that."
It was a sentiment shared by Venus Williams.
"Everybody's got priorities. Mine are at the Olympics. Others... I don't know. It's just life choices," said the 35-year-old American who owns four Olympic golds across singles and doubles.
"It's a wonderful experience to be part of something so amazing.
"For me, the Olympics was beyond my dreams to participate and to actually have success there was something I had never dreamed of, and I didn't realise how wonderful it will be. So I always say it was beyond anything I ever dreamed."