'Our target this season will be top 3. We don't want to keep the mind-set of maintaining the ranking because we have what it takes to be the world No 1 as well.'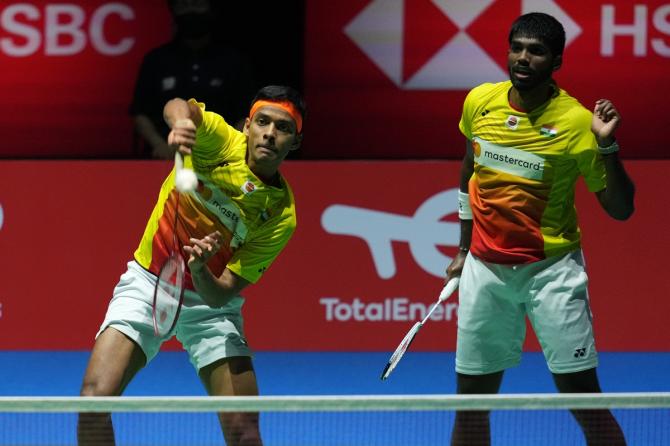 A watershed season last year has opened news vistas for India's premier badminton doubles players Chirag Shetty and Satwiksairaj Rankireddy, with the pair hoping to cash in on the success to attain glory at the All England championships, secure a Paris Olympics berth, and possibly emerge No 1 in the world.
Satwik and Chirag broke new ground in 2022, winning two World tour titles -- the India Open Super 500 and French Open Super 750 -- securing the Commonwealth Games gold, anchoring India's epic Thomas Cup triumph, and bagging a maiden bronze at the World Championships.

"We have the same targets this year, basically to do well in big events, including the All England where we haven't won a medal so far. I guess, a good show in 4-5 events in a year will be good enough to seal the Olympic qualification," Chirag said.

The unprecedented success last year saw the two achieve a career-best ranking of world No. 5 at the fag end of the year and Chirag says the next aim is to breach the top 3.

"Reaching the top 5 was a dream for us but we believe we are capable of going higher," he said.

"Our target this season will be top 3. We don't want to keep the mind-set of maintaining the ranking because we have what it takes to be the world No 1 as well. It will need consistency."

Satwik, 22, and Chirag, 25, suffered heartbreaks in 2021 when they failed to cross the group stage at the Olympics despite winning two matches, including a sensational victory over eventual Tokyo Games champions after a three-way tie was decided on games won and lost.

The qualification for the Paris Olympics will begin in May and Chirag said they will look to seal their Olympic berth in the first half of the season.

"If we can do that in the first half then we really will be able to focus on big events such as the World Championships, Asian Games and the World Tour Finals," he said.

"Since the number of events will be more, we will send entries for the 500 and above events. If we do well in the first two events, we will skip the next to give rest to our bodies."

The biggest takeaway in 2022 for the duo was their ability to play at a high level even when things didn't go their way.

"One thing is we have been able to maintain a certain level. We wanted to be consistent, and play the quarters and semis and. more or less. we were doing that, barring a few events. So, the main thing is the mind-set shift," he said.

"We have been able to keep the focus in pressure situations when we have not been at our best, but still we have been able to pull off matches.

"Good players know how to play bad and still pull off matches, you need to have those tricks to escape, so you need to be at a certain level so that no matter how badly you play, you are still able to play at a certain level."

Known for attacking play in the initial phase of their careers, Chirag says they have worked on their defence as well.

"We have never been the ones to depend on defence to win matches but right now we can covert defensive points into attacking points. We have worked a lot on our defence and we have been able to improve a lot.

"Earlier, we were only retrieving instead of creating opportunities but now we can take the shuttle to places where we want to."

The presence of Danish great Mathias Boe has also played a pivotal role in their success.

"We have been mainly working with Boe and it has helped us. We wanted to do well in big events. We trained with him for two weeks ahead of the Asia Badminton Championship, (and) also before the Thomas Cup."

Despite all the success, Satwik and Chirag have so far failed to go past two pairs -- Malaysia's Aaron Chia and Soh Wooi Yik (7-0) and Indonesia's Marcus Fernaldi Gideon and Kevin Sanjaya Sukamuljo (11-0).

"They sort of play a game which is similar to us, so it is always a close match against them. Probably, it is a matter of time before we will be able to cross them. I feel, this year we are confident we will be able to cross the barrier," Chirag said.

"There is no difference as such, I mean, they are not playing at any higher level. It is just that in those crucial points, we have to be smarter in our choices."