His game still needs vast improvement, but belief is a Sumit Nagal forte, says Dhruv Munjal.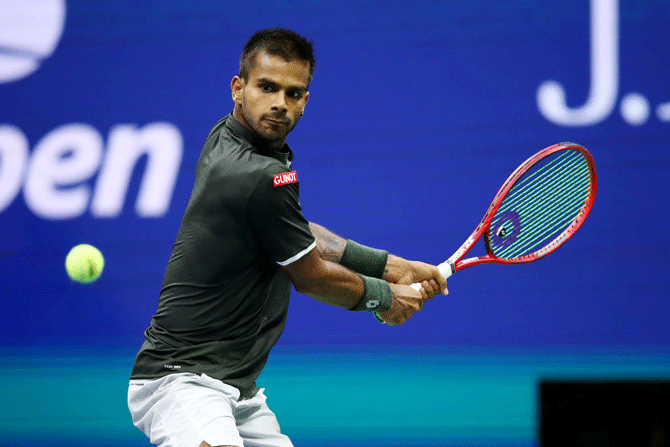 At first it looked like one of those forehands that Roger Federer would put away in his sleep. Instead, the ball jumped mischievously and the Swiss pulled it long -- one of the great shots in modern tennis made to look unattractive, even fallible.
His opponent, much smaller in build -- and stature -- responded by turning to his camp, fist clenched. A Federer fanboy in the crowd blew out his cheeks in disbelief. An Indian couple, an unmissable oddity amid a sea of support for Federer, got the tricolour out and waved it furiously.
Back home in Delhi, at the Nagal residence in Punjabi Bagh, the phone was going off non-stop. Calls this late at night are usually cause for alarm, but these were delirious friends and relatives desperate to congratulate Sumit Nagal's parents.
Only a few weeks ago, their son was toiling away in obscure challenger events -- sometimes in unknown tennis landscapes such as Uzbekistan -- and here he was going toe-to-toe against arguably the greatest player ever, harrying him into conceding the first set at the US Open, in front of almost 25,000 people.
"There must have been over 50 phone calls that night. The first set was beyond our wildest dreams... everyone was going crazy. And after that, there was genuine belief that he could pull off an upset," says Suresh Nagal, a tremendously proud father whose WhatsApp display picture still has his son sharing screen space with Federer.
The upset didn't happen, of course. Federer soon seized control and dispatched the 22-year-old Nagal in four sets. At the press conference, the former champion spoke glowingly of his opponent, even saying the youngster was likely to enjoy a stellar career.
Nagal himself hasn't had much time to dwell on the outing of a lifetime. He's already back on court, participating in a challenger in Bosnia. Soon, as Grigor Dimitrov was shellacking Federer in the fifth set of their surprisingly competitive quarter-final at Flushing Meadows, Nagal was trying to earn precious ranking points in Genoa, Italy.
Life on the challenger tour -- the second rung of ATP competitions -- is notoriously tough: there is little break between tournaments and a lot of time is spent on the road.
Yet, the conversation keeps coming back to Federer. Nagal may be poised for remarkable things, but for now he's the unheralded young man from an unheralded tennis nation, a qualifier ranked 174th in the world, who took a set off the mighty Roger Federer in the first round of the US Open. And for now, Nagal is fine with that.
"I couldn't sleep for two nights before the match. There was so much energy in my body. The feeling was insane," he tells me over the phone from Germany, where he lives and trains, at the Nensel Academy near Hanover. "Once I was on court, I felt good. It was about the first few games, settling down. I'm used to playing in front of 200 people... so I had to find a way to relax."
Even as he pounced effectively on Federer's mistakes and minimised his own in the early stages, Nagal was brutally exposed to Federer's full range starting the second set, succumbing to the subtle varieties of his groundstrokes and his unerring ability to continually alter the tempo of a match.
"The biggest challenge while facing him is that you never know what's going to come. He is changing things up all the time. You can't go after his forehand because it's so good. If you target his backhand too much, he gets the slice out, which is the best of its type in the world. There's a reason why he's so good," feels Nagal.
But the point of the match belonged to the Indian. At 0-1 in the second, following a fierce baseline exchange that Federer looked certain to win, Nagal twice recovered from seemingly impossible situations -- successively sending back a cross-court forehand and then an overhead -- before finishing off a scrambling Federer at the net with a backhand winner.
For a fleeting moment, it looked like it just may be Nagal's night, but Federer was never going to relinquish so easily a much-cherished record: of not losing in the first round of a Grand Slam in over 16 years.
Nagal's story isn't the hackneyed whiz-kid kind. There was no light-bulb moment that persuaded his coaches that he was going to make it big. His is an example of slow progression, of endless grind, discipline and sacrifice.
At eight, a hyperactive Nagal was obsessed with cricket. His father, who spent hours watching Pete Sampras and Andre Agassi, was keen on tennis.
"I told him that if he wanted to take up sport, he must focus on an individual discipline. Everybody plays cricket," says Suresh Nagal, who is a teacher at an MCD school. Folks at the DDA Sports Complex in Paschim Vihar, where Nagal first picked up the racquet, say that they were struck by his appetite for striking a ball.
"Most kids were happy hitting a few balls. But with Sumit, it was impossible to get him off the court," remembers one of his former coaches.
After shuttling between different local clubs during the first few years, Nagal's big break came when he tried out for Mahesh Bhupathi's "Apollo Mission 2018" in Delhi, a programme that aimed to produce India's first major champion by 2018.
"I remember Sumit held Bhupathi's hand and forced him to watch him play," says Suresh Nagal. Ten years old at the time, Nagal was among a few selected from over 1,000 kids. But that also meant leaving home at a young age.
"Little did we know that he would forever be away. He's come back home only for short trips since," says his mother, Krishna. (More than home perhaps, what Nagal misses is kadhi-chawal, a favourite that his mother cooks and carries to the airport whenever he lands in town.)
But after two years in Bengaluru, the programme was abruptly shut down. Nagal remembers coming home devastated.
"I played very little tennis in those months. I thought I was done," he says. A phone call from Bhupathi, who offered to sponsor him, changed all that. Within days, he was back in Bengaluru, before leaving for Canada to train under Bobby Mahal, who was initially the head coach of Bhupathi's programme.
Nagal has been living in Germany for the past few years. "To excel at this level, you need to train abroad. Apart from quality infrastructure, coaching and conditioning, you need the right conditions," he says. "I can't train in Delhi during the summer because the weather is problematic. In winter, pollution becomes an issue."
Moreover, tennis remains a rich man's sport and Nagal feels that finding financial support in India is difficult.
"We just don't have enough programmes that promote talented young kids," he says.
But Nagal has been fortunate. In 2017, he was signed on by the Virat Kohli Foundation. Indian Oil has been another major backer, offering him a job.
"The help has been great. But you need sustained financial stability to make it big."
Professional tennis for lower-ranked players can be financially gruelling. Travelling with an entourage of coaches, trainers and physios is expensive -- Nagal left with a $58,000 cheque for a night's work in New York, but that's loose change in the larger scheme of things.
And while the past few weeks may have been spent gushing over Federer, Nagal remains a Rafael Nadal fan, a fact made obvious by his fondness for a physical battle.
Another favourite is Nadal's fellow Spaniard David Ferrer, the legendary gladiator of gladiators who retired earlier this year.
"I like Nadal's intensity. And that's where I want to be physically," he says.
When a wiry-framed, spiky-haired Nagal won the Wimbledon boys' doubles title in 2015, he barely looked like a teenager. Against Federer, he came across as a mean physical specimen, a modern player playing a very modern sport.
"The big difference between the top players and the rest is not so much the talent but the fitness," stresses Nagal.
And even as his father laments the fact that Nagal doesn't visit home more often (he last came in February), his boy has set his sights on qualifying for the Australian Open.
His game still needs vast improvement, but belief is a Nagal forte.
"I hope to play smart tennis, use my forehand to move the opponent around. But at the same time, I still haven't perfected any shot. Everything is a work in progress," he says.
The kadhi-chawal will have to wait.