Vivek Ranadive,Sacramento Kings's India-born owner, believes basketball can become India's No 2 sport.
Rediff.com's Norma Godinho listens in.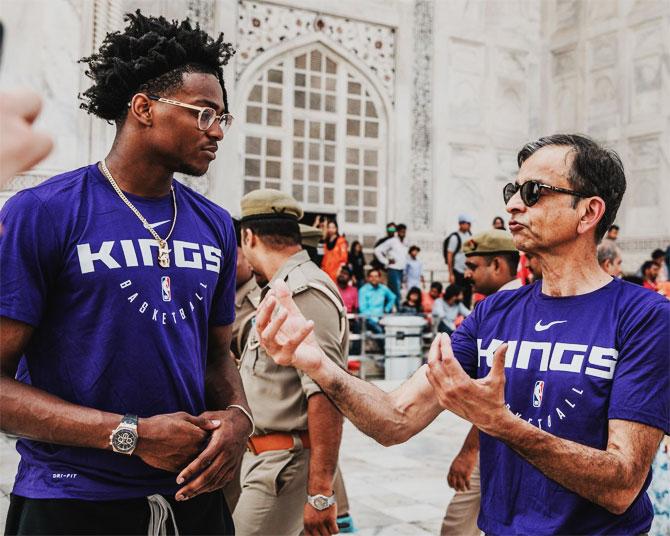 Bombay-born Vivek Ranadive is an excited man.
The Sacramento Kings owner can't wait for his team to tip off against Indiana Pacers in their pre-season match on Friday -- the first-ever NBA fixture to be played in India.
Ranadive's efforts to get India acquainted with the NBA is not new: he helped set up NBA India in 2011, which saw NBA academies spring up across the country over the years.
Now the 61-year-old businessman's efforts have seen the city of his birth all set to host the first NBA game in India.
"I hope this is a first step in a long journey. I fully expect these games will continue and I expect that in the next ten years multiple players come out of this system and make it all the way to the NBA. I expect we'll have more arenas where we can play these games," Ranadive says.
Accepting the truth that toppling cricket off its perch as the No 1 sport in India is an unrealistic thought, Ranadive is sure basketball can become the No 2 sport in the country. Statistics show that football is consumed more than any other sport in India after cricket. But Ranadive is an optimistic man.
"I believe that basketball will be the second-most popular sport in this country. Of course, cricket is the national pastime and in the land of (Sachin) Tendulkar and (Mansur Ali Khan) Pataudi, it will be hard to replace that.
"But basketball and India are meant to be together. This is a game that can be played indoors, outdoors, by girls, by boys, in cities, villages, by the rich, the poor; it doesn't need a lot of space the way cricket does and there is no city in the world that represents basketball better than Bombay does. Bombay is Bollywood, Bombay is fashion, Bombay is excitement, Bombay is spice; it's music, it's a spectacle!
"Basketball is a spectacle, Basketball is a vibe and there is no city that is more compatible (to the sport). Indians love a spectacle, Indians love great food, great dance. That is what basketball is. So I fully expect this sport is going to be very popular in India," asserts Ranadive.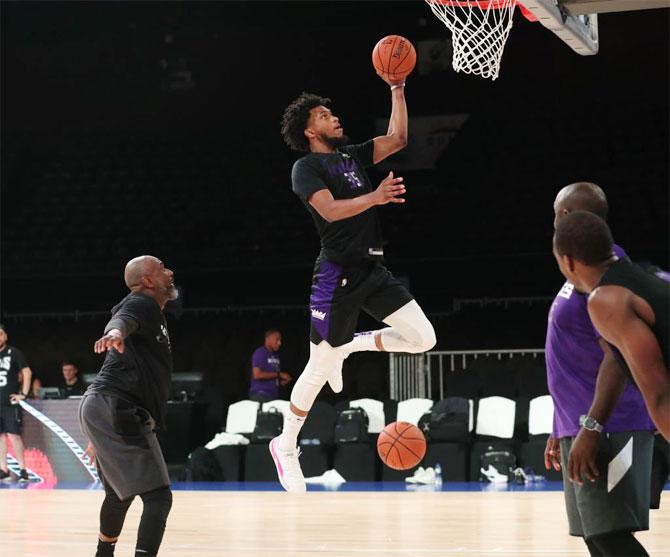 A man who is bathed in Indianness, and in 2017 to form a bond and reach out to NBA fans in India, the Sacramento Kings owner had launched a logo with the Hindi word Raja on their courts.
"We have been reaching out to India since the very first day that I bought the team. We have a Hindi Web site. So we've been reaching out to Indians from the very first day that I bought the team. The players appreciate it."
"When we came here, I did a video for them, to share with them the rich history and the rich culture of our great country. So this is as much India being introduced to them than the NBA being introduced to India," says Ranadive.
Throwing light on bringing the NBA to India, he explains: "My journey to India started when I was with the Warriors and my daughter had come up with an idea of a Bollywood night. So we had Bollywood night, where she sang the national anthem and had Indian food, Indian music, Indian dancers. I had shirts made for all the fans; that was the beginning of the journey.
"Then when I bought the Sacramento Kings, Herb Simon (Indiana Pacers' owner) came to me and said, 'Look, I hope that when you go to India, and I know you will, take my team with you. Adam Silver also promised me that after he became the commissioner, the first thing he would do is come with me to India.
"So a few years back, Adam came with me to Bombay and we launched all the initiatives in India. Adam Silver, the NBA, David Stern... they've delivered on every promise that they've ever made. So, a few years later, here we are, having a pre-season game in India," he adds.
Ranadive expects the fans in the stadium to make some noise for his team at the NSCI Dome in Mumbai on Friday and Saturday.
"To be able to actually have a real pre-season game for my Sacramento Kings against the Indiana Pacers is one of the most exciting days of my life. I expect every person here to be cheering for the Sacramento Kings. Simon, owner of the Pacers, is a good friend and so I would still like people to cheer for his team, but I hope that the loudest cheers are for the Sacramento Kings."