'The Mizos are very hard-working people.'
'The players give 100 per cent in practice and on the field.'
'Right from the first minute to the 90th minute, they give their all.'
'They are united as a community and it is in their culture to help each other.'
'When these qualities are reflected on a football field. it makes for a great team element.'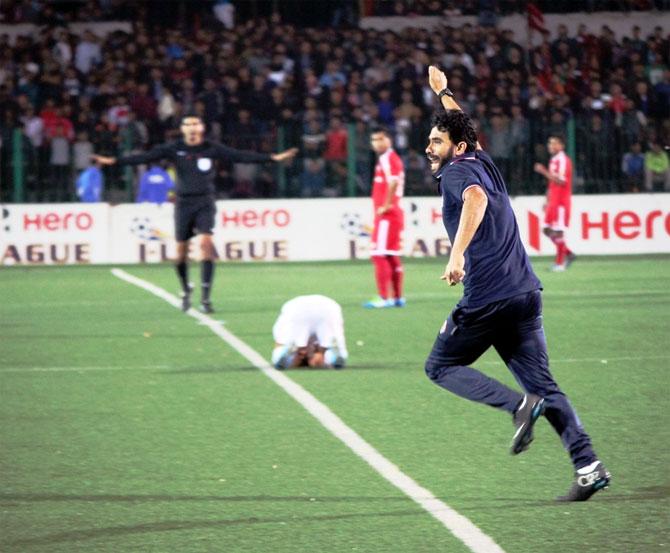 IMAGE: Aizawl FC Coach Khalid Jamil celebrates after winning the I-League. Photographs: AIFF Media
Dreams come true. Yes, they do!
Ask Khalid Jamil, a name synonymous with Mumbai football.
As a player and coach he always dreamt of winning the I-League, India's top tier football tournament before the Indian Super League gained in popularity, but had to wait for almost a decade to realise it.
On Sunday, April 30, as coach, Jamil scripted one of the country's most remarkable stories in Indian football by guiding Aizawl FC, a little-known team from the remotest part of the country, to the I-League crown.
The Mizoram club, the first from the North-East to win the title, may not have featured in this season's I-League.
Last year, they finished just above the sole relegation place, but found themselves relegated as DSK Shivajians, who placed last, had a three-year relegation immunity.
However, following the withdrawal of Goan clubs ahead of the season, the All India Football Federation was forced to reinstate the North-Eastern side.
Immediately, Jamil, who was fired by Mumbai FC as head coach after serving seven seasons at the helm of the club, was hired by Aizawl and what a turnaround he brought about with a bunch of no-hopers to create a 'Leicester moment.'
His efforts were like Claudio Ranieri guiding Leicester City to the English Premier League title for the first time in the club's 132-year history last season.
The journey to success was tough for Jamil. He had to move from Mumbai, stay away from his family and change his methods altogether.
Known as a defensive coach, he did well to harness the free-flowing style and sublime pace of footballers from the North-East to emerge triumphant.
The soft-spoken 40 year old spoke to Rediff.com's Laxmi Negi about Aizawl's fairytale success story and his year at the club.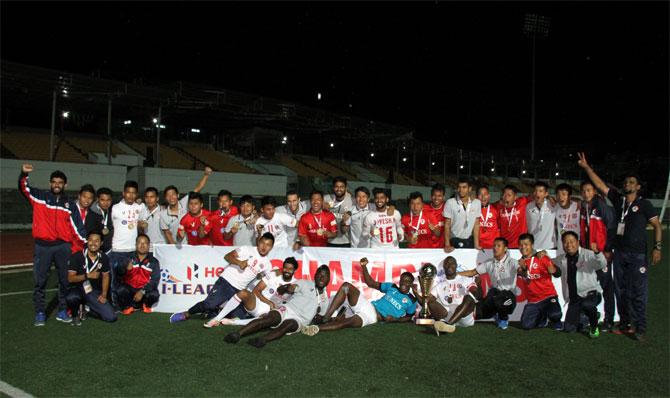 IMAGE: Aizawl FC players celebrate after winning the I-League.
How does it feel to win your first I-League title?
Extremely satisfying!
What I was looking for, we got.
Needless to say, a lot of hard work went into it. Dil khush ho gaya (I am thrilled).
You once told me you cannot call yourself a top coach because you had not won the I-League. Is Khalid Jamil a top coach now?
There is a lot more to do. Abhi asli kaam shuru hua hai (Now the real work has begun). I have to maintain this now.
How supportive was the club management this season? Will we see an increase in the budget next season now that the team will compete in the Asian Football Championship?
Right from day one they have been very supportive.
The boss is very involved in a good way. He does not dictate terms, but liked to be informed about every player in the team.
About the increase in budget, it will be decided after the Federation Cup.
What was your management's objective at the start of the season? What is the response now?
I was clearly told that they were looking at a top five finish.
The management is definitely very happy. We received an unbelievable reception from the airport to the stadium.
Young, old fans were present to welcome us.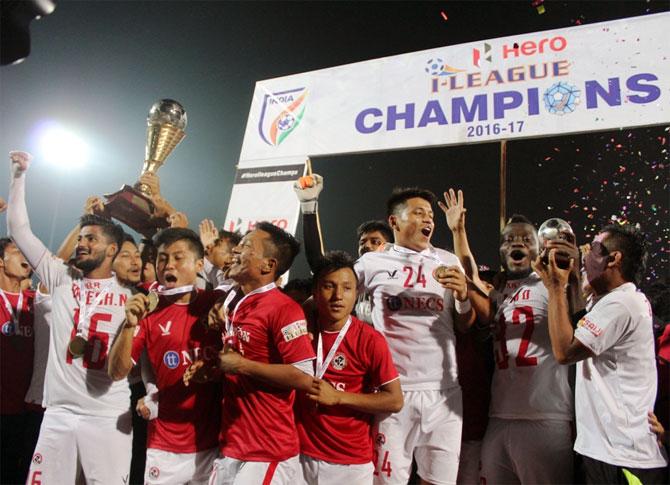 What is the secret of Mizoram's success, first in the age-group tournaments and now the I-League?
The Mizos are very hard-working people.
The players give 100 per cent in practice and on the field.
Right from the first minute to the 90th minute, they give their all.
They are very disciplined. They are united as a community and it is in their culture to help each other.
When these qualities are reflected on a football field it makes for a great team element.
Why did you choose Jayesh Rane and Ashutosh Mehta to join you at Aizawl?
When I reached Aizawl and worked with the team I realised we were missing a right back.
I called Ashu and he couldn't believe that I was in Aizawl.
Then we were lacking an attacking midfielder. I called Jayesh, who was free.
They were called 'Khalid's boys' and hence, Mumbai FC were delaying giving them contracts.
I called them to Aizawl. The money was less, but they wanted to just play.
How difficult was the 'away' travel from Aizawl to the rest of the country to play matches? How does it compare with Mumbai?
There was no option, but to travel for days together. We didn't want to think about it.
We thought it was our duty to travel and it did not seem much of a task then.
What was the role of fans through the season?
The fans played a major role in our journey. I always say that they are the 12th man of our team.
Even for away matches the fans used to come in huge numbers.
I remember we were playing against Churchill Brothers in Goa and we had more fans than the home team!
Even when we played Mohun Bagan in Kolkata, the fans made us feel at home.
This victory was possible because of the players and fans.
It helps that football is No 1 sport in Mizoram.
I noticed that once we started winning some matches the fans started coming in huge numbers.
Are you happy with the proposal to merge the two leagues -- the ISL and I-League?
What is the future of Aizawl FC now with the coming of the ISL?
I am sure whatever decision the AIFF takes, it will be good.
Aizawl's future is in the hands of the federation and I am sure they will also look into our interest.
Who would you like to dedicate this victory?
When I landed in Aizawl with my two sons and wife, I realised it was so far away from home (Mumbai).
My kids were studying and I would have to stay away from them. At that moment, I was thinking of going back to Mumbai.
My wife assured me that she would take care of the boys and their school. She just told me to stay put in Aizawl.
It was because of her emotional support that I could totally concentrate on football.
I would like to dedicate this victory to my players, fans and family.