Garry Kasparov, arguably the greatest player ever, returns to competitive chess after 12 years.
Chess fans hurtled back in time as two legends of the sport -- Viswanathan Anand and Garry Kasparov -- came up against each other in the St Louis Rapid and Blitz chess tournament, a part of the Grand Chess Tour in St Louis, United States, on Tuesday, Auvgust 15.
Anand was unable to get the better of Kasparov who made a comeback to competitive chess after 12 years.
The sixth round clash ended in a draw after 31 moves.
The Indian suffered two losses on the opening day -- going down to Hikaru Nakamura and Levon Aronian of Armenia -- while the clash against Lenier Dominguez of Cuba ended in a draw.
Vishy fared better on the second day as he bagged his first win of the tournament when he got the better of David Navara, while settling for draws against Ian Nepomniachtchi and Kasparov in the $150,000 prize money tournament.
Kasparov, 54, drew all three games on Day 1 before he suffered a loss against fellow Russian Nepomniachtchi along with two draws on the second day.
'At the end we chatted like some World War I veterans!' Vishy said about Kasparov after their game.
A win in rapid chess is worth two points while a draw fetches half a point.
In the blitz, a standard one point is awarded for a win and half a point for a draw.
Kasparov had made a surprise decision last month to return to chess after calling it quits in 2005.
'I am curious like everyone to see how he goes,' Vishy said. 'It will be interesting.'
'I am sure that he has not decided to come back all of a sudden. He is not the person to take impulsive decisions,' Anand added.
Anand lies seventh in the standings with five points. Kasparov is ninth with the same number of points.
Nepomniachtchi leads the standings with eight points out of a possible 12.
Check out the pictures from the Anand vs Kasparov match!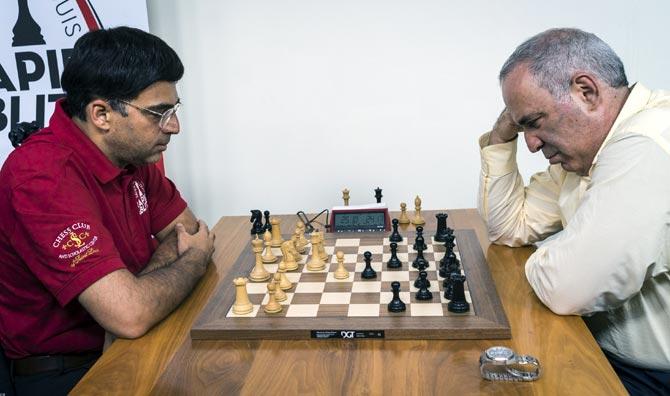 IMAGE: Anand in action against Kasparov. Photographs: Kind courtesy Lennart Ootes/Grand Chess Tour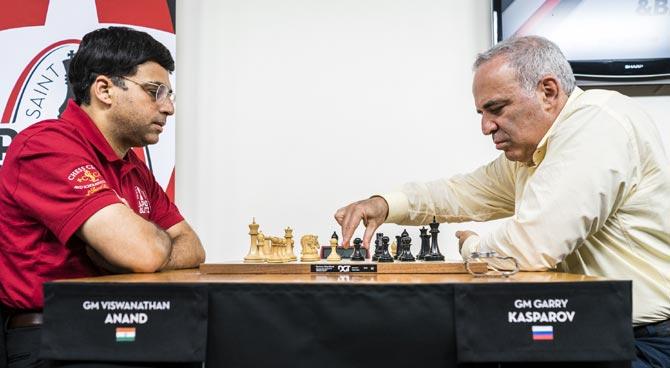 IMAGE: Anand and Kasparov are old rivals.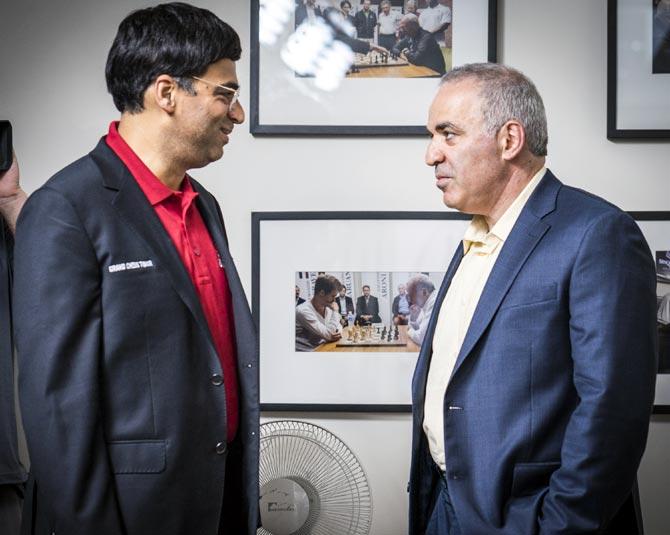 IMAGE: Anand and Kasparov have a chat.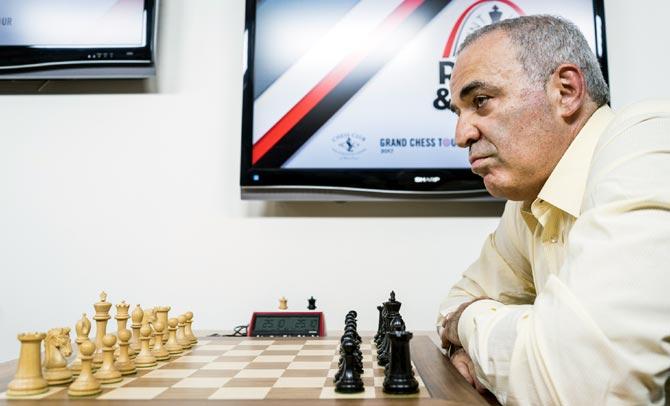 IMAGE: Kasparov in action.