Rediff.com takes a look at the 10 players who have achieved the elusive double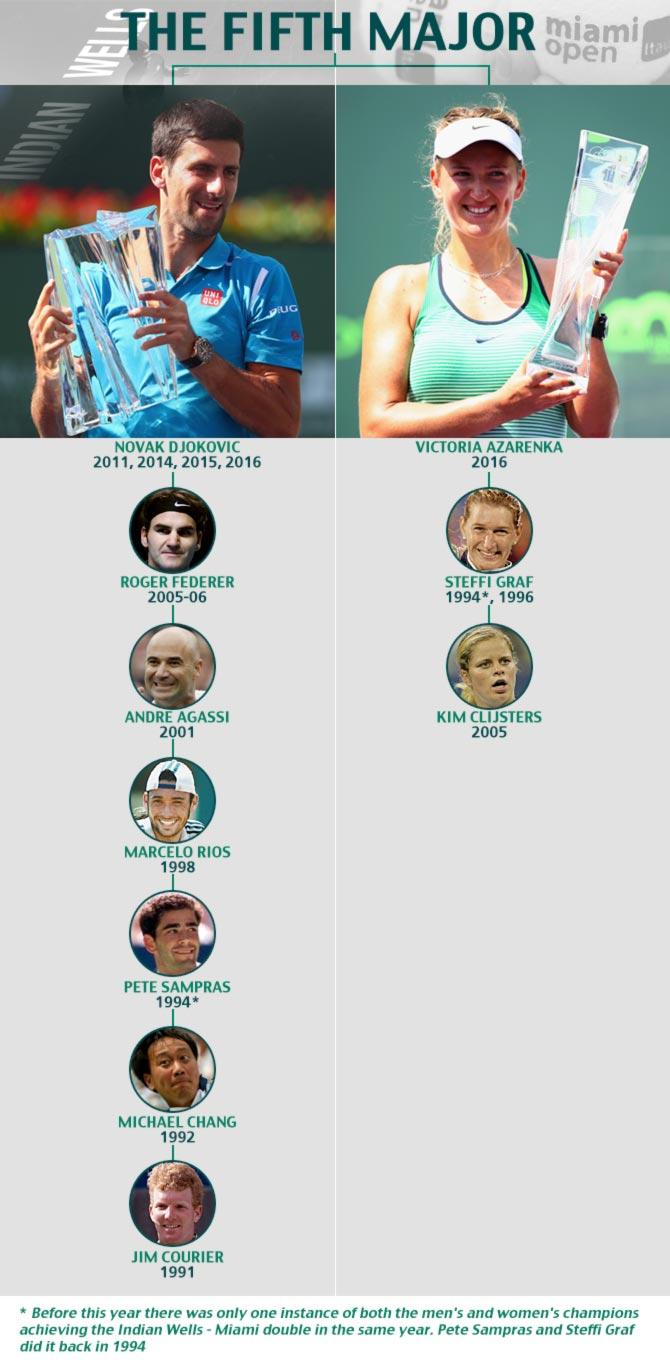 It is arguably the most arduous task in tennis, even tougher than winning a major tournament.
The events at Indian Wells (California) and Miami (Florida), besides being the first two Masters Series events of the year, also happen to be the most grueling.
Like the four major tournaments, these two are also held over a fortnight and, unlike the other ATP tournaments, have a 96-player draw.
[It is imperative here to mention that while a Grand Slam comprises a 128-player field, other ATP events mostly have a 48 or 32-player (at most 56) field]
Besides, like the Grand Slams, there are also seven rounds of matches played in these two tournaments.
What makes winning in Indian Wells and Miami difficult is the fact that the two tournaments are held back-to-back, over four weeks, and in completely different directions. No wonder they are sometimes labeled as the 'Fifth Major'.
The only parallel that one can comprehend is the 'French Open - Wimbledon double'. Having said that, there is a gap of three weeks between the year's second major tournament, and third, considerable time to recuperate and regroup.
Considering both are mandatory events - among the handful on the tour that the top players are required to be in attendance, to maintain their rankings - the players take a long flight, forget about the jet lag and slug it out.
All the grind does take its toll. No wonder that in the 30-odd years the two tournaments have been played in tandem, very few players have managed to win both in the same year, back-to-back.
Often the players are so tired after completing (read winning) in the Indian Wells desert that an early exit in sunny Florida is a given. It takes a lot of effort, and perseverance, to remain competitive (let alone win) over the four-week period.
While only seven men have managed the Indian Wells - Miami double, among the women - it is called the Sunshine Double in this case - there are only three examples.
Only three players - Novak Djokovic, Roger Federer and Steffi Graf - have achieved the feat on more than one occasion, a feat in itself.
With Djokovic and Victoria Azarenka both winning the two events this year, 2016 represents only the second instance when the Indian Wells - Miami double was attained both on the ATP Tour and the WTA Tour.
Illustration: Reuben NV/Rediff.com