India's former Davis Cup captain Akhtar Ali discusses the secret behind Leander Paes's success with Bikash Mohapatra/Rediff.com.
Leander Paes during the Australian Open in Melbourne. Photograph: Cameron Spencer/Getty Images
A new year, a new partnership, a new beginning.
Leander Paes joining forces with multiple major winner Martina Hingis proved an instant success.
The Indo-Swiss pair, seeded seventh, eased past third seeds Daniel Nestor and Kristina Mladenovic 6-4, 6-3 at the Rod Laver Arena to win the Australian Open mixed doubles title.
- 'It's a treat to play with Martina'
It was Paes's 15th major crown, his seventh in mixed doubles and third Down Under, having earlier won with Martina Navratilova in 2003 and Cara Black in 2010.
The 41-year-old later admitted that the toughest part was convincing the 'Swiss Miss' to team up with him. The proposal was third time lucky, as he faced rejection in 2013 and last year. That they won convincingly, without dropping a set, is another matter altogether.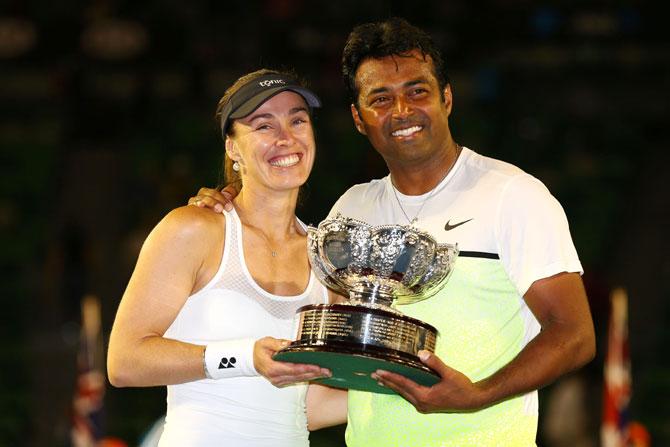 Martina Hingis of Switzerland and Leander Paes of India hold the winners' trophy after their mixed doubles final at the Australian Open in Melbourne. Photograph: Cameron Spencer/Getty Images
Leander and Martina have played league tennis together in the United States [for Washington Kastles in World Team Tennis (WTT)]," explained India's former Davis Cup captain Akhtar Ali.
"As such, they know each other's games very well. All things considered, it was a good move on his part to team up with Martina," added Leander's former coach.
The Indian legend's 15th major title came with an eighth different partner. He had also reached major finals with three others. So what is it that makes Paes click with so many different partners?
"When it comes to selecting his partners he is always very careful. The only constant about his partner is that he/she has to be a left court player," explained Ali, adding, "besides, one of the nicest things about Leander is the fact that he gets along well with most people.
"So forging a combination with anyone is not very difficult."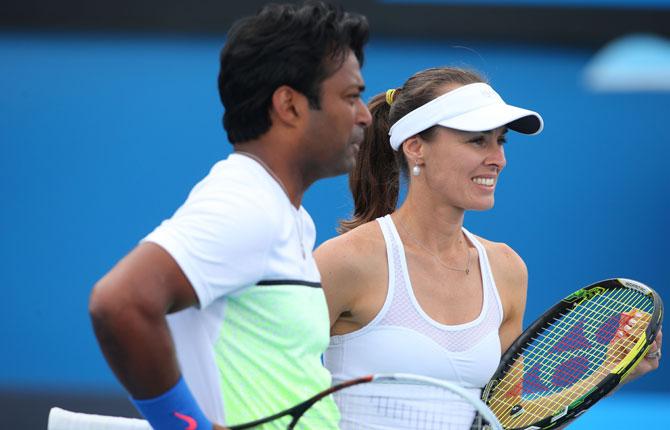 Martina Hingis and Leander Paes in action at the Australian Open. Photograph: Patrick Scala/Getty Images
For someone who started out as a singles player, a majority of Leander's successes have come in doubles. In fact, the player made the transition to doubles when his singles career was at its peak. Indeed, it was a smart move, coming at a time when most top singles players were no more interested in playing doubles. In fact, it became a norm from the 1960s right till the mid-90s.
"He didn't have good ground-strokes, and it's a fact that serve and volley tennis was almost finished then," analysed Ali.
"The balls were becoming heavier. The courts were becoming slower. Things were becoming more difficult, more physically demanding, with every match involving a lot of rallies.
"Leander's game was mostly about coming in to the net and finishing the point. Also, he was not consistent in singles. He did win the bronze at the Atlanta Olympics and did well in one US Open (1997), but, overall, the results weren't up to expectations. So he realised doubles was his calling. Besides, he is a natural doubles player."
Into his 25th year as a professional player, Paes, who turns 42 in June, is showing no signs of hanging up his racket. So what is it that keeps him going?
"Leander is a gusty fellow," explained Ali. His desire to win is the most important thing. It is this desire that makes him train hard.
"Tennis is a physically demanding sport and Leander is someone who trains for all the 12 months. And he will continue doing the same till he has this desire left in him."