I wanted to prove I am the best, says Iran coach Jain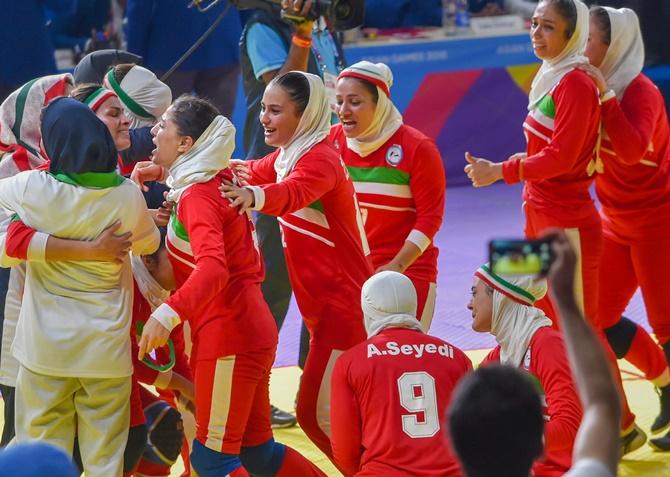 India's Shailja Jain wanted to prove that she is the best kabaddi coach in the world and she has done that with Iran women's team, albeit at the expense of her own country.
Jain, who hails from Nashik, joined the Iranian team 18 months back and since then she has played a crucial role in their success.
Iran, on Friday, ended India's dominance at the Asian Games kabaddi by winning the women's title with a close 27-24 win in the final.
"When I visited Iran first time after taking up the job, I said this is my mission, to prove I'm the best coach. And now we have the result," an elated Jain said.
"Today our defence after the first five minutes was very tight, which was crucial to our win. And three of our raiders were excellent."
Jain said after initially struggling to relay her thought process to the Iranian players, she decided to learn the local language.
"Communication was not easy, so I learnt Parsi. Before the match I told the girls 'don't sent me back to India without the gold medal'. Some of them came back and told me 'madam, we've given you what you wanted'," she said.
"This final match was very special for me and the team. After a long time, Iran won a gold. I'm thankful to the federation for showing faith in me."
Being an Indian, she is obviously disappointed for the Indian team but as a true professional she had never let her nationality come in the way of her job.
"I'm sad India lost. Like any other Indian, I love my country. But I love kabaddi also. Being their coach, I think only of the Iran team. Kabaddi is very popular in India. They all know what kabaddi is about. Everyone watched this match back in Iran," she said.
Jain said she didn't work on the physical aspect of the Iranians, instead her challenge was to create strategies.
"In those seven months, they learnt the tactics and strategy. I didn't have to work on their fitness, they already were supremely fit," she said.
© Copyright 2022 PTI. All rights reserved. Republication or redistribution of PTI content, including by framing or similar means, is expressly prohibited without the prior written consent.