Featuring Neymar, Coutinho, Dembele, Pogba, Bale...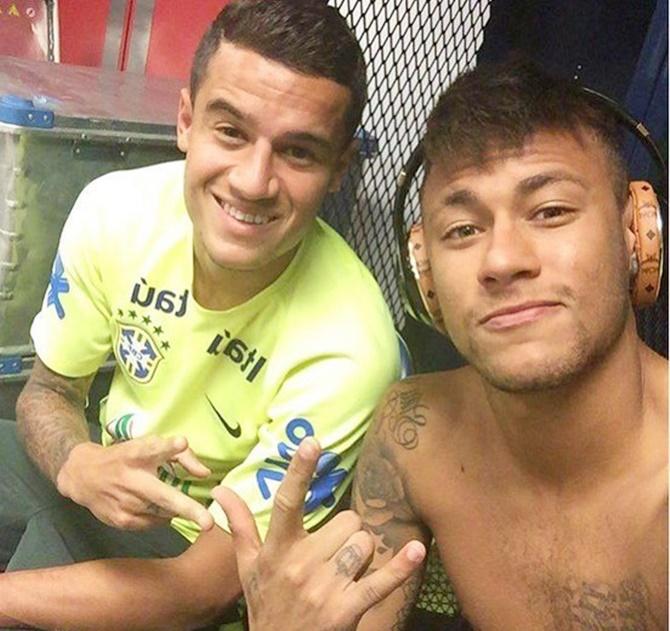 IMAGE: Philippe Coutinho, left, with Brazilian team mate Neymar. Photograph: Pedro Vilela/Getty Images
The biggest and most expensive deal of the January transfer window was confirmed when Philippe Coutinho was presented at Nou Camp a day after completing his high-profile move from Liverpool to Barcelona.
After a series of failed bids, the two clubs agreed to a 142 million pound ($192.54 million) fee.
The 25-year-old Brazilian put pen to paper for a five-and-a-half year deal, which is said to be the third biggest transfer in football history.
It is outranked only by Paris Saint-Germain's world record 222 million euro signing of Neymar from Barcelona last year, and PSG's capture of French striker Kylian Mbappe for a deal that will eventually be worth 180 million euros.
Rio-born Coutinho arrived at Liverpool from Inter Milan for a mere £8.5 million ($11.5 million) in January 2013 and scored 54 goals for the club in all competitions, although he won no silverware during his five-year stay at Anfield.
Barcelona had tried to sign Coutinho last summer and his departure is a blow to Liverpool as he had just returned to top form after an injury-hit start to the season, scoring seven goals in the last eight games of 2017 to put his side firmly in the Champions League places.
A look at the 5 biggest transfers in football history: