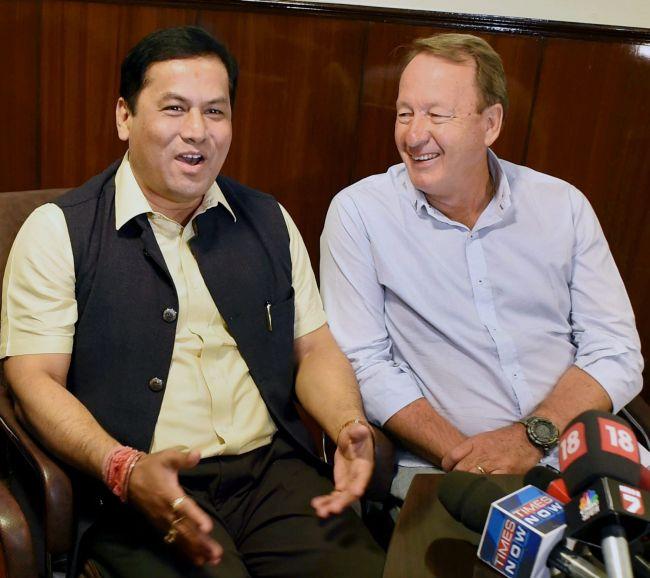 India's sports minister Sarbananda Sonowal and Terry Walsh. Photograph: PTI
India's men's hockey team coach Terry Walsh, who quit on Tuesday after his contractual talks with Hockey India and the Sports Authority of India broke down, reiterated that there can be no progress without change in the current set-up.
"I have been really excited by the SAI and government's desire to review and possibly implement small changes to enhance hockey in India.
"Their support in this process has been extremely positive and shows a clear desire to bring hockey forward in this country. Change is never easy, but without it progress cannot be made," he emphasized.
The 60-year-old Australian, who guided India to the men's hockey gold at the Incheon Asian Games, said the current national team has huge potential.
"I have become strongly attached to the performance of the players and support staff. With this team there is huge potential and a growing level of performance. I thank them sincerely for their efforts, their trust and, most of all, their friendship.
"But, as of last evening, I closed my role with the national program," added Walsh, who was appointed India coach last October, in place of fellow-Australian Michael Nobbs.
He made it clear that his differences were with Hockey India rather than the Sports Authority of India, as earlier perceived.
"We have reached an impasse in proceedings regarding my involvement with the program but there may be a way forward. This must be finalised Hockey India and myself."
Expressing hope for a positive outcome, he said: "I'm still hoping for a resolution to this situation in the very near future. My case has been discussed today and I need a few days to gather my thoughts."